The 2019–20 Season Will Be the Last for Butler University's Live Mascot Butler Blue III
Tuesday was a sad day for dog lovers when Butler University announced that the 2019-20 basketball season will be the last for live mascot Butler Blue III.
"After eight years of greeting potential students with the news of their admission to Butler University, running down bones at Hinkle Fieldhouse to officially get basketball games started, and serving as Butler's all-around ambassador, Butler Blue III will retire at the end of the 2019-2020 academic year," the school said in a statement.
Butler Blue III, also known as Trip, was taken care of by Butler's Director of External relations, Michael Kaltenmark.
The school stated that they are working with Trip's veterinarian to find a successor which will be named Butler Blue IV.
Trip's final year as the Butler mascot will be called One Last Trip, where "Trip will appear at Butler games and various events on campus, and he will even follow the Men's Basketball team on the road to surprise several prospective students and to visit graduates," the statement said.
Kaltenmark has also announced his retirement from the school's live mascot program, and will be usurped by Evan Krauss, who was a Butler graduate and current marketing specialist for the University.
"Kaltenmark, who has devoted the last 16 years to the care of Butler Blue II and III, will still work closely with Krauss, but will primarily focus on his external relations work," the statement said.
Live mascots remain controversial for some, but are a fixture in collegiate sports. The animals are loved by fans and mourn their loss or retirement, such as when the Air Force Academy lost their live mascot Aurora earlier in October.
"We are deeply saddened to announce that Aurora died earlier today. Aurora was the Academy's longest-serving live mascot," the school said in a tweet. Some other prominent schools that feature live mascots include LSU, the University of Texas and the University of Georgia.
Butler University also released a statement from Trip's point of view. "There comes a point in life when it's time to move on to the next chapter and now such a milestone is upon me. So, on account of my increasing age, long tenure on the job, and eagerness to enjoy life outside of the spotlight, I'll soon be wrapping up my official mascot duties. It turns out, I am a lot like humans in that regard," the school wrote on Trip's accord.
According to the University's statement, English bulldogs have an average lifespan of 8 to 12 years, "and now that Trip is entering that range, we want to make sure he gets to enjoy the simple pleasures of life."
Kaltenmark and his family plan to keep Trip as their family dog.
On October 26, Trip will host Butler's 19th annual Bulldog Beauty contest. Trip will then continue his farewell tour by visiting popular cities such as Chicago, Washington D.C., Milwaukee, and New York.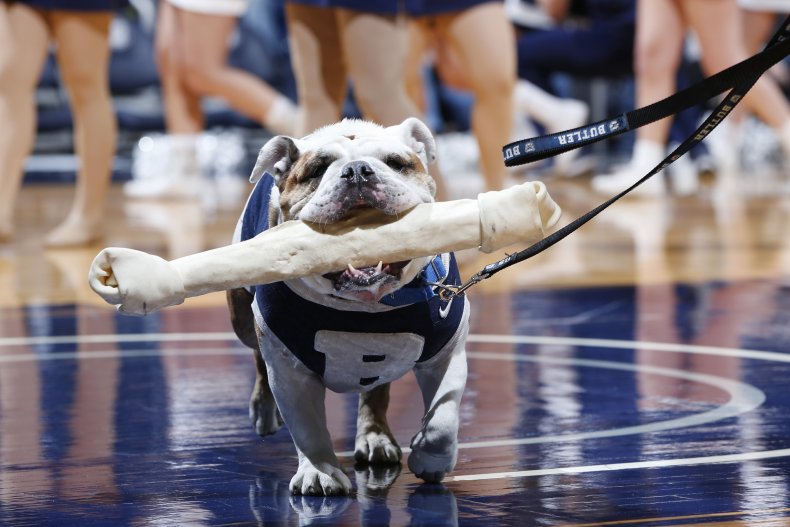 The 2019–20 Season Will Be the Last for Butler University's Live Mascot Butler Blue III | Sports