2020 Candidate Julián Castro Will Create Office to Address 'Racially Discriminatory Policing' If He Wins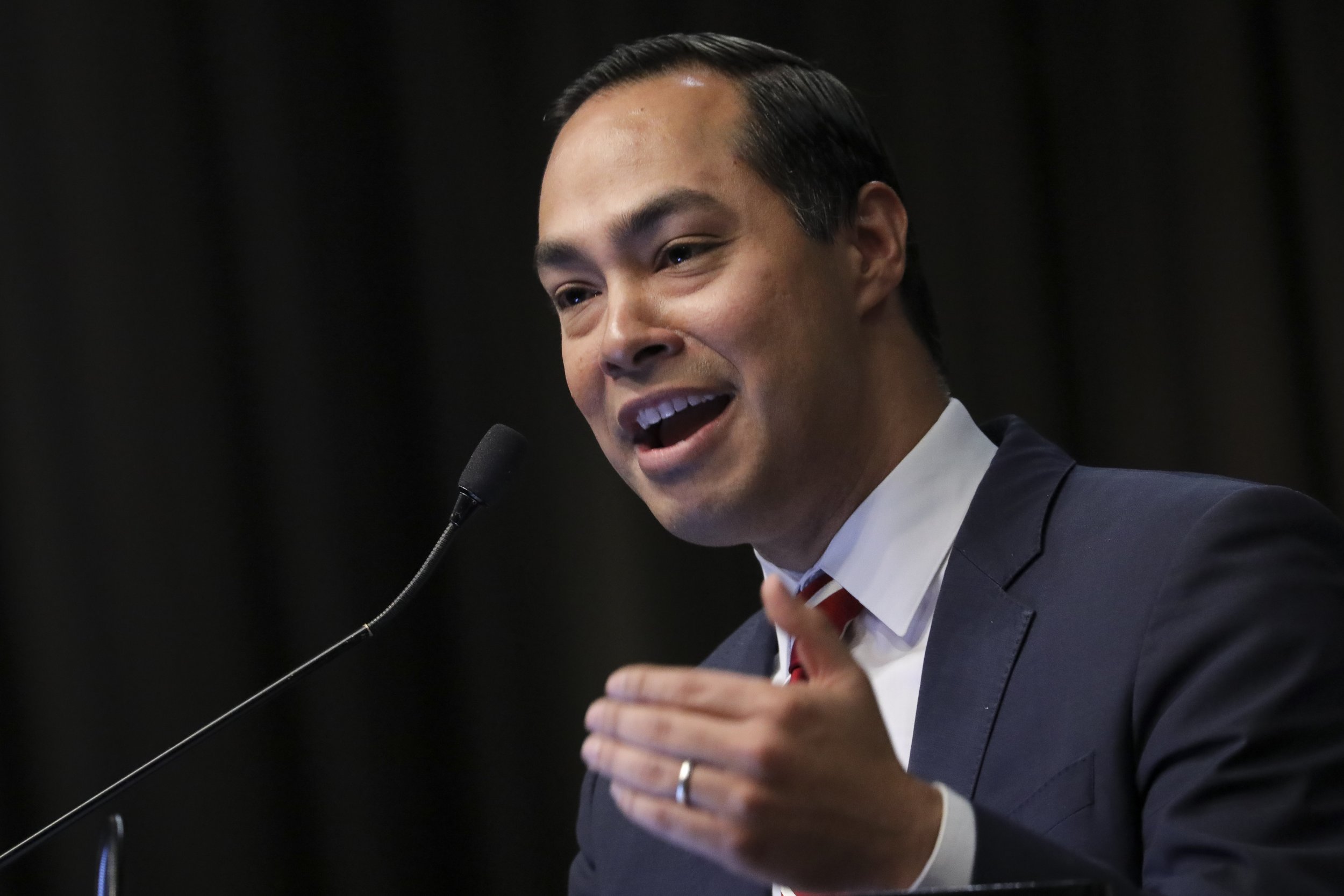 Democratic presidential candidate Julián Castro vowed to create an office within the Justice Department to address "racially discriminatory policing" if he wins in 2020.
"I will demilitarize police departments & decrease overreliance on policing to keep communities safe," Castro, who previously served as the Secretary of Housing and Urban Development under President Barack Obama, tweeted on Monday afternoon. "I will create an office within the DOJ to address racially discriminatory policing, hold offending officers & departments accountable, and increase unconscious bias training."
The policy announcement was a direct response to a recent video that showed a police officer brutally beating a 15-year-old black male in Florida. The NAACP shared the clip on Twitter on Sunday, writing: "#JusticeForLucca This video of @browardsheriff officers brutally beating 15-year-old Lucca is sickening and is representative of a pattern of misbehavior toward people of color for which officers must be held accountable."
Castro, who was the mayor of San Antonio before taking a job in the Obama administration, retweeted the video on Monday and demanded that the officers involved in the beating be "held accountable."
"The @browardsheriff officers who brutalized a 15-year-old child must be held accountable, but how many more times does this need to happen before we hold accountable the system that lets it continue? We need #JusticeForLucca, but we also need #PoliceReform now," he wrote.
"This isn't an isolated incident. It's part of a pattern that has allowed the dehumanization of young black folks across the country," Castro continued. "It is a structural problem that needs a structural solution. As president, I will use my executive power to meaningfully address police violence."
The Texas Democrat launched his 2020 U.S. presidential campaign from his hometown of San Antonio, at Plaza Guadalupe, in January. Earlier this month, Castro unveiled a sweeping immigration plan that would undo measures instituted under President Donald Trump and former President George W. Bush.
In a Medium post, Castro outlined his plan to reverse "the cruel policies of the Trump administration—including the Muslim ban, wasteful spending on a pointless wall, and cuts to the refugee program" and vowed to end "the vile rhetoric that has scapegoated and vilified immigrants.
"I'm proud to unveil an immigration policy that reintegrates those collective values in our immigration system," Castro said. "A policy that is sensible and fair and treats those who cross our borders in search of refuge with empathy and understanding.
"It's time our nation's immigration system reflect the collective values that we all share— equality, fairness, justice and compassion," he added. "It's time that we recognize that protecting our borders and treating immigrants with compassion are not mutually exclusive."