2020 Candidate Kirsten Gillibrand Rolls Out Comprehensive LGBTQ Rights Platform To Head Off Pride Month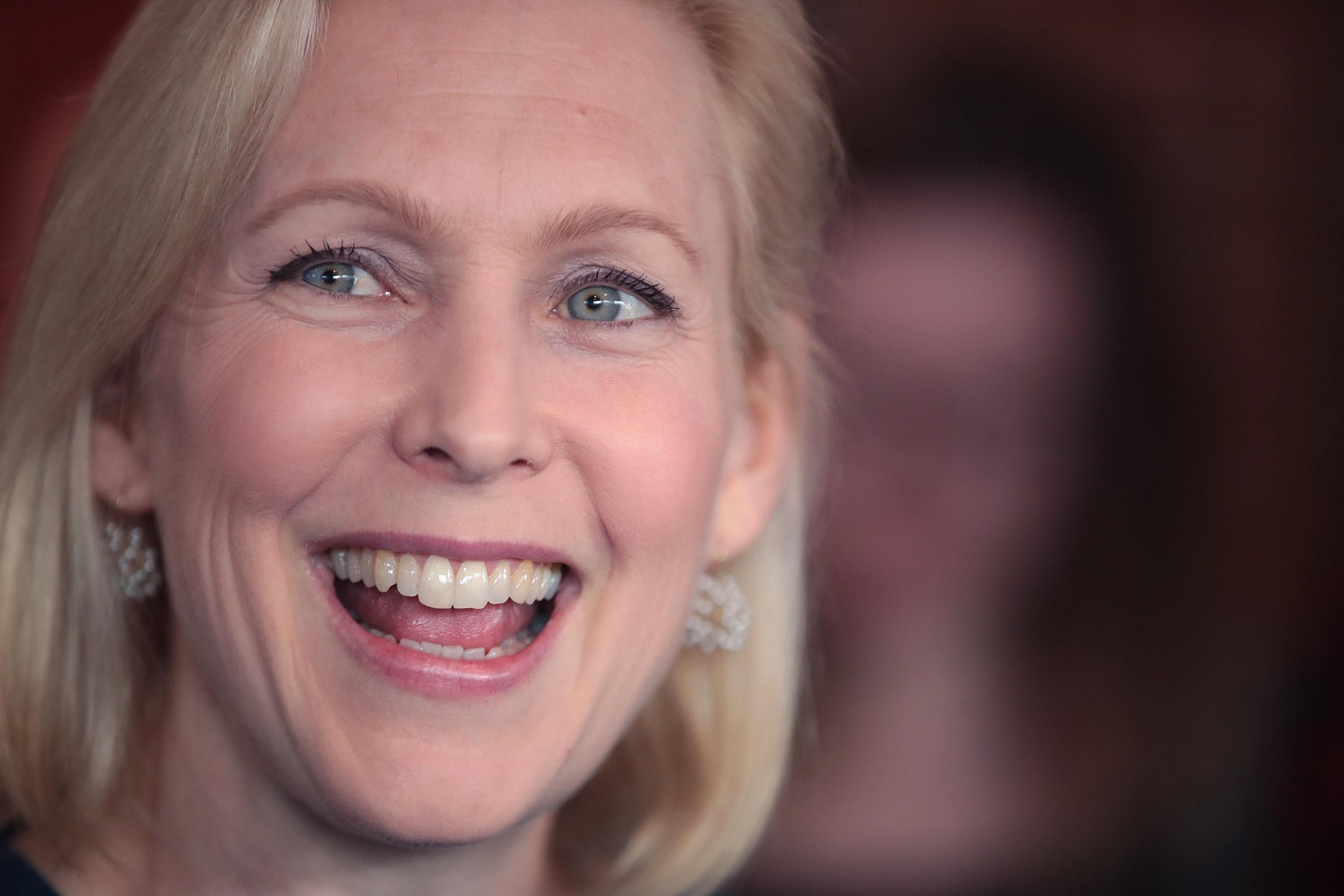 U.S. Senator and 2020 presidential candidate Kirsten Gillibrand has come out with a comprehensive new platform on LGBTQ rights on Saturday, the first day of Pride Month.
In a Medium post, Gillibrand, a Democrat from New York, wrote that "LGBTQ Americans deserve a president who will always stand with them and protect their civil rights — without hesitation."
She referenced several policies from the current administration that have curtailed the rights of LGBTQ citizens, including "conscience" exemptions from the Department of Health and Human Services and guidance about transgender bathroom use from the Department of Education.
Gillibrand wrote that she would move to undo President Donald Trump's actions on these fronts and push for "proactive policies" to better codify LGBTQ protections.
One of the top items on her agenda would be the passage and implementation of the Equality Act, a historic bill that would enshrine LGBTQ rights into federal statutes that currently outlaw descrimination on the basis of things like gender, age and race.
Regardless of the bill's chances of passage—it has already passed a Democratic House but is unlikely to clear a Senate currently controlled by Republicans—Gillibrand said that, as president, she would "direct my Department of Justice to consider gender identity and sexual orientation a protected class," similar to what the Equality Act would achieve.
Perhaps the most prominent rollback of LGBTQ protections over the past few years is the ban of transgender troops from serving in the military. Gillibrand wrote that she would "immediately rescind" this policy.
"Equal rights mean the right of all Americans who are brave enough to choose to serve in our military to do so, regardless of their gender identity or sexual orientation," she wrote. "Homophobic and transphobic policies hurt our military readiness as well as undermine our values."
Another notable plank of her LGBTQ rights platform includes a ban on discrimination by taxpayer-funded adoption centers, some of which have refused to allow LGBTQ couples to adopt children in their custody.
LGBTQ couples face higher barriers than straight couples to starting families, as they often require medical assistance or surrogacy in order to conceive a child. Gillibrand said that insurance companies under her administration would be required to cover fertility services for LGBTQ couples, though it is unclear whether this could be achieved by simple regulation or whether her Department of Health and Human Services would need new statutory authority.
As Colorado became the 18th state to ban the discredited practice of "gay conversion" therapy this week, Gillibrand echoed that her administration would move to outlaw the practice nationwide.
The mental health crisis among LGBTQ youth is particularly striking. The Trevor Project reports that gay youth are almost five times as likely to attempt suicide compared to their straight peers. LGBTQ youth are twice as likely to experience physical assault, according to the Human Rights Campaign.
The conversion therapy ban, the senator wrote, would help address this crisis. In addition, she would increase access to mental health services for LGBTQ youth and apply Title IX regulations, which prohibit gender discrimination in education, to the LGBTQ community.
"LGBTQ people deserve to live, work, raise families, and succeed just like anyone else — and LGBTQ kids deserve to grow up in a country that supports and encourages them," she concluded the post. "As president, I will do more than defend LGBTQ rights — I will stand shoulder to shoulder with the LGBTQ community in the fight for equality."