Legal Weed: Here's Where Every 2020 Presidential Candidate Stands on Marijuana Reform and Legalization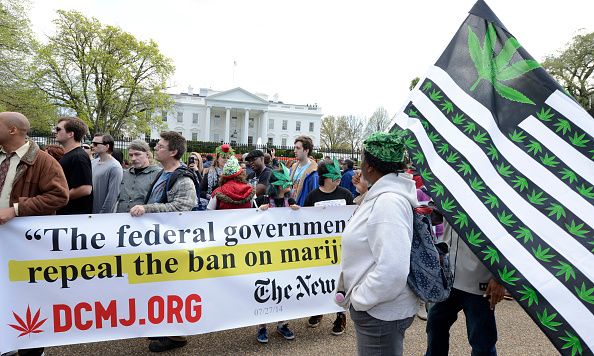 With an ever-growing field of contenders running for president, especially in the Democratic Party, once-fringe measures like marijuana legalization have become a litmus test for the candidates' commitment to progressive politics.
"It's very encouraging to see so many presidential candidates taking a position in line with what the American people want. For decades there's been a disconnect between the positions of the American public and their elected officials," Matthew Schweich, the deputy director of the Marijuana Policy Project, told Newsweek.
National polling shows that the country overwhelmingly supports legalizing marijuana for both medical and recreational use. According to a 2018 Gallup poll, two in every three Americans support legalizing weed. That figure was backed up by a CBS poll conducted on the eve of 4/20, a date has long been a national holiday for those inclined to celebrate cannabis culture even before the rush of states legalizing marijuana in recent years.
Ten states and Washington D.C. have already legalized marijuana and over 30 states have medical marijuana laws. During the 2018 midterm elections, three states voted in favor of marijuana legalization including Michigan, which was the first Midwest state to do so.
Schweich said that it is "clear that these policies work and that has helped bring presidential candidates to the position of support." In return, 2020 candidates who support cannabis reform are helping to further normalize the issue.
Here's where all of the 2020 presidential candidates stand on marijuana:
Cory Booker (D)
Senator Booker has supported cannabis reform efforts in Congress and has been an outspoken critic of the war on drugs.
In February, Booker reintroduced the Marijuana Justice Act, which he first introduced in 2017. The legislation would decriminalize marijuana at the federal level. Several other 2020 Democratic candidates have co-sponsored the bill, including Harris, Gillibrand, Sanders and Warren.
Pete Buttigieg (D)
The South Bend, Indiana, mayor doesn't appear to have signed any legislation regarding marijuana reform but he has stated he supports legalization. In an interview with The Boston Globe, Buttigieg said that the "safe, regulated, and legal sale of marijuana is an idea whose time has come for the United States, as evidenced by voters demanding legalization in states across the country."
Julian Castro (D)
The former Housing secretary does not have a large record on marijuana policy, but he stated his favor for legalization at a CNN town hall earlier this month.
"I actually support the legalization of marijuana," he said. "On top of that, we need to go back and expunge the records of people who were imprisoned because of using marijuana."
John Delaney (D)
The former House representative has suggested support for legalization and said that the federal government should get out of the way.
"There's such a movement at the state level to legalize marijuana, to decriminalize it, and at a minimum to allow it to be legal for medical purposes," Delaney said at a town hall event at SXSW. "And I think the federal government should get out of the way and let that movement continue."
Tulsi Gabbard (D)
The congresswoman from Hawaii supports the legalization of marijuana. During her time in Washington D.C. she's co-sponsored various marijuana-related bills. She was also the prime sponsor of a proposal to force the federal government to study the impact of legalizing cannabis.
In her campaign speech, Gabbard slammed the criminal justice system for putting "people in prison for smoking marijuana while allowing corporations like Purdue Pharma, who are responsible for the opioid-related deaths of thousands of people, to walk away scot-free with their coffers full."
Kirsten Gillibrand (D)
The New York Democrat is now one of the most vocal lawmakers in Congress for cannabis reform, despite not co-sponsoring any pro-marijuana bills during her time in the House of Representatives from 2007 to 2009.
On her 2020 campaign website, Gillibrand highlights her support for marijuana legalization, writing: "We have a mass incarceration crisis, and institutional racism pervades the way we enforce laws. To rectify this, we should legalize marijuana at the federal level and expunge past records; reform our sentencing laws so that judges can have more flexibility when dealing with low-level, nonviolent drug offenses."
Kamala Harris (D)
Harris's thoughts on marijuana reform have evolved. In 2010, when she was the attorney general of California, she opposed an initiative to legalize marijuana. But in 2018, Harris added her name to Booker's Marijuana Justice Act​ to make marijuana legal at the federal level​.
In a recent radio interview, Harris said that she has smoked marijuana before: "I have. And I inhaled, I did inhale. It was a long time ago, but yes."
John Hickenlooper (D)
Hickenlooper oversaw Colorado's marijuana reform effort in 2012, though he deemed the decision to legalize the drug "reckless." Since then, he's signed a number of various marijuana-related bills into law.
During a CNN town hall event in March, Hickenlooper said that he "would not ask the federal government to legalize it for everyone, but I think where states do legalize marijuana, with the voters or through the general assembly, the federal government should get out of the way."
Jay Inslee (D)
Inslee, the governor of Washington, oversaw the state's legalization efforts. He also launched a program designed to expedite the expungements of misdemeanor marijuana possession convictions going back to 1998.
Before launching a 2020 bid, Inslee said that he expects recreational use of marijuana to eventually be legalized in all states.
Amy Klobuchar (D)
The Minnesota senator said that she is in support of legalizing marijuana. "I support the legalization of marijuana and believe that states should have the right to determine the best approach to marijuana within their borders," she said in February.
Klobuchar is a co-sponsor of the STATES Act, which would protect states' rights to enact their own marijuana policies. She has also signed onto measures to expand marijuana research and to remove CBD from the federal law's definition of marijuana.
Wayne Messam (D)
The 44-year-old mayor of Miramar, Florida, said he believes states should have the right to legalize marijuana without threats from the federal government.
"As long as those states that choose to do so continue to enforce DUI laws, spread economic benefits throughout all communities, and expunge records for those arrested for selling marijuana, they would have my full support as President," his campaign website reads.
Beto O'Rourke (D)
The Texas Democrat is in favor of ending federal prohibition of marijuana and creating a regulated, legal marijuana market. He also supports expunging the criminal records of people who were arrested for non-violent marijuana crimes. While in Congress he cosponsored a number of drug reform bills.
In March, just before launching his presidential campaign, O'Rourke sent an email to supporters in which he again backed the repeal of the federal criminalization of marijuana.
Bernie Sanders (D)
The Vermont senator was the first major presidential candidate to endorse marijuana legalization during his first presidential bid. He was a more vocal supporter of cannabis reform than his primary rival Hillary Clinton.
In 2015, Sanders filed the first-ever Senate bill to end federal cannabis prohibition. In March, Sanders said that "too many lives are being destroyed" federal laws banning marijuana use.
Eric Swalwell (D)
The California lawmaker supports marijuana legalization. He backed the SAFE Banking Act, which would allow legal marijuana businesses to access banking services. He's also a co-sponsor for the Ending Federal Marijuana Prohibition Act of 2019.
Elizabeth Warren (D)
Warren is a sponsor of the STATES Act, which she filed alongside Colorado Senator Cory Gardner. She said that, while she would prefer to legalize the drug completely, she is willing to work with Republicans to support state-lead legalizations efforts.
At a campaign stop in New Hampshire, a reporter asked the senator how she currently felt about cannabis reform. Warren replied that she "voted in favor of legalizing marijuana in Massachusetts" and that "we should legalize it nationally."
Marianne Williamson (D)
Williamson is in support of legalizing marijuana. During a campaign stop in New Hampshire this week, she said that in her "opinion is we are so beyond worrying about marijuana. We are onto something so much bigger than marijuana"—like the problems people face with drugs like heroin and fentanyl.
Andrew Yang (D)
The 44-year-old technology executive states on his campaign website that he in support of full-scale legalization of marijuana.
"We need to resolve the ambiguity and legalize marijuana at the federal level. This would improve safety, social equity, and generate tens of billions of dollars in new revenue based on legal cannabis businesses," the website reads.
Bill Weld (R)
Despite being a longtime Republican, Weld has supported marijuana legalization since serving as the governor of Massachusetts in the early 1990s. In 2018, Weld joined the board of a cannabis company with former House Speaker John Boehner, who had once famously said in that he was "unalterably opposed" to decriminalizing the drug.
He has also endorsed the STATES Act, calling the bill his "favorite piece of legislation that is on the Hill right now."
Donald Trump (R)
During the 2016 campaign, then-candidate Trump said that he supported medical marijuana but that any other policies should be left up to the states to decide. Then in June 2017, just a few months after being sworn in, Trump said that he would probably "end up supporting" the bipartisan STATES Act.