Despite the coronavirus limiting most of our Halloween plans, there's no need to miss out on all of the holiday fun. Celebrities are still dressing up for the holiday and spreading some of the Halloween spirit by sharing photos of their costumes.
Several prominent people have taken inspiration from the COVID-19 pandemic and used their costumes as an opportunity to pay tribute to healthcare workers, like Katherine Schwarzenegger. Others, meanwhile, like Kim Kardashian West, decided to capitalize off of everyone's favorite early-quarantine binge-watch, Tiger King.
While we're likely to see even more costumes over the weekend (and maybe even more from the celebrities featured below), these are some of the best celebrity Halloween costumes of the year so far:
Kim Kardashian West as Carole Baskin
As previously mentioned, Kardashian West dressed as Tiger King subject (and recent Dancing with the Stars contestant) Carole Baskin, while her children dressed as big cats. The reality star and mogul's friend, Jonathan Cheban, joined her as Joe Exotic. Kardashian West wasn't the only celeb to take inspiration from Tiger King, though.
Kelly Ripa and Ryan Seacrest as Joe Exotic and a Tiger
Kelly Ripa and Ryan Seacrest also played into the Tiger King excitement—and it's a good thing, too, because these costumes already feel kinda dated. Ripa dressed as Joe Exotic and Seacrest donned a tiger onesie. The pair also dressed as characters from Schitt's Creek for their morning show.
Kylie Jenner as the Red Power Ranger
Jenner put a quarantine spin on her outfit as the leader of the Mighty Morphin' Power Rangers. Getting a group of her friends to dress as the other Rangers, Jenner donned special shades and a decorated face mask to resemble the iconic '90s character's helmet, as shown on her Instagram story.
Katherine Schwarzenegger as a Nurse
Schwarzenegger posed with her dog earlier this week to give thanks to essential workers who have worked so hard during the pandemic; she dressed as a nurse and put a firefighter's helmet on her dog. The author also noted that the boxes used in their respective costumes to symbolize the hospital and firehouse were recycled.
Bella Thorne as Little Red Riding Hood and a Vampire
The actress and model has shared two costumes on her Instagram. In the first, she's dressed as a scantily clad Little Red Riding hood, joking "grandma doesn't approve of my outfit." Later, she shared a picture of herself and her sisters dressed as a trio of vampires.
Kelly Clarkson as Meryl Streep in Death Becomes Her
Kelly Clarkson dressed as Meryl Streep's Madeline Ashton character from the 1992 comedy Death Becomes Her for the Friday edition of her show.
Halsey as The Corpse Bride
Badlands singer Halsey shared a picture of herself on Thursday dressed as the titular character from Tim Burton's The Corpse Bride. She didn't, however, post how long it took for her to get the blue body paint off.
Vanessa Hudgens as a bunch of things
Actress Vanessa Hudgens made the most of the Halloween season this year by sharing multiple costumes on her Instagram account. She dressed as Catwoman (above), an elf, a black widow and a character inspired by Cabaret.
Saweetie as Destiny's Child and RuPaul
The "Tap In" rapper shared two incredibly detailed costumes, in which she posed as all three members of Destiny's Child on the "Bootylicious" cover and RuPaul in a promo shot for Drag Race. She also shared the original pictures beside them just to show how accurate the costumes are.
Skai Jackson as Tiffany Valentine from the Chucky franchise
Actress Skai Jackson and her Dancing with the Stars partner Alan Bersten dressed as America's favorite killer doll couple, Chucky and Tiffany, for a performance to Billie Eilish's "everything i wanted" on DWTS this week.
JWOWW as Joyce Byers from Stranger Things
The former Jersey Shore cast member went all out with her family with an impressive set of Stranger Things costumes. She dressed as Winona Ryder's character Joyce Byers, while her children dressed as Eleven and Dustin. Her significant other dressed as police chief Jim Hopper.
Holly Madison as a bunch of things
Model and reality TV personality Holly Madison has shared a bunch of costumes on her Instagram, including a TikTok showing "Halloween costumes [she] would wear as everyday looks." Some of the costumes she's shown off include a Ouija Board, a Slytherin student at Hogwarts, a sailor and a ghost.
Ellen Degeneres as a Super Nurse
Ellen DeGeneres donned a special nurse's outfit for her show, wearing one that had the Superman logo to pay tribute to all of the frontline workers who have been helping people during the COVID-19 pandemic.
Jason Aldean as Joe Exotic
Like many others, the country singer did his best Joe Exotic for Halloween. He released a hilarious video on his Twitter to show off his costume. At the end, he also showed that he'd dressed his daughter up as Carole Baskin.
Mindy Kaling as Devi from Never Have I Ever
Kaling dressed as the teen character Devi (played by Maitreyi Ramakrishnan) from her Netflix series Never Have I Ever.
Kanye West (?) as... the Tick?
Yeezy tweeted a photo that appears to be an aerial shot of him, dressed in a blue muscle suit. It's not clear that it's definitely West in the photo, and it's really not clear what he's supposed to be. Maybe The Tick?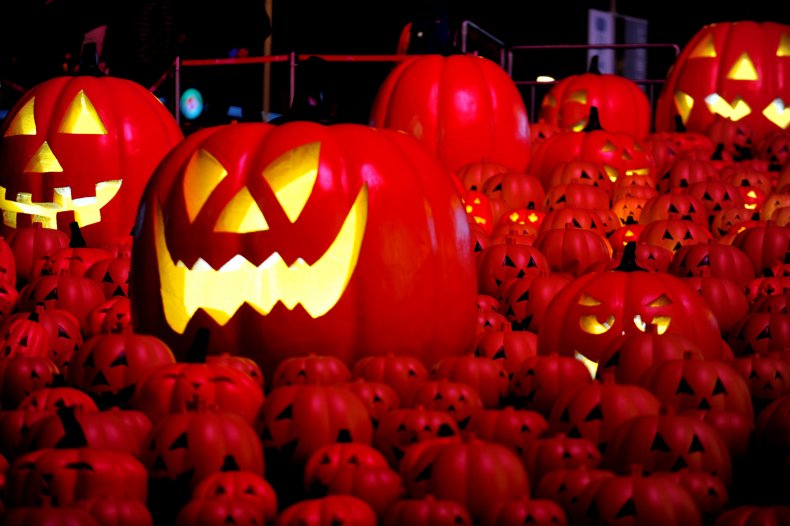 Updated 10/30/20 5:20 p.m. EST: This story has been updated to include Ellen DeGeneres, Jason Aldean, Mindy Kaling and (maybe) Kanye West.