The 2020 census could discount up to 4 million largely minority Americans, while over-counting white, upper-income citizens, according to a new report.
A census miscount could mean that disadvantaged communities don't receive an accurate level of political representation and funding. Congressional districts are zoned based on census information and funding for certain welfare programs is granted based on that data.
The report by left-leaning think tank The Urban Institute analyzed how census survey responses could be impacted by a number of factors: underfunding of the 2020 U.S. census; new, relatively untested technology and strategies including online surveys and mailed ballots; and a cooling effect due to fears of a citizenship question on potential population count.
A group of Urban Institute researchers created three models to reflect the miscount risk as low, medium, or high.
"The miscounts may disproportionately affect some groups more than others. Black and Hispanic/Latinx-identified individuals in the high-risk scenario could be undercounted nationally by 3.68 percent and 3.57 percent, respectively," the report read. At its highest, that's a miscount of 1,727,200 black residents and 2,216,200 Hispanic/Latinx people. White, non-Hispanic individuals, meanwhile, could be over-counted by 0.03 percent in high-risk scenarios.
"This prospect of the 2020 Census producing a net national undercount of 4 million people—while double-counting members of some privileged communities—is alarming," wrote Vanita Gupta, president and CEO of The Leadership Conference Education Fund, in an emailed statement. "An inaccurate census would exacerbate systemic inequities for people of color and people with low incomes."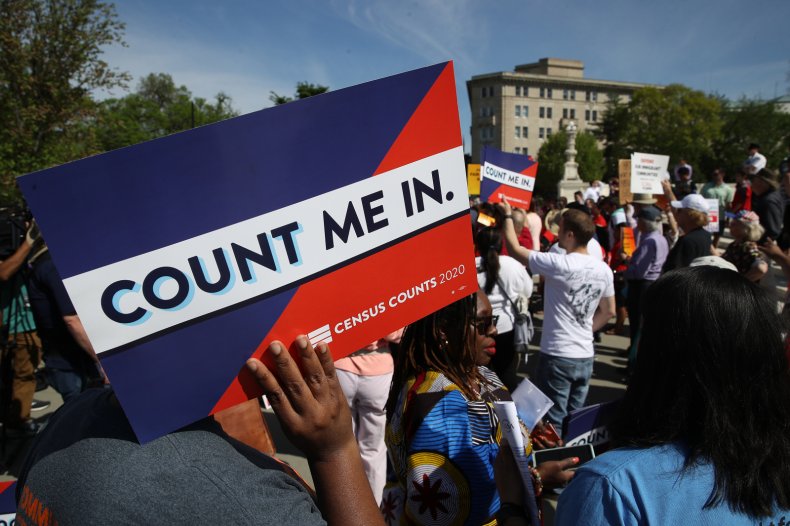 The study also found that new operational changes being implemented in 2020, like making the primary response mode online and using administrative records and third-party data to fill out information for missing residents were "insufficiently tested in a decennial census environment."
"Best evidence suggests [the Census] will disproportionately improve the count of those who are already easiest to count, leaving the hard-to-count population a lingering challenge," the Urban Institute report reads.
Additionally, the researchers found that "political discourse about immigration and the citizenship question has created a potential chill among some groups in the country, including those who are Hispanic/Latinx-identified and immigrants."
President Donald Trump and his administration have fought to include a citizenship question on the U.S. census, which some fear will stop immigrants from answering and being counted, out of fear of deportation or other repercussions.
The Supreme Court has heard a case on the matter, and should decide if this question is allowed before the end of June. Those who challenge the addition of the question say that it was politically motivated, and the American Civil Liberties Union has taken the case back to district court, claiming that the Trump administration gave "misleading" testimony about the reasoning for adding the question to the census. In a letter, the ACLU wrote that they found a 2015 study by a Republican redistricting expert who said that using only citizens of voting-age for redistricting would benefit white Republicans, "The Justice Department's hands are not clean," they wrote.
Representatives for the Justice Department called the ACLU's claims a "baseless attack on the integrity of the Department and its employees."
Funding for the 2020 census has lagged over the decade, particularly since Trump took office. Because of budget cuts, census officials have been able to do as many test-runs as planned to properly prepare for the huge undertaking of documenting every American resident.

The U.S. Government Accountability Office added the 2020 Decennial Census to its high-risk list in 2017 because of concerns with cyber security and a lack of testing. While the GAO has subsequently noted that the Census Bureau has taken some actions to address these concerns, the census has remained on the list because officials have not implemented or tested new innovations or technology as recommended.
"Not fully testing innovations and IT systems as designed, increases the risk that innovations and IT systems will not function as intended during the 2020 Census," wrote the GAO.