2020 College Football Preview, Top 20 Preseason Ranking and CFP Prediction
The college football season officially kicked off last Saturday with Central Arkansas beating Austin Peay, 24-17. That score, and game, would typically go unnoticed in any other season. But it's 2020, though, and nothing is off the table. It was the first Division I game in a season during which COVID-19 has taken front and center.
Football was once declared a sport that would not happen in 2020, especially when the Big Ten and Pac-12 conferences both said they would not play this fall. While football may not be the same this season, football looks to still be happening for many college schools this fall.
Three Power 5 conferences (ACC, Big 12 and SEC) have decided to play football this fall, as have other Group of 5 conferences like the American Athletic Conference (AAC). Notre Dame will be in the ACC this fall, and the Fighting Irish can play for a conference title.
LSU lost a ton of talent from their national championship team, Clemson is a prohibitive No. 1 team, Alabama reloads again, Notre Dame lurks as a top team, the SEC will be loaded with talent, Oklahoma is back—so is Texas—and the Big Ten is now saying it could join the party by Thanksgiving weekend.
That said, here's a preview of the 2020 season.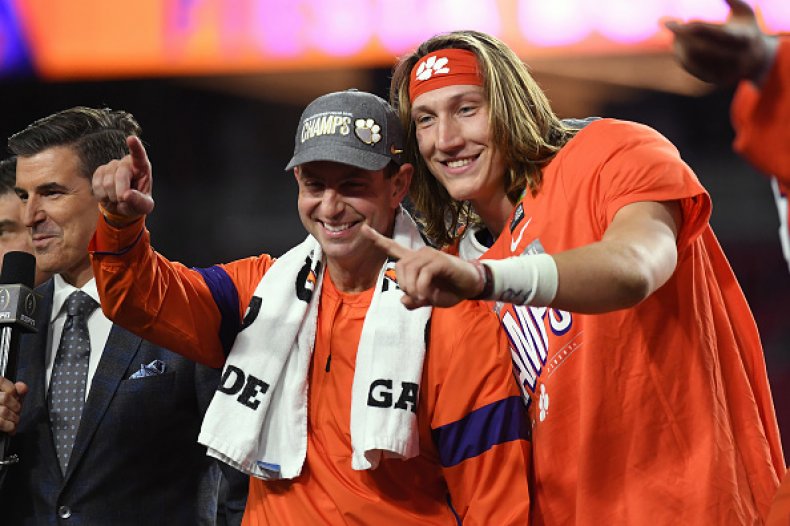 Top 2
Clemson has maybe the best quarterback in Trevor Lawrence and one of the best running backs in Travis Etienne. Coach Dabo Swinney lost a lot of other talent, but the Tigers have recruited phenomenally over the last four years. The offensive and defensive coordinators (Tony Elliot and Brent Venables) are still there, and Clemson's only loss in the last two years has been the national championship last season. Alabama, under Nick Saban, reloads best after bad seasons—and a two-loss season is bad for Saban at Alabama. If Ohio State is not in the fray, then these should be the top two teams in the country.
Outside looking in
It's hard to say that a team picked to finish fourth in its own division of a conference could be an outside pick, but Texas A&M could be one of those teams. They are a preseason Top 10 team, they have a three-year starter with Kellen Mond at quarterback and coach Jimbo Fisher has had ample time to implement his program in Aggieland. Notre Dame has the talent to make a college football final four if it can beat Clemson at home, Texas has the pieces to beat Oklahoma and win the Big 12, North Carolina could sneak out as ACC champs, and either Cincinnati or Memphis could be a fourth CFP team if the Big Ten doesn't play this fall.
Newsweek Top 20 (Preseason)
Some teams are playing right away, and some won't play until late September. The following rankings are based on who is playing—based on current schedules. The Big Ten has indicated it might play after Thanksgiving. Here are the following rankings, and playoff predictions, going into the first week of college football. (Note: LSU was a top 5 team before WR Ja'Marr Chase declared Sunday he would not play in 2020)
Clemson
Alabama
Oklahoma
Georgia
Notre Dame
Florida
Auburn
Texas A&M
Texas
LSU
North Carolina
Cincinnati
Oklahoma State
Tennessee
Louisville
Kentucky
Miami
Memphis
Iowa State
UCF
College Football Playoff Prediction
These predictions don't equate to rankings of the teams at the beginning of the season, but rather where they will end up at the the end of the season. The three Power 5 conferences will eliminate themselves through attrition of their schedules, and a team like Cincinnati can make it with one or no losses.
Clemson
Alabama
Texas
Cincinnati
September Games to Watch
Sept. 7 BYU at Navy
Sept. 12 SMU at TCU
Sept. 19 Miami at Louisville
Sept. 19 Virginia at Virginia Tech
Sept. 26 Florida State at Miami
Sept. 26 Louisville at Pittsburgh
Sept. 26 Kansas State at Oklahoma
Sept. 26 West Virginia at Oklahoma State
Sept. 26 Florida at Ole Miss
Sept. 26 Mississippi State at LSU
Sept. 26 Tennessee at South Carolina