Democratic Debate Ratings: Who Beat Expectations and Who Fell Below in the Race for the 2020 Nomination?
Ten Democratic candidates, many of them top contenders, stood on stage for their first Democratic presidential primary debate in Miami, Florida, Thursday evening.
Some needed to prove themselves while others just needed to maintain their lead, but at the end of the night only some were successful. The graphic below, provided by Statista, illustrates the amount of speaking time each candidate garnered during the debate.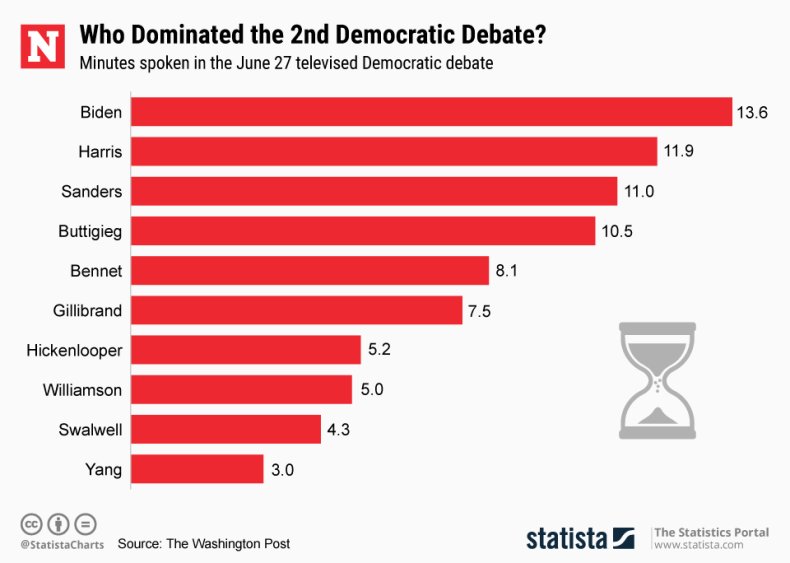 Below are Newsweek's official rankings of who stood out and beat expectations this evening and who didn't.
Joe Biden
Expectations: As the frontrunner, Biden didn't have to do much to stand out in this debate, and didn't need a viral moment to boost his profile. As long as the former vice president managed to prove why his policies set him apart from other candidates and avoided gaffes, he'd be fine.
Realty: Below expectations.
Biden gave standard answers to tough questions for the majority of the night, but had one standout moment where Senator Kamala Harris hit him on the topic of segregation and racism. Biden struggled to answer the question and eventually cut himself off, saying "My time's up. I'm sorry."
Standout Line: "I was responsible for getting 150,000 combat troops out of Iraq and my son was one of them."
Bernie Sanders
Expectations: Sanders has led the progressive contingent of the 2020 candidates with his policy prescriptions. Candidates like Elizabeth Warren, Bill de Blasio, Kamala Harris and Kirsten Gillibrand have said they support his Medicare for All plan, and he's the primary sponsor of the Green New Deal in the Senate. Sanders' plan to eliminate all student loan debt has pushed all of the candidates to come up with their own. By pushing his policy agenda forward, and proving that there's more to him than catchphrases like "the 1 percent," he'd have done enough to meet expectations.
Reality: As Expected.
Sanders didn't knock it out of the park, but he played the hits and spoke out against the ultra-wealthy and corporations and successfully defended his previous comments in defense of gun ownership. It's difficult to stand out on a stage with nine other people and Sanders decided not to be too aggressive in the fight for his time. He did have a standout moment when he fired back at Congressman Eric Swalwell who criticized former Biden for his age,
Standout Line: "Instead of spending trillions of dollars on misguided wars and weapons of mass destruction, we must combat our climate crisis and take on the fossil fuel industry. We need a Green New Deal."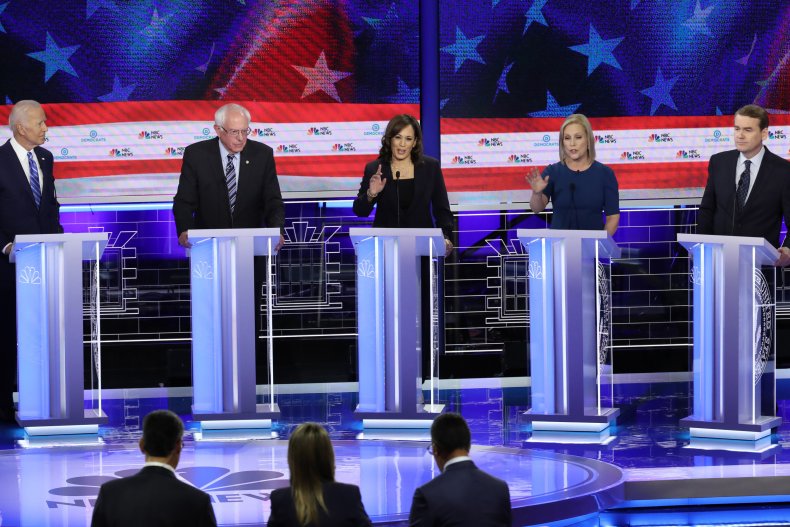 Kamala Harris
Expectations: Harris is middling around fourth place amongst the candidates, meaning she still has a real chance of clinching the nomination. In order to do that, she needs to take advantage of the debates to gain name recognition, prove that she has the strength it takes to stand up to President Donald Trump and explain away certain controversies, like the parents she arrested for minor offenses while California District Attorney.
Realty: Exceeded Expectations.
Harris stood out as a clear winner of the evening. Well-spoken, clear and compassionate, Harris showed off why she so quickly ran to prominence in the state of California and then in the Senate. Harris proved she wasn't shy to take down front-runner Joe Biden and even former President Barack Obama for his migrant family separation policy.
Standout Line: "Vice President Biden, I do not believe you are a racist, and I agree with you, when you commit yourself to the importance of finding common ground. But I also believe—and it's personal—it was actually hurtful to hear you talk about the reputations of two United States senators who built their reputations and career on the segregation of race in this country."
Pete Buttigieg
Expectations: Buttigieg is a commanding speaker, his authentic, well-thought-out answers tend to win over voters who see him speak. But this has been a tough week for the South Bend, Indiana, mayor. Buttigieg, who is struggling to win over the black vote went back to his home city to pick up the pieces in the aftermath of a white police officer shooting a black citizen. If Buttigieg can turn this tragedy into a teaching moment that can inspire the electorate, he'll have exceeded expectations.
Reality: Exceeded Expectations.
Buttigieg was another winner of the evening. His answers were thoughtful, authentic and poignant, especially around religious freedom in America. Perhaps the top line of the evening was delivered by Buttigieg. "For a party that associates with Christianity to say it is OK to suggest that God would smile on the division of families at the hands of federal agents, that God would condone putting children in cages, has lost all claim to ever use religion language again," he said.
Buttigieg had to defend himself when attacked by Congressman Eric Swalwell about the shooting in South Bend, but admitted that he failed which came off as strong, instead of weak.
Standout Line: "If more guns made us safer, we'd be the safest country on Earth."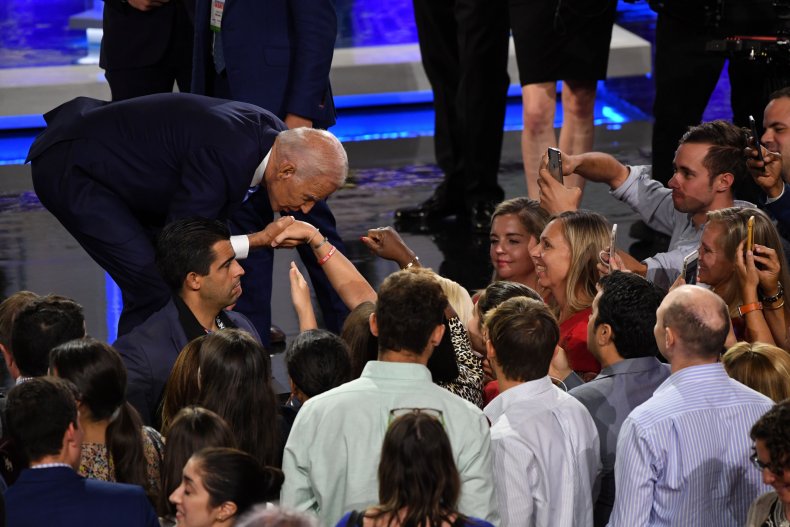 Andrew Yang
Expectations: Yang is a candidate with a large online following, but he'll need to take his ideas and bring them to an in-person audience. His economic ideas, which largely center around the concept of a universal basic income are hard to explain on a debate stage with limited time and many speakers, if he can get his message across persuasively and clearly, he'll likely gain in the polls.
Realty: Met Expectations.
Yang didn't get much time to shine on the debate stage but was able to press his main economic issues and explain "trickle up economics" more than once. Surprisingly, it was his choice of wardrobe that got him attention, he was the only male candidate who opted out of wearing a tie.
Standout Line: "Taking care of our basic needs first will allow us to better focus on solving the big problems of our time like climate change. That's why we need to pass the Freedom Dividend and get the economic boot off the throats of millions of Americans."
Kirsten Gillibrand
Expectations: Gillibrand has been called a "dark horse" candidate for a while now, but is still lagging in the polls and struggling with name recognition in a very crowded field. A viral moment, especially around the #MeToo movement, which she's a large proponent of, will do her well.
Reality: Exceeded Expectations.
Gillibrand fought hard for extra time, often interrupting others, but it worked. She came across as the strongest advocate on stage for reproductive rights and paid time off for families. She also had strong messages around a possible war in Iran, showing off her foreign policy chops.
Standout Line: "Imagine the Parkland kids having as much power in our democracy as the Koch brothers or the NRA."
Marianne Williamson
Expectations: Williamson isn't known for her political background, and tends to be thought of more as a spiritualist. The bar is low, if she can prove she has some policy bones she'll exceed expectations.
Reality: Below Expectations.
Williamson got very few words in and appeared to be just standing on the stage for the duration of the two-hour debate. When she did speak, she explained that the way to fight President Donald Trump was to harness the power of love.
Standout Line: "I am going to harness love for political purposes."
Michael Bennet
Expectations: Bennet struggles from a lack of name recognition. It was a viral moment that first brought him to national prominence, where he got angry on the Senate floor and admonished Senator Ted Cruz for the government shutdown. We'll need to see a passion like that once more to generate some buzz and a boost in the polls.
Realty: Met expectations.
Bennet had some good lines, especially around immigration but his moderate views didn't win over the crowd. His comments against socialism actually generated boos.
Standout Line: "When I see these kids at the border, I see my mom."
Eric Swalwell
Expectations: This young gun will need to up his name recognition and make his policy positions clear. So far, Swalwell has based his campaign on changing gun policy. We need to see what else he's got.
Reality: Met Expectations.
Swalwell made sure he got his talking time in by interrupting candidates and also wasn't afraid to challenge them. He directly attacked Biden for his age, Buttigieg for his handling of the shooting in South Bend and Sanders on gun policy. He certainly didn't win any friends on the debate stage, but he isn't there to make friends. He's there to win.
Standout Line: "I was 6 years old when a presidential candidate came to the California Democratic Convention and said it is time to pass the torch to a new generation of Americans. That candidate was then-Senator Joe Biden. Joe Biden was right when he said it was time to pass the torch to a new generation of Americans 32 years ago, he is still right today."
John Hickenlooper
Expectations: Hickenlooper is a lesser-known candidate and needs to do something to stand out and gain name-recognition. Any clippable or quotable moment will be a win,
Reality: Met Expectations.
Hickenlooper was strong while talking about his track record as governor of Colorado, and spoke out repeatedly against socialism, establishing himself as a moderate candidate, but there weren't too many memorable moments.
Standout Line: "You don't need big government to do big things..if we turn toward socialism, we run the risk of re-electing the worst president in American history."
This article was updated to include an infographic.