'That's Horseshit': Democratic 2020 contender Releases Ad Blasting DNC Over Exclusion From First debates
On the heels of his stinging exclusion from the first Democratic primary debates, Montana Governor Steve Bullock, one of 24 Democrats vying for the 2020 nod, released an ad chastising the Democratic National Committee (DNC) for its decision.
"The DNC is saying Governor Bullock doesn't qualify for the debates," the ad portrays a supporter telling the camera. "That's horsesh*t."
Bullock's appearance in the first Democratic debates was prevented due to a set of standards established by the DNC to rein in the unwieldy number of Democrats who had jumped into the presidential race.
Candidates had to pass a 1 percent polling threshold in three qualifying surveys or they had to receive contributions from at least 65,000 unique donors in order to be included in the first debates, hosted over two nights by NBC News, MSNBC and Telemundo.
Get your unlimited Newsweek trial >
Three other candidates were similarly cast aside from the debate schedule because of their inability to meet either standard.
Bullock's new ad has sought to push back against the notion that the failure to meet either threshold says anything about the promise of his candidacy.
"You don't need to be from Montana to know that anybody who wins by four, the same election that Trump won by 20, is doing something right here," the supporter depicted in the ad observes. "Well, what are you waiting for? Go and donate."
Get your unlimited Newsweek trial >
Bullock is a popular Democratic governor in a state that Trump won in 2016 by 20 points. Despite the strong conservative tailwinds that Republican candidates enjoy in the state, Democratic Senator Jon Tester has similarly managed to hold onto his statewide seat quite comfortably as recently as 2018.
The governor is highlighting his Trump-voter bona fides as an important part of his candidacy.
His tweet releasing the ad warns: "If we don't take back the places we lost in 2016, Trump will win. We can't lose sight of that."
Politico obtained a letter Bullock's campaign manager sent to DNC Chairman Tom Perez before the final roster of candidates was announced. In the June 12 letter, she insisted to Perez that "Governor Bullock has met the threshold for qualification for the first debate."
Bullock's campaign has started to fundraise off of the decision. On the landing page of a donation portal for his campaign, the text "BREAKING NEWS: DNC blocks Steve Bullock from the first debate" appears in bolded letters.
"We need to do everything we can to get to 65,000 donors and make the next debate," the appeal continues. "So we're asking you: Will you rush a donation to help Steve Bullock?"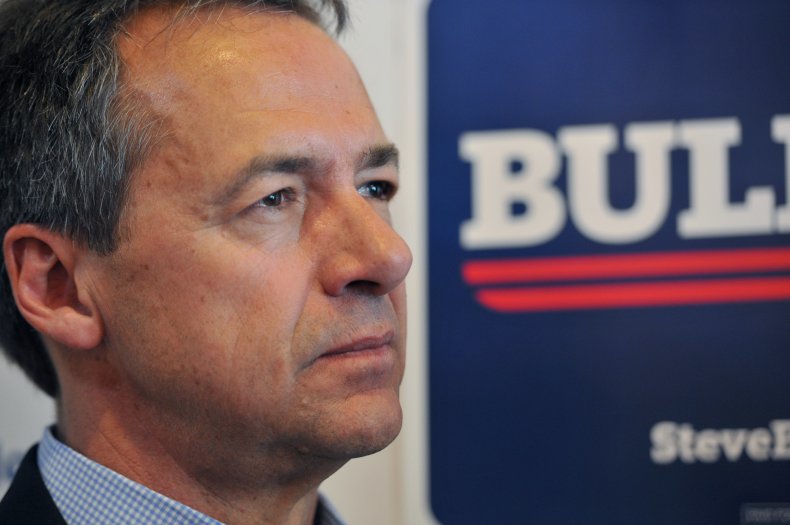 'That's Horseshit': Democratic 2020 contender Releases Ad Blasting DNC Over Exclusion From First debates | Politics