Bernie Sanders 'Best' On Health Care, the Economy, Environment and Immigration in New 2020 Poll
A new poll finds that, among 1,115 adult respondents living in the United States, 2020 Democratic candidate Bernie Sanders is "the best" on several particular issues, including healthcare, the environment, immigration, the economy and jobs.
Conducted by Ipsos on behalf of Reuters between November 1-4, the poll asked respondents to "select the candidate from the list below you think is best on that particular issue," with Joe Biden, Bernie Sanders, Elizabeth Warren, Pete Buttigieg, Beto O'Rourke and Cory Booker available as selections. Among independents and self-identified Democrats (these questions were not asked of Republican respondents), Bernie Sanders was the preferred candidate in every policy category, which included "immigration," "health care," "the environment" and "the economy and jobs."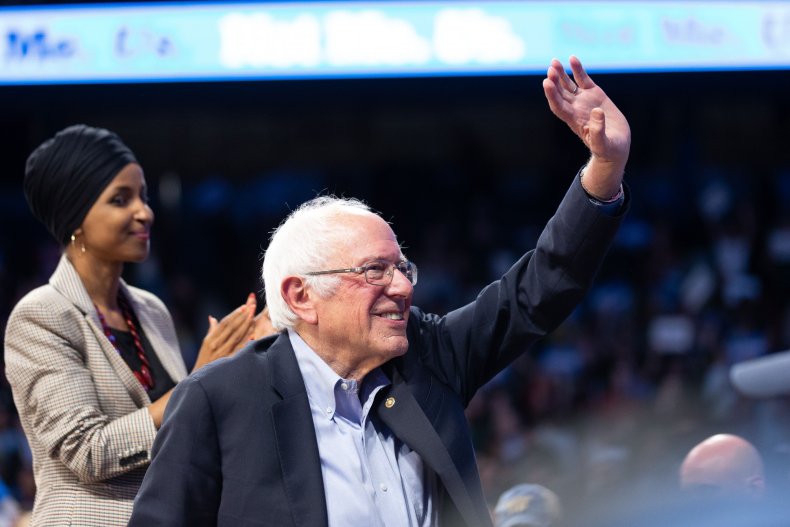 Sixteen percent of respondents agreed Bernie Sanders was the "best on" immigration issues, followed by Joe Biden with 13 percent and Elizabeth Warren with 10 percent. The same ranking of the top three candidates was similar when it came to the economy and jobs, but wider divisions between candidate preference were evident in other policy areas.
Sanders was the clear preference when it came to health care, at 24 percent—a reflection of the central role a single-payer "Medicare for All" plan has played in his campaign—with Warren at 15 and Biden at 14. Sanders was also substantially ahead when it came to environmental issues, such as the New Green Deal, polling at 20 percentage points to Biden's 12 and Warren's 11.
The poll found similar plurality support for Sanders' policy positions when narrowed to only self-identified Democrats, with Sanders demonstrating a substantial lead in healthcare and the environment, but tied with Joe Biden for the top spot when it comes to the economy and immigration.
Although Sanders was a clear preference among possible Democratic primary voters on a number of policies, the democratic socialist candidate ranked second overall, with 15 percent saying they would vote for Sanders were the primary held today, compared to 22 percent for Biden and 11 percent for Warren.
A possible explanation can be found in several of other polling questions, which focused around more subjective metrics, like the concept of "electability" against President Donald Trump. Though they may prefer Sanders on the issues, 29 percent of respondents in the new poll said Biden is "most likely to beat Trump in the general election," with Sanders coming in a distant second at 16 percentage points.
Biden eked out a more narrow advantage when respondents were asked which candidate would best "unify the Democratic primary," with 19 percent, compared to Sanders' 16.
Primary voters named a variety of reasons for supporting their preferred candidate, including whether they would "make a good president" and "have the right ideas or policies." But this latest poll suggests even widespread agreement on the candidate with the best policies doesn't necessarily equate to an overall polling lead.
The 2020 Democratic primary will begin determining a candidate, advancing beyond the polling face-off, when the Iowa Democratic caucuses take place on Monday, February 3, 2020.