Democratic 2020 Primary Debates Schedule, Requirements and Qualified Candidates
The first of 12 Democratic presidential primary debates is less than three weeks away with 20 candidates having so far met the requirements to participate.
The opening Democratic debate of the 2020 election cycle is on June 26 and June 27 in Miami, Florida. The event will take place over the course of two days due to the high volume of candidates vying for the party's nomination and the opportunity take on President Donald Trump.
There are currently 20 Democrats who are eligible to partake in the event, according to an analysis by CNN. That includes many of the race's top contenders, like Joe Biden, Bernie Sanders, Elizabeth Warren and Kamala Harris.
There's also a handful of candidates who may be able to satisfy the requirements before the June 12 deadline. Steve Bullock, Wayne Messam and Seth Moulton have yet to hit the necessary thresholds to make it to the debate stage.
The Democratic National Committee announced earlier this year that the maximum number of participants for debates will be 20. If more than 20 candidates meet the requirement, those with the lowest polling averages will be excluded.
"It's conceivable that we have a double-digit field," Tom Perez, the chairman of the Democratic National Committee, told reporters in December 2018. "That is why we are planning for that contingency."
Here's everything you need to know about the Democratic 2020 primary debates:
Schedule
Six debates will be held in 2019 and six in 2020. Debates in the four early-voting states—Iowa, New Hampshire, South Carolina and Nevada—will be held in 2020.
June 26-27 in Miami, Florida. The event will be moderated by NBC, MSNBC and Telemundo.
July 30-31 in Detroit, Michigan. The event will be moderated by CNN.
September 12-13. Location is to be determined. The event will be moderated by ABC News.
After September, there will be one debate every month until April 2020. The specific dates and locations of the debates have not yet been announced.
Requirements
In order to qualify for the first two debates, presidential candidates must do one of two things: poll at 1 percent in at least three surveys or receive donations from 65,000 people across various states.
In order to meet the polling requirement, the surveys must be national or conducted in Iowa, New Hampshire, South Carolina or Nevada. The results of the polls also must be publicly released between January 1, 2019, and 14 days before the debate.
To reach the donation requirement, candidates need to have received monetary contributions from at least 65,000 unique donors. Those donations need to come from at least 20 states and each state needs to have had a minimum of 200 unique donors.
After the first two debates, the requirements for Democratic presidential candidates get more difficult. To qualify for the third and fourth debates, which will take place in the fall, the requirements double: 130,000 unique donors (with a minimum of 400 unique donors per state in at least 20 states) and at least 2 percent support in four qualifying polls released between June 28 and August 28.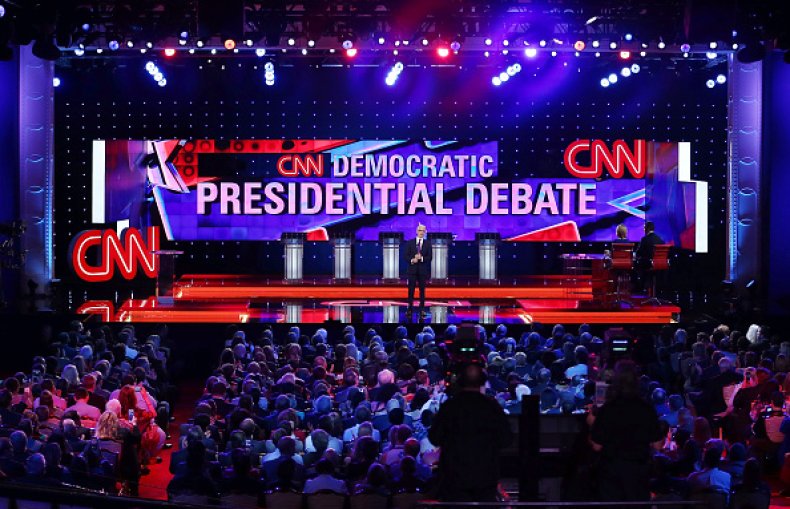 Qualified Candidates
So far, at least 20 candidates have qualified to appear on the debate stage on June 26. All of these candidates except for Julian Castro, Tulsi Gabbard, Jay Inslee, Amy Klobuchar, and Marianne Williamson met both the polling and donation requirements.
Joe Biden
Michael Bennet
Pete Buttigieg
Bill de Blasio
Cory Booker
Julian Castro
John Delaney
Tulsi Gabbard
Kirsten Gillibrand
Kamala Harris
John Hickenlooper
Jay Inslee
Amy Klobuchar
Beto O'Rourke
Tim Ryan
Bernie Sanders
Eric Swalwell
Elizabeth Warren
Marianne Williamson
Andrew Yang
Correction (6/10/2019, 8:00 a.m. ET): A previous version of this story did not include Senator Bernie Sanders in the list of qualified candidates for the first Democratic primary debates. The article has since been corrected.