Rumors about which Democrats will run for president in 2020 are persistent—hell, polling on who'll earn the nomination is already well underway—but Joe Scarborough, host of MSNBC's Morning Joe, had an interesting warning for those who eventually give it a go in two years.
Scarborough told 2020 Democratic hopefuls they should expect to face Ambassador to the United Nations Nikki Haley—who resigned in October, and will officially leave the position by the end of the year—not President Donald Trump.
"If I were actually war-gaming this, I would tell everybody that was thinking about running: Plan your campaign against Donald Trump, but expect to be running against Nikki Haley," Scarborough said during a 2020 discussion on Morning Joe, via a clip posted to Mediaite. "You gotta think that way."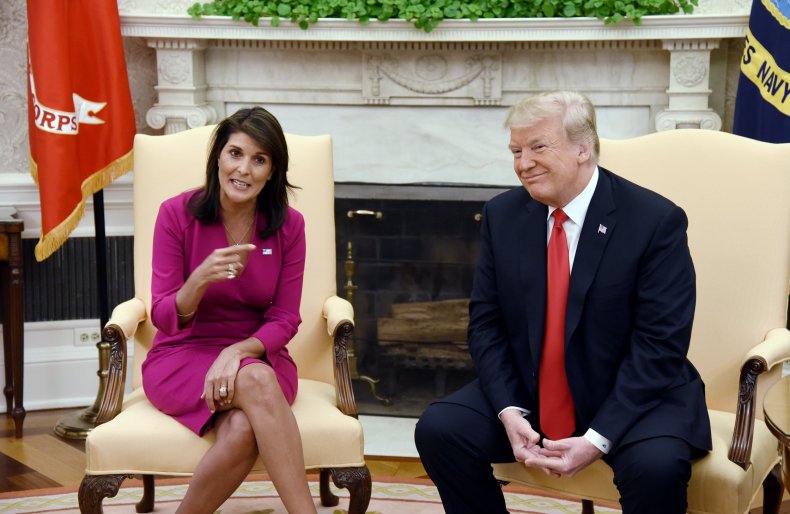 It was not immediately clear if Scarborough was suggesting Trump would be removed from office, choose not to run for re-election, or something else.
Lots of political observers think Haley—who has also served as governor of South Carolina—has a bid for the White House in her future plans. Those rumors have been so persistent that Haley shot down the idea she'd run against Trump in 2020 as she left the U.N. job.
"For all of you who are going to ask about 2020, no, I am not running for 2020," she told reporters in October while seated next to Trump. "I can promise you what I'll be doing is campaigning for this one."
It's still early days, but early polling has shown the leaders for the Democratic nomination include former Vice President Joe Biden, Vermont Senator Bernie Sanders, Texas representative Beto O'Rourke and 2016 nominee Hillary Clinton.
Biden, considered by many to be the front-runner, added fuel to the idea that he'd run on Tuesday.
"I'll be as straight with you as I can. I think I'm the most qualified person in the country to be president," Biden said in a speech at the University of Montana, via CNN. "The issues that we face as a country today are the issues that have been in my wheelhouse, that I've worked on my whole life."