Votes in the 2020 presidential election are still being counted in a handful of states, including the key battleground of Arizona. But how can you confirm that your ballot was counted?
Early/mail-in ballots
For those who cast early or mail-in ballots, you can check the status of your ballot at the Arizona Voter Information Portal website by entering your county, last name, date of birth and identification number (either your Arizona driving license/ID number or voter ID).
"If you are on the Permanent Early Voting List (PEVL) or made a one-time request for a ballot-by-mail/Early Ballot, you can check the date your ballot was sent to you, the date the ballot was returned and received by the County Recorder, and whether your ballot was accepted and signature verified," the website states.
For the most up-to-date information about mail-in or early ballots in Maricopa and Pima counties, voters can check the official Maricopa County Elections Department and Pima County websites. There they can check the status of their ballots by entering the relevant identification information, such as last name and date of birth.
What if there was a mistake on my mail-in ballot?
You may be contacted directly by officials if there are certain issues with your ballot, such as your signature not matching. Officials have five days to contact you in order to verify your identity and "cure" the ballot.
If a voter appears to have mistakenly voted for more than one candidate (such as by crossing out one selection and selecting another choice), a county elections board consisting of two people from different political parties, as well as an elections judge, will attempt to establish the voter's intent and fill out a new ballot to reflect the voter's choice.
Stray marks on any given ballot will not be detected by the ballot-counting machine, according to Arizona Secretary of State Katie Hobbs.
Provisional ballots
A vote is placed as a provisional ballot when there are pending issues around the voter's eligibility, such as the verification of their identity if the voter forgot to bring a form of ID to the polls. The voter in that case would have five days to bring proof of ID to elections offices.
A provisional ballot is set aside until the pending issues are resolved. Those who cast a provisional ballot can check the status of their ballot at the Arizona Voter Information Portal by entering the county in which they are registered to vote, their full name, provisional ballot number and voter ID.
Votes at polling stations
Those who voted in-person at a polling station would have seen a confirmation notice displayed immediately after they completed their ballot and fed it into a tabulation machine.
Canceled ballots
A ballot will be noted as canceled online if you requested a mail-in ballot but instead voted in-person at a polling site. In that case, the mail-in ballot is canceled because you cannot vote twice.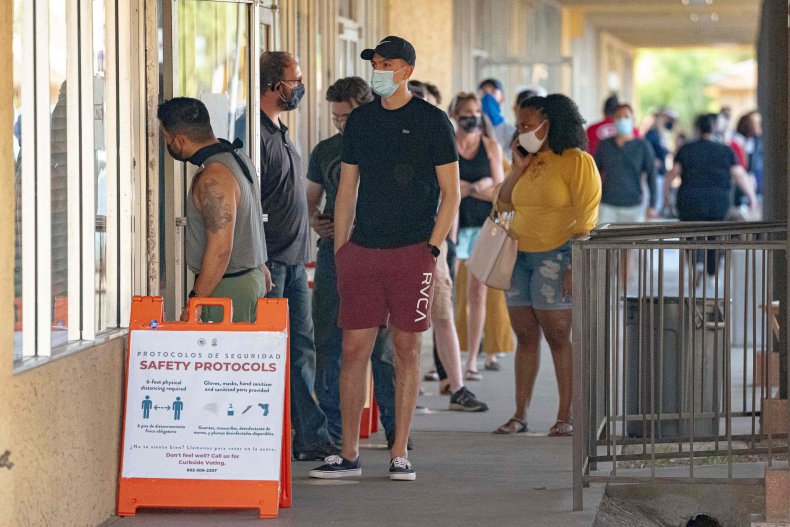 The latest count in Arizona
Democratic presidential candidate Joe Biden was declared as the projected winner in Arizona as of 2:50 a.m. EST Wednesday by The Associated Press following its analysis of statewide ballots.
At the time of writing on Thursday, Biden was reported to have 50.5 percent of the vote (1,469,341), while Trump had 48.1 percent (1,400,951), based on 86 percent of expected votes counted, according to data compiled by Reuters.
The graphic below, provided by
Statista
, illustrates how close presidential races have been historically.