Biggest Spanish Newspaper in U.S Declares Trump Should Go on Election Day Front Page
The biggest Spanish-language newspaper in the U.S. featured an Election Day front page with the headline: "¡Que Se Vaya!," which can be translated as "get him out of here" or "let him be gone," in a strong stand against President Donald Trump.
The Los Angeles-based La Opinión newspaper said: "Four years of the Donald Trump administration have been too long."
The newspaper Trump's reign "divides the nation and encourages racism and intolerance. It failed to fight the coronavirus and does not seem to have an economic plan to get out of the crisis. That and much more."
According to an NBC News/Wall Street Journal/Telemundo poll of 410 registered Latino voters released Sunday, 62 percent of Latinos support Democratic presidential candidate Joe Biden, while 29 percent support Trump. The poll, conducted from October 29 to 31, has a margin of error of plus or minus 4.84 percentage points.
The latest poll showed a similar divide seen in the 2016 election, where 66 percent of Latinos supported Hilary Clinton, while 28 percent backed Trump.
The poll showed nearly two-thirds (64 percent) of Latino voters disapprove of Trump's handling of the COVID-19 outbreak, which has seen a disproportionate number of deaths and infections among the Hispanic population, according to the U.S. Center for Disease Control and Prevention (CDC).
Forty-six percent of Latinos said the pandemic was a priority for deciding their vote, while 34 percent said the economy was more important.
Trump fared better on economic issues, with 49 percent of Latino voters approving of his handling of the economy, while 39 percent disapproved.
Democratic strategists are making a push for the Hispanic vote in Arizona, a key swing state whose 11 electoral votes could be vital to Biden's victory.
The vote in Arizona relies heavily on Maricopa County, the fourth most populous county in the U.S. It is home to 4.5 million residents, including 1.4 million Hispanics.
Historically, Latinos have shown support for Democratic candidates but some polls show Trump has gained significant support among Hispanic voters, relative to the 2016 election, according to American statistician Nate Silver.
The Hispanic vote could be pivotal in tipping the election toward a win for Trump, according to Silver, who noted "while white voters without a college degree are more Republican than whites with a college degree, the opposite is true for Hispanics.
"Suppose that Trump's growth in Hispanic support is real, while Biden's gains among white voters without a college degree are not, for whatever reason. That could lead to a rough night for Biden: The lack of white non-college support could cost him Pennsylvania, while a mediocre performance among Hispanics could keep Arizona and Florida in Trump's column.
"Maybe Biden would eke out a win in Georgia or North Carolina, but that's a much narrower path than he'd planned on," Silver added.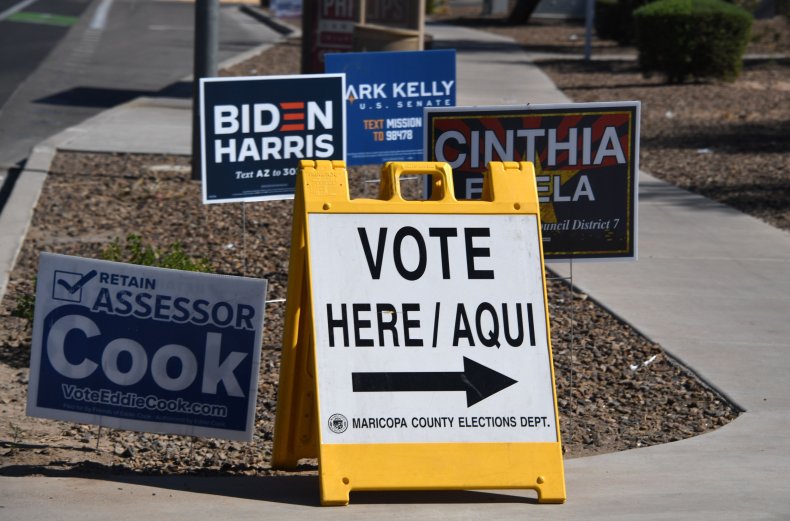 The graphic below, produced by Statista, illustrates American fears ahead of the election.