Jake Tapper Defends Pennsylvania Count, Says His Mom Voted by Mail in Emotional Statement
CNN anchor Jake Tapper said his elderly mother, a Pennsylvania resident who voted by mail due to the ongoing COVID-19 pandemic, should have her ballot counted in an emotional statement defending the state's vote count.
Tapper said on CNN: "My mom lives in Philadelphia. She is in her late seventies. She does not want to get coronavirus and she voted by mail. Her ballot is among them. She's an American citizen. She gets to have it counted."
Tapper condemned claims of vote fraud made by prominent Republicans.
"We are seeing some of the president's most obedient servants...go on TV and say things that are not true, say things that there's no evidence for, talk about electoral fraud," Tapper said, referring to Republicans South Carolina Senator Lindsey Graham, Texas Senator Ted Cruz and House Minority Leader Kevin McCarthy.
"This is not accurate. This is not what is actually going on. The American people are having their votes counted.
"The last thing that needs to happen is for the Republican party, which has enabled the very worst impulses of this president so as to benefit from the policies they like, to do this at the expense of the American people and our right to vote," he added.
At the time of writing, President Donald Trump was reported to be leading in Pennsylvania, with 49.5 percent (3,286,171) of the vote, while Joe Biden trails just slightly behind with 49.2 percent (3,267,942) of the vote, according to data compiled by Reuters.
Unrest over the vote count continues in Pennsylvania. Protesters were seen Thursday outside the Pennsylvania Convention Center where the votes are being counted in Philadelphia, the city's WPVI-TV reported.
On Wednesday, Pennsylvania Gov. Tom Wolf condemned the ongoing efforts against the counting of votes in the state.
Wolf said in a statement Wednesday: "Pennsylvania is going to count every vote and no amount of intimidation will stop our dedicated election officials in our municipalities. As a country and a commonwealth, we must reject efforts to intimidate election workers and prevent votes from being counted.
"The planned attacks on our elections this morning are undemocratic and all elected officials must denounce them. Pennsylvania will be prepared to protect our election workers and our votes," he added.
Hundreds of protesters have been arrested across Washington, Minnesota and Oregon, including over 600 in Minneapolis, 10 in Portland and seven in Seattle, according to the Associated Press (AP).
At the time of writing, more than 100,000 votes were yet to be counted across a handful of states. They include Pennsylvania, Arizona, Georgia, Nevada and North Carolina, according to data compiled by Edison Research for the New York Times.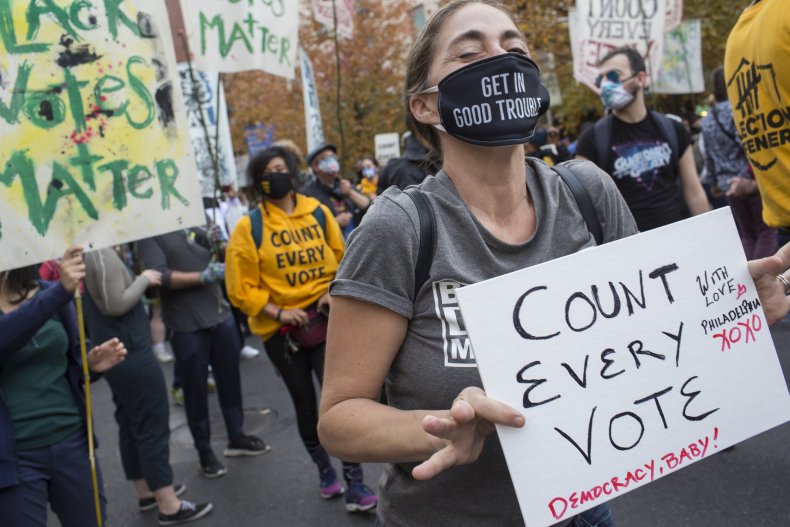 Just over half (52 percent) of registered voters in the U.S. are aged 50 and older, which rose from 41 percent in 1996, the Pew Research Center reported last month.
At least 92,102,275 mail-in ballots were requested for this year's election, according to the U.S. Elections Project. Many elderly voters chose the mail-in voting option amid the ongoing COVID-19 outbreak this year.
In the days leading up to the election, the U.S. Center for Disease Control and Prevention (CDC) issued safety recommendations for those voting at polling stations to help mitigate the spread of infection as crowds gathered to vote. They included maintaining a six-feet distance from others and wearing a mask.
The graphic below, also provided by Statista, illustrates how close presidential races have been historically.