Hillary Clinton Says John Lewis 'Would Be Proud Today' as Biden Leads in Georgia
As Democratic presidential candidate Joe Biden leads in Georgia, Hillary Clinton shared a quote from John Lewis, the late Georgia Congressman and civil rights pioneer, in a post Friday on Twitter which has received more than 100,000 likes.
Sharing a previous Tweet by Lewis, the former Democratic candidate in the 2016 presidential election noted: "He [Lewis] would be proud today."
At the time of writing, Biden was reported to have 2,449,590 votes, while President Donald Trump lagged behind with 2,448,492 votes, based on 99 percent of expected votes counted, according to data compiled by Reuters.
Back in 2016, Lewis tweeted: "The right to vote is precious, almost sacred. It is the most powerful nonviolent tool or instrument in a democratic society. We must use it."
Lewis died earlier this year in July at the age 80 in Atlanta, Georgia's state capital. Lewis had been receiving home hospice care for pancreatic cancer.
He was a leader of the civil rights movement during the 1960s who marched with Martin Luther King. Committed to a philosophy of nonviolence, Lewis became the chairman of the Student Nonviolent Coordinating Committee in 1963.
As of Friday, Biden is ahead of Trump in electoral votes, of which 270 are needed to secure the election. At the time of writing, Biden had 253 electoral votes while Trump had 214, according to data from the National Election Pool/Edison Research.
If Biden claims Georgia, which has 16 electoral votes, the former vice president would just be one electoral vote away from winning the election, having a total of 269 electoral votes.
Georgia is one of five states where collectively more than 100,000 votes still remain to be counted, according to data compiled by Edison Research for The New York Times.
Biden and Trump are also in a tight race in Pennsylvania, another high-stake state which has 20 electoral votes and is likely to determine the outcome of the election.
At the time of writing, Biden was reported to have a lead in Pennsylvania, with 49.4 percent (3,297,614) of the vote. Trump was less than one percent behind, with 49.3 percent (3,290,788) of the vote, based on 95 percent of expected votes counted, according to Reuters.
Around 89 to 95 percent of votes in three other key battleground states—Nevada, Arizona and North Carolina—have been counted. Biden was reported to be leading in Nevada and Arizona, while Trump is leading in North Carolina, according to Reuters, at the time of writing on Friday.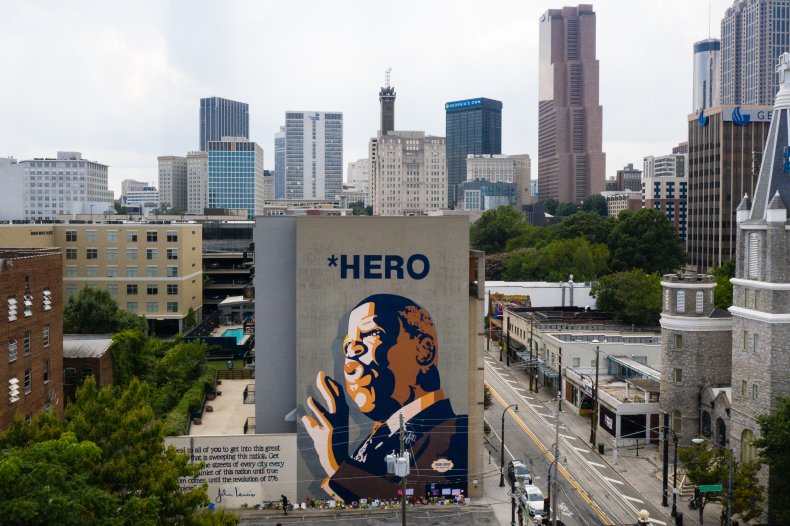 The graphic below, also provided by Statista, illustrates how close presidential races have been historically.