Tens of thousands of early vote ballots sent to voters in Washington have been returned to the sender as undeliverable.
Ballots were sent to the roughly 500,000 registered voters in the district—with more than 100,000 having already returned their ballots to be counted, NBC 4 Washington reported.
But 28,000—equal to 6 percent of the total mailed ballots—bounced back to the D.C. elections office.
Michael Bennett, chair of the D.C. Board of Elections (BOE), said it was "not a reasonable use of time" to investigate each of the many thousands of returned ballots.
Anyone who enquired about a missing ballot should have had a new one sent to their correct address, Bennett said, but those who have not received their voting forms in the mail should vote in person instead.
He added: "We have heard from people who have gotten ballots for other people who no longer live there and we have asked them to either return it or destroy it."
Mary Cheh, a D.C. councilmember, tweeted: "If you receive a ballot for a previous resident of your home/apartment, you can either deposit it to a ballot drop box or mark it 'return to sender' and put it back in the mailbox.
"@Vote4DC is comparing ballot signatures with what they have on file. No match, it won't be processed."
Early voting in D.C. begins on October 27. The Board of Elections issued guidance last week to ensure voters used the return envelope it provided to return ballots.
Voters using mail-in ballots were also urged not to deposit their votes in the drop boxes without an envelope and to not use their own envelopes.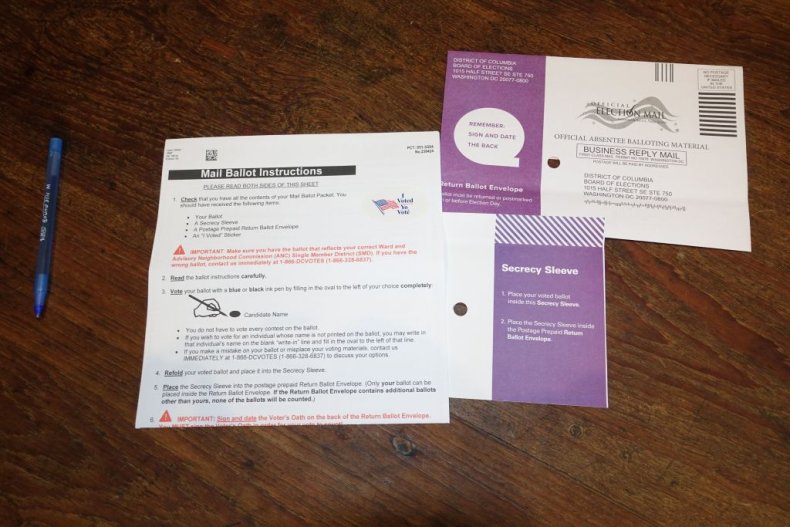 Washington has 55 ballot drop boxes across the district that are installed and open.
One voter who said their ballot had been issued on September 29 but who still had not received it by October 13 tweeted they had resolved the issue after a five-minute phone call with election officials.
"I just want to shout out @Vote4DC—it took me like a five min phone call to get this all sorted and I truly appreciate that," they wrote.
"The DC BOE is actually really well run, but are facing a tremendous uphill battle in a perfect storm of a year. Give them a ring if you're having trouble!"
Newsweek has contacted the D.C. Board of Elections for comment.