Democratic presidential candidate Joe Biden is favored to win the election this Tuesday, according to the latest forecast on Monday by FiveThirtyEight.
However, President Donald Trump still has about a 10 percent chance of winning the election, says American statistician Nate Silver, the website's founder.
According to the latest forecast by FiveThirtyEight, Biden has a 90 percent chance of winning the election. "But remember, that doesn't mean there isn't still a path for Trump. Trump might be the underdog, and he needs a big polling error in his favor, but bigger polling errors have happened in the past.
"A 10 percent chance of winning, which is what our forecast gives Trump, is roughly the same as the odds that it's raining in downtown Los Angeles. And it does rain there (Downtown L.A. has about 36 rainy days per year, or about a 1-in-10 shot of a rainy day)," the website noted.
Pennsylvania could make or break the election
Recent polls have shown Biden to be leading in Pennsylvania. However, it has been a narrow lead, Silver noted Sunday.
"According to our forecast, Pennsylvania is the most likely tipping-point state, and a lot of Biden's chances in the Electoral College hinge on what happens in Pennsylvania. He leads Trump there by about 5 points in our polling average, but it's not as large a margin as Biden might like," the latest FiveThirtyEight forecast explained.
The results of the latest Reuters/Ipsos weekly poll published Sunday, conducted among 1,006 adults (including 673 likely voters) in Pennsylvania from October 27 to November 1, showed 51 percent would vote for Biden, while 44 percent would vote for Trump. The poll had a credibility interval of four percentage points.
Popular vs. electoral vote
Silver noted Sunday: "A huge part of why our model and others' think Trump can still win is the Electoral College." Trump only has a three percent chance of winning the popular vote, according to analysis by FiveThirtyEight.
"But while a roughly 8-point deficit in the popular vote is hard to overcome — as of this writing, at 7:30 p.m. ET on Sunday, our model forecasts Biden to win the popular vote by 7.8 percentage points — a 5-point gap is a lot easier to close.
"And that's our current forecast in Pennsylvania: Biden wins by 4.7 points. Note the roughly 3-point gap between the popular vote and the outcome in Pennsylvania, the most likely tipping-point state. That's similar to 2016, when Hillary Clinton won the popular vote by around 2 points but lost the tipping-point state, Wisconsin, by just a little under 1 point," Silver added.
If the popular vote is gained by Biden by two to three percentage points, "the Electoral College is roughly a toss-up. But if Biden wins the popular vote by less than 2 points, Trump is a fairly heavy favorite to win the election," Silver explained.
However, the latest forecast by FiveThirtyEight also noted: "Unless Trump or Biden has a really good night on Nov. 3, it's pretty unlikely that either of them will hit the 270 electoral votes needed to win by the end of the night.
"It's all going to come down to how close some of the key battleground races are and whether a representative share of the vote can be reported, which won't always be possible given the challenges of the pandemic," the website added.
Risk of ballot spoilage
"Democrats are far more likely to vote by mail than Republicans. Republicans are much more likely to vote in person on Election Day, conversely, while early in-person voting falls somewhere in between," Silver said.
The large increase in people voting early or by mail in this year's election also brings a high risk of "ballot spoilage," with different sources of polling errors that could potentially help tip the scale towards a win for Trump, he continued.
Some mail ballots may potentially not arrive by state deadlines and face processing delays, while other issues could cause further delay, such as sending off "naked ballots," where voters forget to enclose their ballot within the additional secure envelope.
"So imagine, for instance, that in a certain state, the vote is divided evenly at 50-50 in a poll between Biden and Trump. But two-thirds of Biden voters are voting by mail, whereas two-thirds of Trump's supporters are voting in person, and the rate of mail ballot spoilage is 3 percent. That would be enough for Trump to win 50.8 to 49.2, meaning that you had a polling error of 1 or 2 points," Silver said.
However, other factors could mitigate the risk of ballot spoilage, such as Democrats mailing in their ballots early. Polls have shown Democrats are more likely to drop off their ballots at drop boxes, which helps reduce the risk of a ballot being rejected, Silver wrote.
"According to the United States Elections Project, the party registration on mail ballots received so far favors Democrats by 24 percentage points. But for mail ballots requested but not yet received — those that might trickle in late — the partisan gap is just 11 points in Democrats' favor," Silver said on Sunday.
The Hispanic vote
Relative to the 2016 election, polls show Trump has gained significant support among Hispanic voters. However, it has yet to outrun the support Biden has from white voters, including those with or without a college degree, according to Silver.
He also pointed out that "while white voters without a college degree are more Republican than whites with a college degree, the opposite is true for Hispanics.
"Suppose that Trump's growth in Hispanic support is real, while Biden's gains among white voters without a college degree are not, for whatever reason. That could lead to a rough night for Biden: The lack of white non-college support could cost him Pennsylvania, while a mediocre performance among Hispanics could keep Arizona and Florida in Trump's column. Maybe Biden would eke out a win in Georgia or North Carolina, but that's a much narrower path than he'd planned on.
However, Silver noted: "Overall, I don't particularly think there is any reason to distrust the polls here. If anything, polls have tended to underestimate Democratic support in recent elections in states such as Nevada that had a large number of Hispanic voters."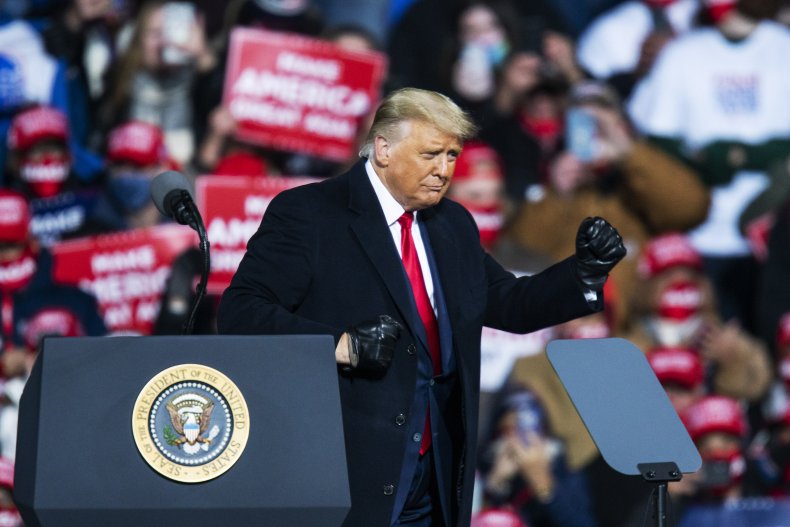 The graphic below, produced by Statista, illustrates winning margins of U.S. presidential elections since 1980.