More People Betting on Trump to Win Presidency Than Biden in Final Weeks of Election Race
Almost twice as many people are betting on Donald Trump to win the 2020 US election than are putting money behind his Democratic rival, Joe Biden, data released by bookmakers shows.
In the past month, 57.54 percent of all wagers placed on the market have backed the president, compared to just 34.17 percent for the former vice president, according to betting odds comparison site Oddschecker.
Despite the activity pointing to a more favorable position for the president, who lags in national polls, the betting experts said In the last 24 hours that every single bookmaker on its UK site had lengthened the odds of Trump winning the presidency for a second time.
His odds have moved from 6-4 to 7-4, which implies Trump now only has a 36.4 percent chance of re-election, according to Oddschecker.
Biden's odds of winning the 2020 US election have moved in the opposite way; on Tuesday, his odds sat at 10-17, which implied he had a 63 percent chance of winning the November election. By Wednesday, Biden's odds were cut to 8-15, suggesting his chances of winning had grown to 65.2 percent.
"Even though the bookmakers think Donald Trump's chances of winning the 2020 election have decreased, online sports bettors firmly disagree," an Oddschecker spokesperson said.
"A whopping 75 percent of all bets placed on the US election [on Wednesday] have been on Donald Trump winning, with just 24 percent being wagered on Joe Biden. The extra 1 percent is made up of few speculative bets on Mike Pence and Kamala Harris."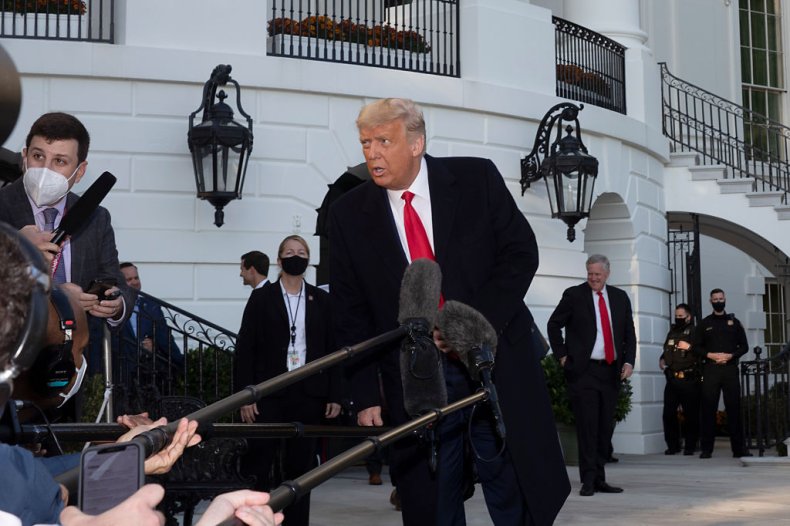 Betting on the election has intensified with less than two weeks to go until Election Day—and ahead of a much-anticipated second and final presidential debate on Thursday night in Nashville.
Oddschecker said Biden had an 81.8 percent chance of winning the televised head-to-head, with odds of 2-9, while Trump was in distant second place with 3-1 odds.
Pundits rely on betting markets in the U.K. and elsewhere as political gambling is banned in the U.S.
The 2020 US election is set to be the biggest-ever betting event with wagers worth close to $400m expected by November 3, one U.K. bookmaker said on Wednesday.
Nearly $200m has already been spent with betting provider Betfair expecting tens of millions of dollars still to come in with less than two weeks until Election Day.
The bookmaker said a record £300m ($392m at Wednesday's exchange rate) could be bet on the 2020 election result, with the total staked on the Betfair Exchange already topping £150m—double the £75m wagered at this stage of the campaign in 2016, when a record total of £199m was eventually bet.