U.S. Sees Record Single-Day COVID Case Rise of Over 100,000 a Day After the Election
As millions headed to polling stations for the 2020 election amid the ongoing COVID-19 pandemic, the U.S. reported a record number of new cases.
On Wednesday, a day after the election, 102,831 were recorded—the highest single day rise in infections since the outbreak began—according to data compiled by Johns Hopkins University.
There were 1,097 deaths reported on the same day, data compiled by JHU showed.
Average daily new case counts in the U.S. have been rising on a sharp incline since mid-September. The total number of active cases—those currently infected who are being treated in hospital or recovering at home—also reached a record high of over 3.2 million on Wednesday, according to data compiled by Worldometer.
The seven-day moving average of daily new infections in the country was reported to have increased in 40 states from October 20 to November 2, according to the latest report Tuesday by JHU.
Over the recent two-week period, the average case count has been climbing in some key battleground states including Arizona, North Carolina and Pennsylvania, according to JHU.
Last Friday, Dr. Anthony Fauci, the director of the National Institute of Allergy and Infectious Diseases (NIAID) and member of the U.S. COVID-19 Task Force, told The Washington Post: "We're in for a whole lot of hurt. It's not a good situation," as he predicted the U.S. would surpass 100,000 new cases per day and see rising deaths in coming weeks.
"All the stars are aligned in the wrong place as you go into the fall and winter season, with people congregating at home indoors. You could not possibly be positioned more poorly," he said at the time.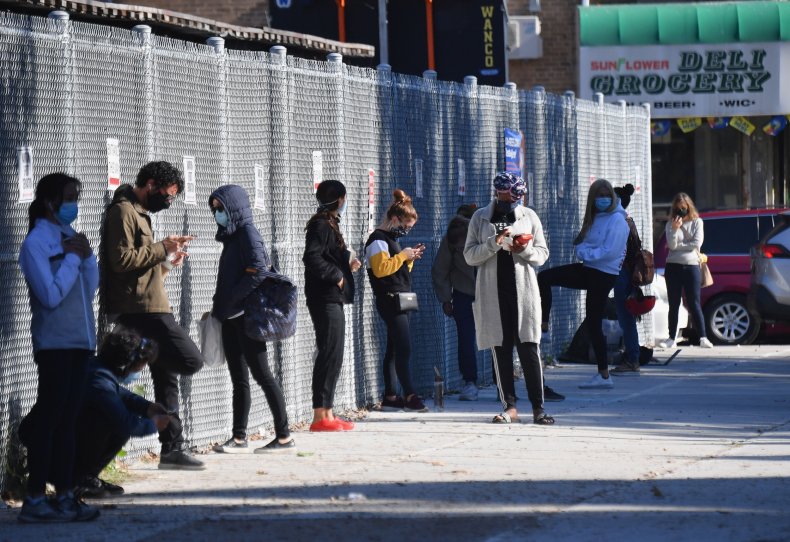 This year's election saw at least 35,930,516 votes cast in person, according to data compiled by the U.S. Elections Project.
In the days leading up to the election, the U.S. Center for Disease Control and Prevention (CDC) issued safety recommendations for those voting at polling stations to help mitigate the spread of infection as crowds gathered to vote. They included maintaining a six-feet distance from others and wearing a mask.
The election saw several states face new debate over mask rules as voters heading to polling stations. Most states, even ones where face coverings are required, opted to recommend, rather than mandate, a mask be worn by voters.
Last month, a Maryland man was arrested after refusing to wear a mask while voting in this year's election. He has since filed a lawsuit against the local election board over the incident.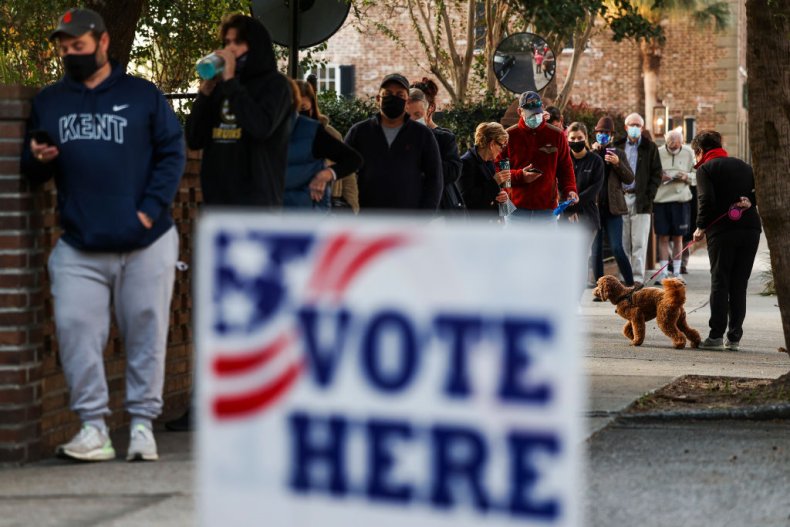 The wider picture
The novel coronavirus has infected more than 48.1 million people across the globe since it was first reported in Wuhan, China, including more than 9.4 million in the U.S.
Globally, more than 1.2 million have died following infection, while more than 31.9 million have reportedly recovered as of Thursday, according to JHU.
The graphic below, produced by Statista, illustrates the spread of COVID-19 cases in the U.S.