Bernie Sanders Net Worth: Vermont Senator's Rise to Stardom Has Made Him Part of The 1 Percent
2020 presidential candidate Bernie Sanders, who has made battling income inequality a pillar of his political career, became a millionaire after losing the 2016 Democratic nomination to Hillary Clinton.
The Vermont senator is now estimated to be worth as much as $2.5 million, according to Forbes. But he lived a majority of his adult life as middle-class and was one of the least wealthy members of Congress, earning little above his Senate salary of $174,000, before becoming a national star in the last presidential election.
In April, Sanders released a decade of tax returns which provided new insight on how the self-described Democratic socialist made his millions. Sanders and his wife, Jane, went from earning $240,622 in 2015 to roughly 1.1 million in 2016 and 2017.
The jump was in part due to advances and royalties from his best-selling books. He wrote Our Revolution after the election, which shared his personal experiences on the campaign trail and outlined a progressive policy agenda. The book became a New York Times best-seller and involved a 19-stop book tour across the country. Then in 2018, he published his second best-seller Where We Go From Here.
In total, Sanders' tax returns showed that he raked in more than $2.79 million since his first presidential run three years ago. In a statement, the senator said the tax returns "show that our family has been fortunate."
Sanders added that he considered "paying more in taxes as my income rose to be both an obligation and an investment in our country. I will continue to fight to make our tax system more progressive so that our country has the resources to guarantee the American Dream to all people."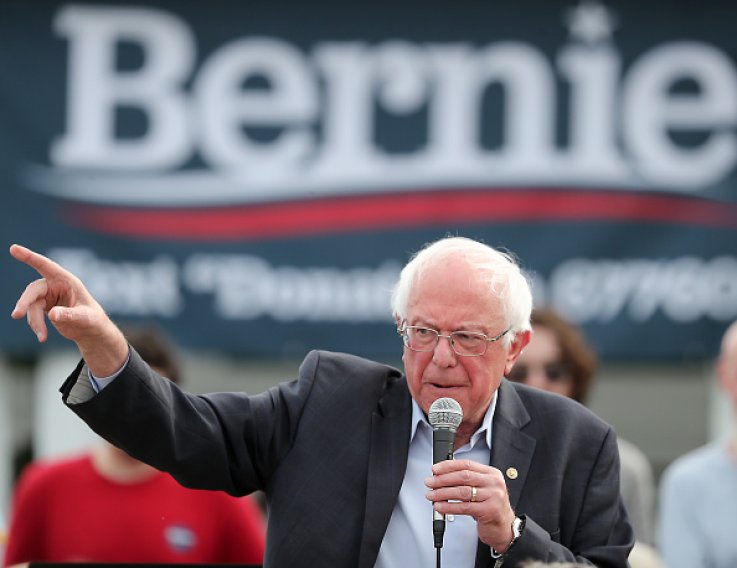 Sanders faced backlash for his millionaire status during a town hall with Fox News shortly after releasing his tax returns. Network host Bret Baier asked Sanders whether his newfound wealth was "the definition of capitalism and the American Dream," implying that it was hypocritical of Sanders to be so critical about the rich.
"No. I mean, you know, what we want is a country where everybody has opportunity," Sanders replied. "You know, I have a college degree. I'm a United States senator. But a lot of people don't have a college degree. A lot of people are not United States senators. I want everybody in this country to be able to have health care, to have education, to, when they turn on the water, have drinkable water, not toxic water."
Sanders later added: "If anyone thinks I should apologize for writing a best-selling book, I'm sorry, I'm not going to do it."
Earlier this week, Sanders declared poverty in the United States a "death sentence" after a comprehensive report commissioned by his office found that low-income Americans have significantly shorter lives than the rich.
The study, conducted by the Government Accountability Office, examined a representative sample of Americans born between 1931 and 1941. The study found that of those Americans in the bottom 20 percent of the wealth distribution, only 48 percent were still alive in 2014 (when they would have been between 73 and 83 years old). But of those in the top 20 percent of the country's wealth distribution, 75 percent were still alive.
"Poverty is a life-threatening issue for millions of people in this country, and this report confirms it," Sanders said in a statement. "We are in a crisis never before seen in a rich, industrialized democracy."
Bernie Sanders Net Worth: Vermont Senator's Rise to Stardom Has Made Him Part of The 1 Percent | U.S.