2020 NBA Draft Live Results, Minnesota Takes Anthony Edwards as No. 1 Pick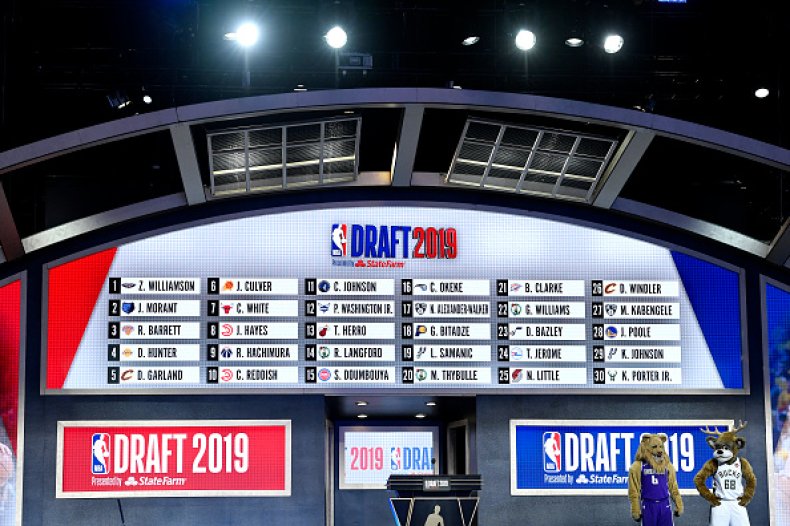 The 2020 sports season has been like no other. Once the COVID-19 global pandemic reached into the sports world and touched an NBA player last March, the sports world shut down, led by the NBA.
Sports leagues and seasons got postponed or canceled, major events got put on hold and the world seemed to pause. The NBA pioneered an effort to not only temporarily stop its season, but showed a path to restarting its season—to at least bring some normalcy back to sports fans.
The NBA restarted its 2019-20 season during the 2020 summer, all in Orlando in the exclusive NBA Bubble at Disney's ESPN Wide World of Sports Complex. The Los Angeles Lakers eventually won the NBA title just three weeks ago, defeating the Miami Heat in six games. Now, it's time for the league to restart, and it cranks up with Wednesday night's 2020 NBA Draft.
The NBA on Tuesday announced its scheduled for the 2020-21 season, approved by the league and the NBA Players Association.
Dec. 11-19 Preseason games
Dec. 22 NBA Season (first half begins)
March 5-10 All-Star break
March 11 NBA Season (second half begins)
May 18-21 Play-in tournament
May 22-July 22 NBA Playoffs
Before that begins, there's the November 18 NBA Draft in 2020
Here are the NBA's 2020 Draft, and Results.
FIRST ROUND
Minnesota Timberwolves — Anthony Edwards, SG (Georgia)
Golden State Warriors — James Wiseman, C (Memphis)
Charlotte Hornets — LaMelo Ball, PG (Australia)
Chicago Bulls — Patrick Williams SF (Florida State)
Cleveland Cavaliers — Isaac Okoro SF (Auburn)
Atlanta Hawks — Onyeka Okongwu C (USC)
Detroit Pistons — Killian Hayes PG (France)
New York Knicks — Obi Toppin PF (Dayton)
Washington Wizards —Deni Avdija SF (Israel)
Phoenix Suns — Jalen Smith PF (Maryland)
San Antonio Spurs — Devin Vassell SG (Florida State)
Sacramento Kings —Tyrese Haliburton PG (Iowa State)
New Orleans Pelicans — Kira Lewis Jr. PG (Alabama)
Boston Celtics — Aaron Nesmith SF (Vanderbilt)
Orlando Magic — Cole Anthony PG (North Carolina)
Portland Trailblazers — Isaiah Stewart C (Washington)
Minnesota Timberwolves — Aleksej Pokusevski PF (Serbia)
Dallas Mavericks — Josh Green SG (Arizona)
Brooklyn Nets —Saddiq Bey PF (Villanova)
Miami Heat — Precious Achiuwa PF (Memphis)
Philadelphia 76ers —Tyrese Maxey SG (Kentucky)
Denver Nuggets — Zeke Nnaji PF (Arizona)
New York Knicks — Leandro Bolmaro SG (Argentina)
Milwaukee Bucks — R.J. Hampton PG (USA)
Oklahoma City Thunder — Immanuel Quickley PG (Kentucky)
Boston Celtics — Payton Pritchard PG (Oregon)
Utah Jazz — Udola Azubike C (Kansas)
Los Angeles Lakers — Jaden McDaniels PF (Washington)
Toronto Raptors — Malachi Flynn PG (San Diego State)
Boston Celtics — Desmond Bane SG (TCU)
SECOND ROUND
Dallas — Tyrell Terry PG (Stanford)
Charlotte — Vernon Carey Jr. C (Duke)
Minnesota — Daniel Oturu PF (Minnesota)
Philadelphia — Theo Meldon PG (France)
Sacramento — Xavier Tillman PF (Michigan State)
Philadelphia — Tyler Bey PF (Colorado)
Washington — Vit Krejci PG (Spain)
Utah — Saben Lee PG (Vanderbilt)
New Orleans — Elijah Hughes SG (Syracuse)
Memphis — Robert Woodard II SF (Mississippi State)
San Antonio — Tre Jones PG (Duke)
New Orleans — Nick Richards C (Kentucky)
Sacramento — Jahmi'us Ramsey SG (Texas Tech)
Chicago — Marko Simonovic C (Serbia)
Milwaukee — Jordan Nwora SF (Louisville)
Portland — C.J. Elleby SF (Washington State)
Boston — Yam Madar PG (Israel)
Golden State — Nico Mannion PG (Arizona)
Philadelphia — Isaiah Joe SG (Arkansas)
Atlanta — Skylar Mays SG (LSU)
Golden State —Justinian Jessup SG (Boise State)
Sacramento — Kenyon Martin Jr. SF (IMG Academy)
Oklahoma City — Cassius Winston PG (Michigan State)
Indiana —Cassius Stanley SG (Duke)
Brooklyn — Jay Scrubb SG (John A. Logan College)
Charlotte — Grant Riller PG (Charleston)
L.A. Clippers — Reggie Perry C (Mississippi State)
Philadelphia — Paul Reed PF (DePaul)
Toronto — Jalen Harris SG (Nevada)
New Orleans — Sam Merrill SG (Utah State)