2020 NBA Finals Prediction Based on 100,000 Simulations, And It's Not Close
The sports season got put on hold nearly seven months ago after a basketball player from the Utah Jazz contracted COVID-19. The NBA immediately postponed its season, and soon after, all sports followed. On Wednesday, the league that shut it down will begin its championship series.
The Los Angeles Lakers and Miami Heat tipoff the 2020 NBA Finals Wednesday at 9 p.m. There are lots of storylines surrounding this game, mostly with LeBron James, who led the Heat to four Finals appearances and two championships.
First, here are the predictions that are based on simulations from FiveThirtyEight.com.
The site used simulations based on player rankings, quality opponents, strength of schedule and head-to-head results. Here's what it found:
The Miami Heat have a 73 percent chance of the winning the 2020 NBA Finals over the L.A. Lakers, which wouldn't be far-fetched from the history of James, who has won just 18 games in his nine Finals appearances while losing 31 games.
The Los Angeles Lakers have only a 27 percent chance to win the Finals, according to the same data.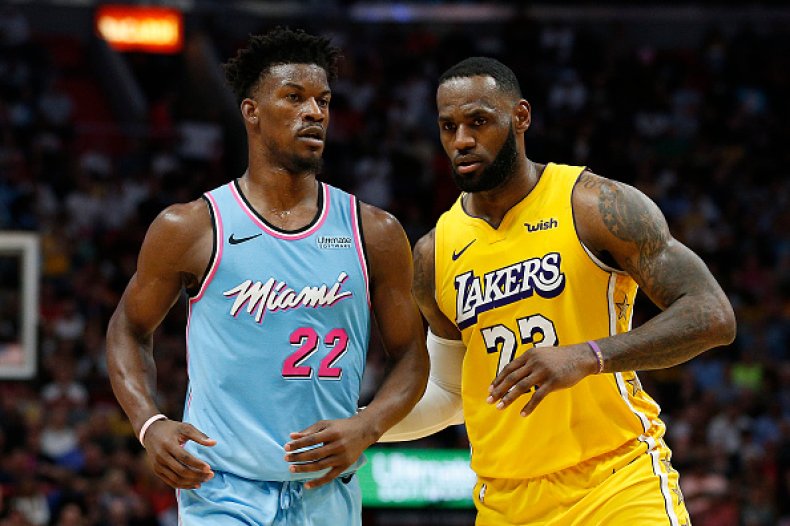 The Lakers own the league record for most NBA Finals appearances with 32, and it's not close, as the Boston Celtics are second with 21. To put it into context, the Golden State Warriors are third with 11. LeBron James has 10 by himself.
However, the Lakers have not made the NBA Finals since 2010. After that year, LeBron James made eight-consecutive Finals appearances between his stints with the Heat and Cleveland Cavaliers. The only hiccup in years was the 2019 Finals, when the Toronto Raptors defeated the Warriors for the title.
This year, the NBA's modified season because of COVID-19 has been anything but regular. The league reconvened in Orlando, Florida to restart the season, and subsequent postseason. Now, the Lakers will play the Heat, which became just the fourth team seeded No. 5 or lower to make Finals since 1981.
The Heat may be the favorite in these Finals with quantitative data, but there have been outlying circumstances. James said COVID safety is still on the minds of the players.
"It's probably been the most challenging thing I've ever done as far as a professional, as far as committing to something and actually making it through," James said prior to Game 1.
"But I knew when I was coming what we were coming here for. I would be lying if I sat up here and knew that everything inside the bubble, the toll that it would take on your mind and your body and everything else, because it's been extremely tough. But I'm here for one reason and one reason only, and that's to compete for a championship."