Finally, sports are back. There wasn't action on the field, court or gridiron, but sports were back in a big way Thursday night as the 2020 NFL Draft began. The draft looked and felt way different than any previous draft in history. It was held virtually around the country, and it was probably a ratings bonanza.
The Covid-19 crisis, also known as the coronavirus pandemic, forced the NFL to scrap its plan to hold its annual draft live in Las Vegas, but rather hold it virtually. Coaches, general managers, scouts and other personnel from all 32 teams were spread out around the country on their computers, analyzing data and submitting their picks.
NFL commissioner Roger Goodell announced all of the first-round picks Thursday night from the basement of his New York home.
Since coronavirus indefinitely shut down sports more than a month ago—and permanently shut down college sports through the end of the academic year—the NFL Draft is already one of the most-anticipated sports events of the year. This is despite no games are actually being played.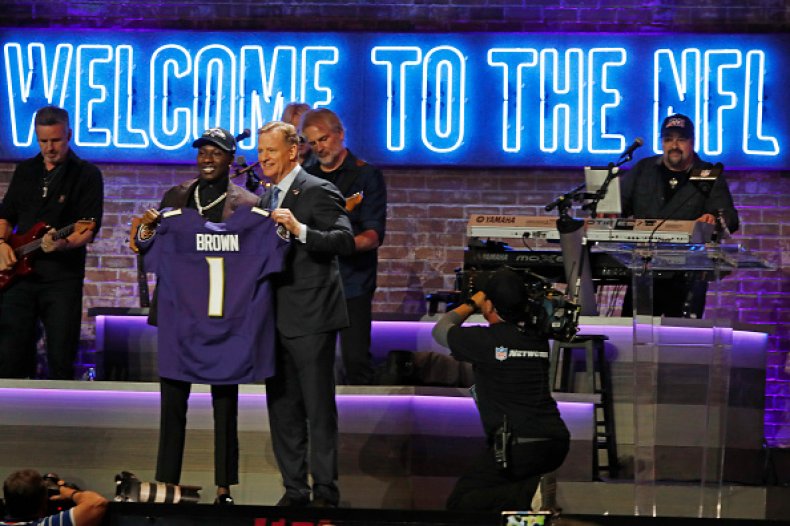 Here are the draft results from Thursday night, which were almost a sweep by teams from the Southeastern Conference.
Round 1
1. Cincinnati — Joe Burrow, QB, LSU
2. Washington — Chase Young, DE, Ohio State
3. Detroit — Jeff Okudah, CB, Ohio State
4. NY Giants — Andrew Thomas, OT, Georgia
5. Miami — Tua Tagovailoa, QB, Alabama
6. LA Chargers — Justin Herbert, QB, Oregon
7. Carolina — Derrick Brown, DT, Auburn
8. Arizona — Isaiah Simmons, LB, Clemson
9. Jacksonville — CJ Henderson, Florida
10. Cleveland — Jedrick WIlls Jr., OT, Alabama
11. NY Jets — Mekhi Mecton, OT, Louisville
12. Las Vegas — Henry Ruggs III, WR, Alabama
13. Tampa Bay (from San Francisco) — Tristan Wirfs, OT, Iowa
14. San Francisco (from Indianapolis) — Javon Kinlaw, DT, South Carolina
15. Denver — Jerry Jeudy, WR, Alabama
16. Atlanta — A.J. Terrell, CB, Clemson
17. Dallas — CeeDee Lamb, WR, Oklahoma
18. Miami (from Pittsburgh) — Austin Jackson, OT, USC
19. Las Vegas (from Chicago) — Damon Arnette, CB, Ohio State
20. Jacksonville (from LA Rams) — K'Lavon Chaisson, OLB, LSU
21. Philadelphia — Jalen Reagor, WR, TCU
22. Minnesota (from Buffalo) — Justin Jefferson, WR, LSU
23. LA Chargers (from New England) — Kenneth Murray, LB, Oklahoma
24. New Orleans — Cesar Ruiz, C, Michigan
25. San Francisco (from Minnesota) — Brandon Aiyuk, WR, Arizona State
26. Green Bay Packers (From Miami) — Jordan Love, QB, Utah State
27. Seattle — Jordyn Brooks, ILB, Texas Tech
28. Baltimore — Patrick Queen, ILB, LSU
29. Tennessee — Isaiah Wilson, OT, Georgia
30. Miami (from Green Bay) — Noah Igbinoghene, CB, Auburn
31. Minnesota — Jeff Gladney, CB, TCU
32. Kansas City — Clyde Edwards-Helaire, RB, LSU
The second night of the 2020 NFL Draft for Rounds 2 and 3 will be Friday, April 24, beginning at 7 p.m. ET. The third day, for Rounds 4-7, will be Saturday from noon - 7 p.m. ET.
Uncommon Knowledge
Newsweek is committed to challenging conventional wisdom and finding connections in the search for common ground.
Newsweek is committed to challenging conventional wisdom and finding connections in the search for common ground.
About the writer
Scott McDonald is a Newsweek deputy night editor based in Cape Coral, Florida. His focus is assigning and writing stories across all topics, from news to politics, business, weather, sports and international news. Scott joined Newsweek in 2018 after a lengthy career of print journalism in Texas, including The Dallas Morning News, where he was a sportswriter, and he's a voter for the Heisman Trophy. He has been a newspaper editor-in-chief and also a newspaper publisher. He is a graduate of The University of Texas at Austin. You can get in touch with Scott by emailing s.mcdonald@newsweek.com. Languages: English