2020 NFL Draft Order: Updated Top 20 Picks as Cincinnati Holds First Overall Selection
The Cincinnati Bengals will be the first NFL team picking in next year's draft, after finishing with the worst regular season record in 2019.
The Bengals went 2-14 this year, but ended the season on a high on Sunday, securing only their second win of the year as they defeated the Cleveland Browns 33-23 at home.
The win was inconsequential for the Bengals, who had already secured the right to be the first team picking at the NFL draft a week ago.
It marks the first time in 17 years that Cincinnati will choose first in the draft. Back in 2003, the Bengals selected quarterback Carson Palmer out of University of Southern California.
During his eight-year spell in Cincinnati, Palmer was twice named to the Pro Bowl and in 2005 he helped the Bengals to their first winning season and playoff appearance in 15 years, as they clinched the AFC North with an 11-5 record.
Carson won the Heisman Trophy in his senior season at college at the Bengals are widely expected to use their first overall pick on another quarterback who has followed Carson in the list of Heisman winners: Joe Burrow.
The LSU signal caller has enjoyed a breakout season in his senior year, completing 77.9 percent of his passes, throwing for 4,715 passing yards, 48 touchdowns—both SEC records—and just six interceptions.
The quarterback, who transferred from Ohio State to LSU two years ago, won the Heisman Trophy earlier this month by the biggest margin in history and underlined his credentials on Saturday, as LSU trounced Oklahoma 63-28 in the semifinal of the College Football Playoff.
Burrow threw for seven touchdowns and 493 yards, adding a score on the ground, as the Tigers torched the Sooners to reach the CFP national title game for the first time.
The quarterback's seven touchdown passes all came before halftime and he tied the record for the most touchdown passes for any college bowl game.
For a team as starved of success as the Bengals have been in recent years, the prospect of picking the best quarterback in college football is enormously exciting, even more so given Burrow's connection to Ohio.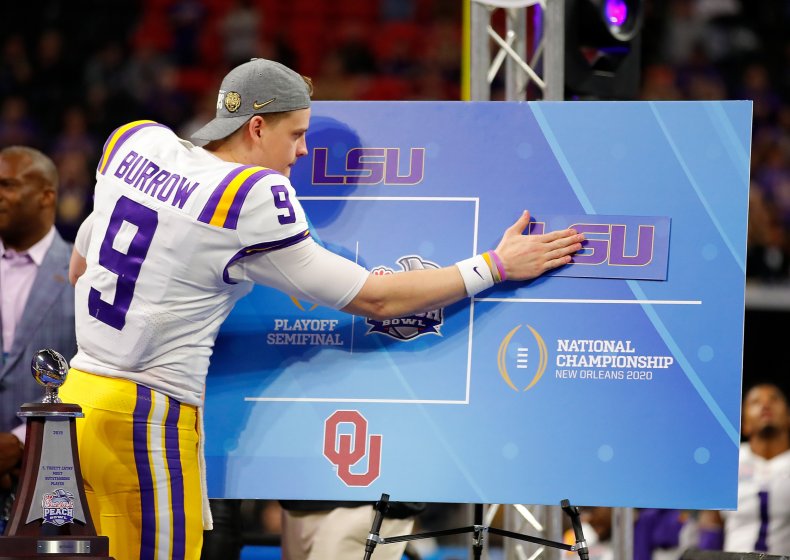 A native of Iowa, the 23-year-old went to high school in Ohio and spent two seasons at Ohio State, before transferring to LSU for his final two years of college.
Washington will pick behind the Cincinnati, followed by the Detroit Lions and the New York Giants, who overtook Miami in fourth place after losing to Philadelphia in Week 17, while the Dolphins recorded a surprise win on the road against New England.
Here's the complete draft order for teams picking between No. 1 and No. 20, as the position of the remaining 12 teams will be determined based on the NFL playoffs.
2020 NFL Draft order
Cincinnati Bengals (2-14)
Washington Redskins (3-13)
Detroit Lions (3-12-1)
New York Giants (4-12)
Miami Dolphins (5-11)
Los Angeles Chargers (5-11)
Carolina Panthers (5-11)
Arizona Cardinals (5-10-1)
Jacksonville Jaguars (6-10)
Cleveland Browns (6-10)
New York Jets (7-9)
Oakland Raiders (7-9)
Indianapolis Colts (7-9)
Tampa Bay Buccaneers (7-9)
Denver Broncos (7-9)
Atlanta Falcons (7-9)
Dallas Cowboys (8-8)
Miami Dolphins (via 8-8 Pittsburgh Steelers)
Oakland Raiders (via 8-8 Chicago Bears)
Jacksonville Jaguars (via 9-7 Los Angeles Rams)
2020 NFL Draft Order: Updated Top 20 Picks as Cincinnati Holds First Overall Selection | Sports