2020 Nissan Armada Review: What Buyers Need to Know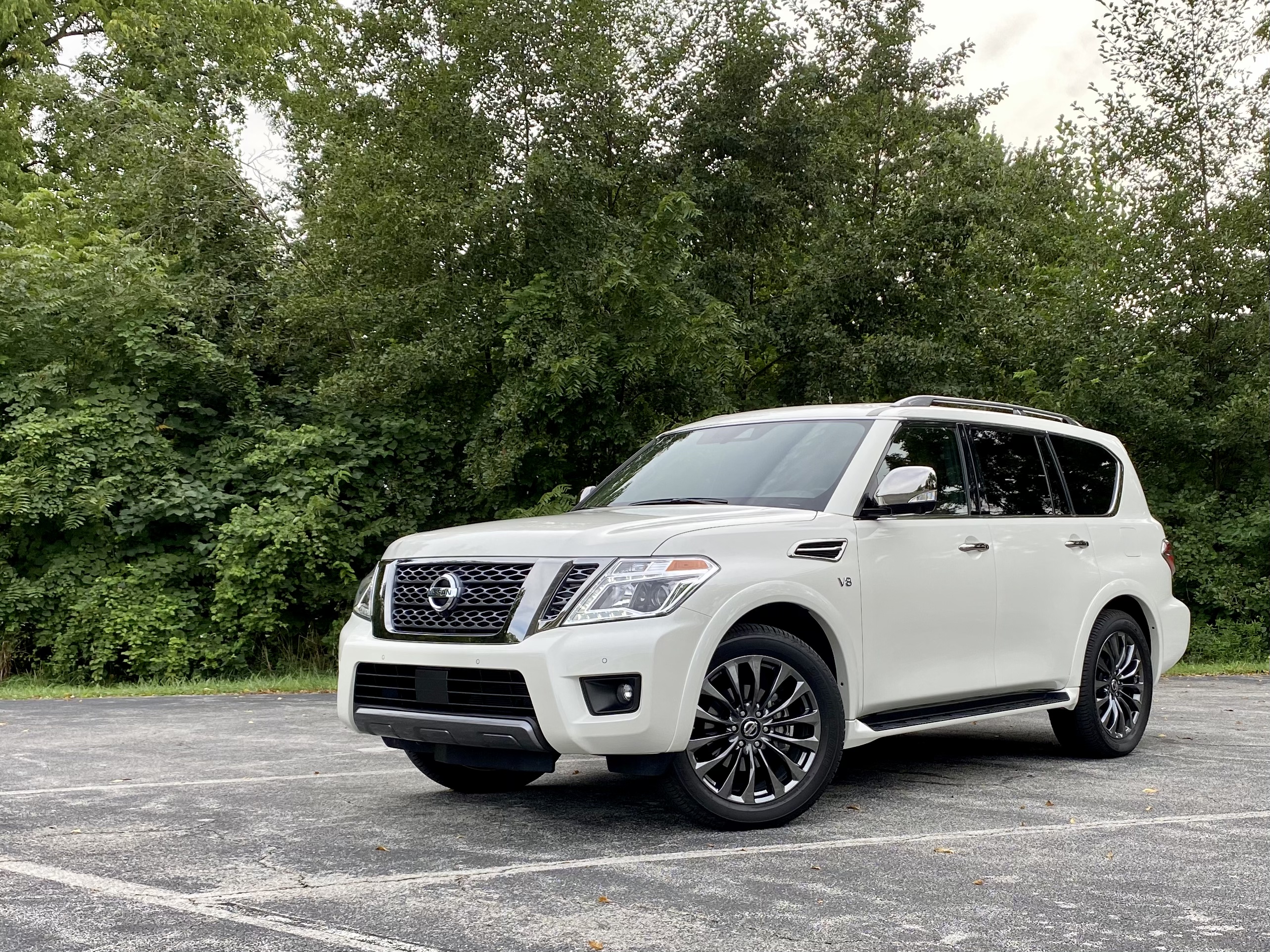 The 2020 Nissan Armada faces tough competition in the large SUV segment but stands out with an upscale design, roomy interior and plenty of towing power.
This three-row SUV can carry up to eight people, and it can tow up to 8,500 pounds. That's an essential set of specifications if you are planning to continue road trips, camping, or just need a great looking SUV capable of towing your favorite toys.
Nissan's Armada goes head to head with the Chevy Tahoe and the GMC Yukon, and it stands out in ride quality. Still, both of the competitors offer a better infotainment experience. The 2020 Armada also includes automatic emergency braking and intelligent cruise control standard.
If you are shopping for a spacious three-row SUV, the Nissan Armada deserves a spot on your list.
2020 Nissan Armada Driving and Towing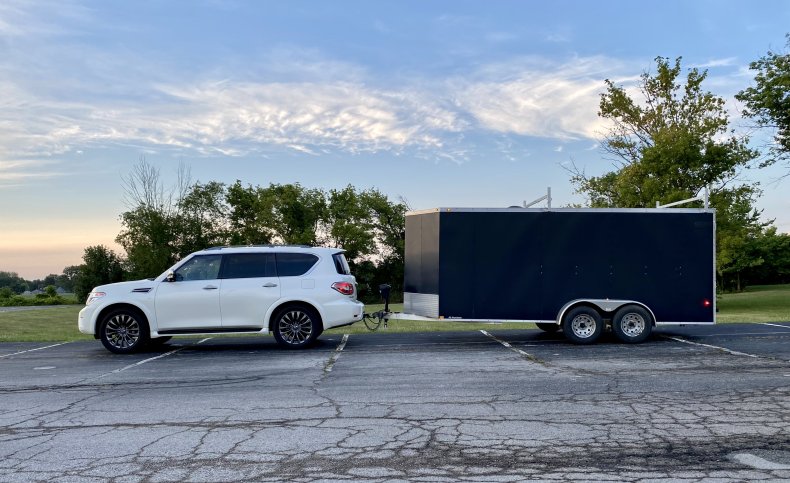 The 2020 Nissan Armada is a large SUV, but it drives like a smaller SUV. A powerful V8 engine under the hood delivers plenty of power, even when towing, though it doesn't sip gas.
For its size, the Armada is peppy and capable of zipping around town and still providing enough power to pass on the highway.
We are impressed with the handling of the Armada. It was a confident driving experience around town and even with a large trailer behind us. Despite the size and height of the SUV body roll, the feeling of the vehicle leaning to a side when you take a corner is very minimal.
The steering does require more small corrections on the highway, but overall the steering is good. The ride is comfortable, which we enjoyed while using the Armada to tow several loads over a hectic weekend.
The Armada is very capable of an 8,500-pound towing capacity. We used it to tow a 20-foot enclosed trailer with a couple thousand pounds of cargo, and the Armada felt like it had a lot of power left.
Fuel economy is a challenge on any large SUV. The two-wheel-drive Armada is rated at 14 mpg city and 19 mpg highway, with a combined 16 mpg. The four-wheel-drive model we tested is rated at 13 mpg city, 18 mpg highway and 15 mpg combined, which is in line with our testing.
2020 Nissan Armada Interior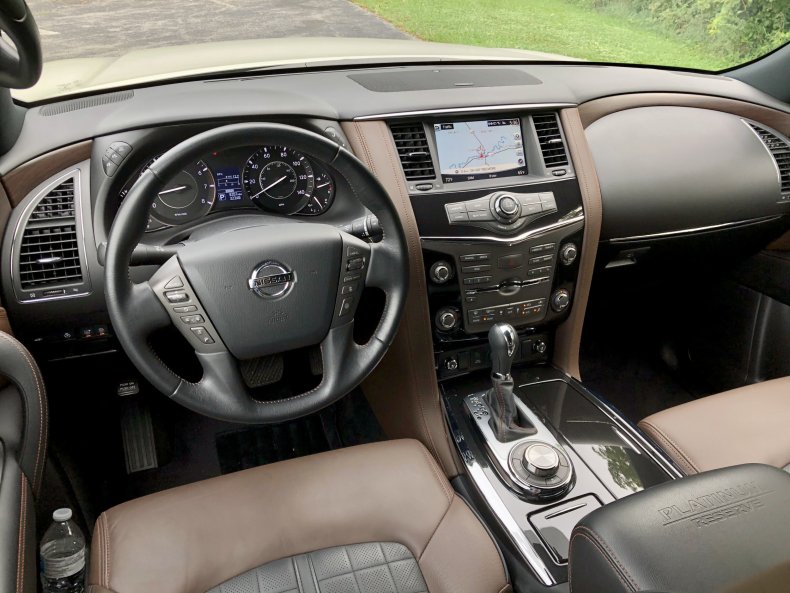 The 2020 Nissan Armada interior is comfortable, supple and it is very quiet. Available in a configuration to carry up to eight people with bench seats or seven with middle-row captain chairs.
Plush seats and stitched leather are everywhere in the cabin, combining with wood trim for an upscale look. The leather on the door panel is bunched together to deliver a luxurious look, but it somewhat dates the interior.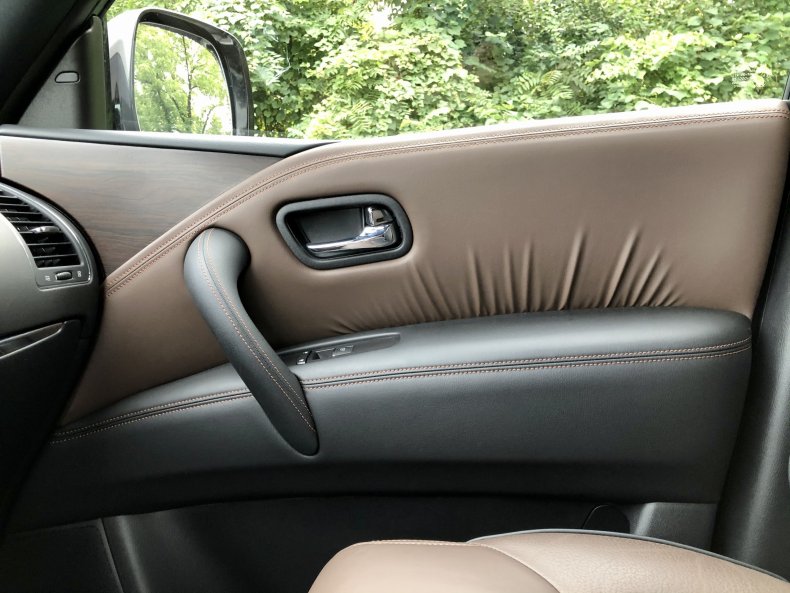 The second row is spacious and comfortable with captain chairs, which are heated on the Platinum Reserve. The center console on this model offers more storage, but it does limit the flat storage space with all the seats folded down. Our Platinum Reserve test vehicle was equipped with screens for both second-row passengers. It's possible to connect a gaming system or media device to the screens, and audio can play over the speakers or headphones.
The third row is still a typical third-row setup, so adult passengers will be a little cramped with leg space, though the headroom is good. The captain chairs fold forward with a decent amount of room to get into the third row.
Cargo space is competitive, and it proved essential for hauling items that wouldn't fit into our trailer and some more fragile items. Third-row power-folding seats are standard on the SL trim level and above, which makes raising and lowering the seats for more cargo room a simple process, but they are slow. The captain chairs fold quickly, but you need to move them back into a seating position manually.
2020 Nissan Armada Technology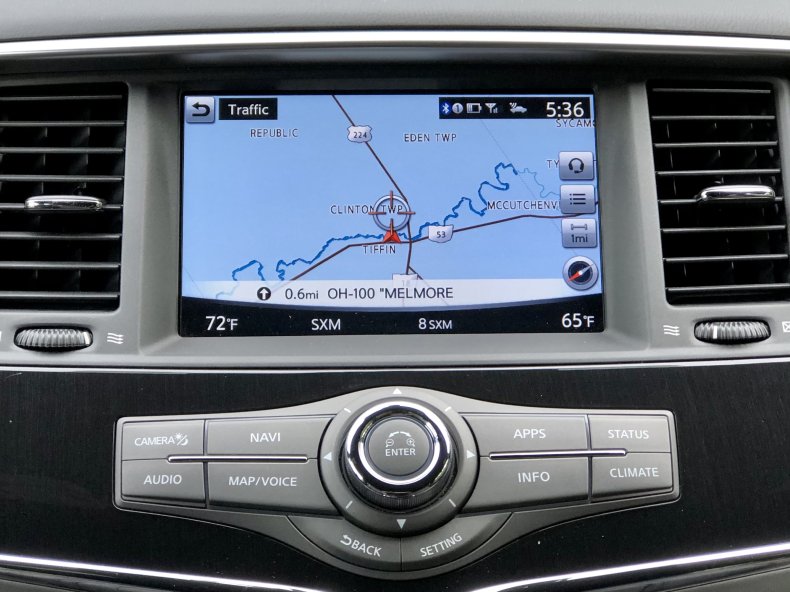 The 2020 Nissan Armada infotainment system is older and slower than what you find on most of the competition. It does include NissanConnect navigation and supports Bluetooth phone calls, but the touch screen is slow to respond.
The most significant missing features in 2020 are Apple CarPlay and Android Auto support, which is available on the competition.
All trim levels offer plenty of USB and 12 Volt power points. With the rear-entertainment system, there is a standard outlet included. A Bose 13-speaker system is standard and sounds good for music, audiobooks and podcasts.
2020 Nissan Armada Safety and Convenience Features
The 2020 Nissan Armada includes several standard safety features on all models, including automated emergency braking and forward-collision warning. Optional safety features include lane departure warning and blind-spot monitoring with rear cross-traffic alert. While visibility is generally good, we recommend opting for the blind-spot monitoring feature.
The rear door alert feature is also standard and reminds drivers that they may have left something in the back seat at the end of a drive. The rear door alert happens if you open a rear door at the start of a drive and is a great way to make sure that you don't leave a child, pet or something important in the back seat on a hectic day.
Convenience features include intelligent cruise control, which keeps the Armada at your cruising speed but slows down if the car in front of you is slower than the set speed. The driver can control the following distance with steering wheel controls.
On the SL and higher trims, a birds-eye view camera setup makes it easy to see your surroundings and navigate tight spaces. A backup camera can show an image on the rearview mirror on the Platinum and higher trims, making it easy to see behind you even with passengers in the rear seats.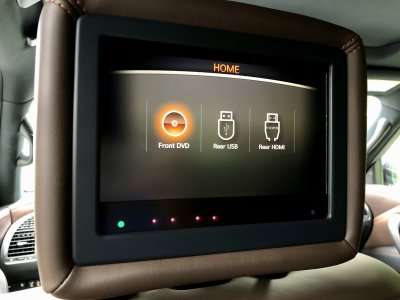 Nissan provided Newsweek with the vehicle, insurance and a full tank of gas for the purpose of this review. Opinions are our own.