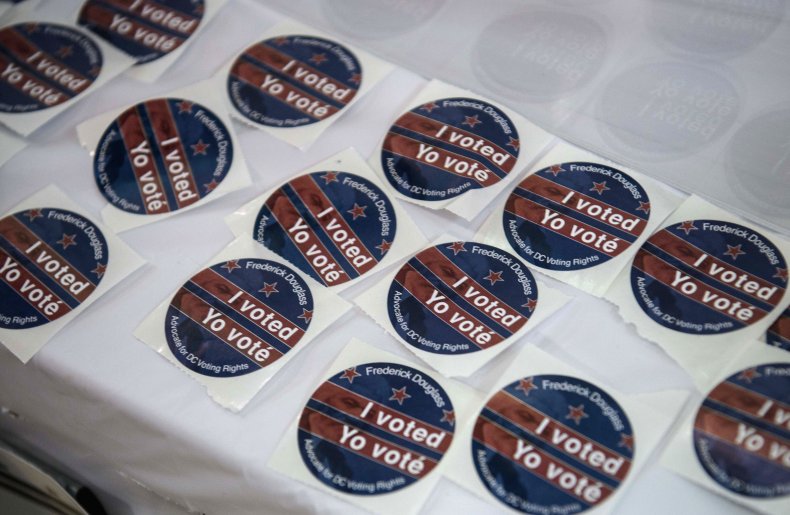 Campaigns have spent more money on political ads this cycle than ever before—topping $8 billion with less than a week left until Election Day.
About $6.5 billion was spent during the 2016 election cycle—a record itself at the time.
"When you compare to previous cycles, it's just astounding," Ben Taber, an account manager at Advertising Analytics, a firm that tracks ad spending, said in an analysis of the spending.
Based on Advertising Analytics' review, about $3 million from the 2020 cycle has been spent on TV, radio and digital ads in this year's race for president. According to the Wesleyan Media Project, which also tracks spending on campaign ads, about half of that has been spent on the campaign between former vice president Joe Biden and President Donald Trump since April.
Wesleyan's analysis, done in conjunction with the nonpartisan Center for Responsive Politics, found Trump's campaign has devoted considerably more of its resources to digital advertising—47 percent to Biden's 29 percent—while the Biden campaign has spent more of its budget on local cable advertising—15 percent to the Trump campaign's 3 percent.
"Spending in this cycle is historic for many reasons," Michael Franz, co-director of the Wesleyan Media Project, said in a statement. "Donald Trump has spent almost as much on digital advertising as on television advertising. That could reflect smart targeting on his campaign's part, or it could be seen as a sign of weakness, reflecting the many fundraising appeals that the campaign has made."
Biden has become the highest-spending presidential candidate ever at $600 million, Taber said. With about $340 million, Trump is the third-highest, behind former New York Mayor Michael Bloomberg, who spent millions on his brief campaign for the Democratic nomination earlier this year.
Another $2 billion has been spent on Senate campaigns—double what was spent on 2018 Senate races, according to Advertising Analytics' review, and competitive House races have prompted another $1.8 billion to be spent.
"I do think this year will be talked about and studied for a long time because of just the shear amounts of money that candidates had at their disposal," Rachel Haskins, a marketing manager with Advertising Analytics, said in the analysis piece.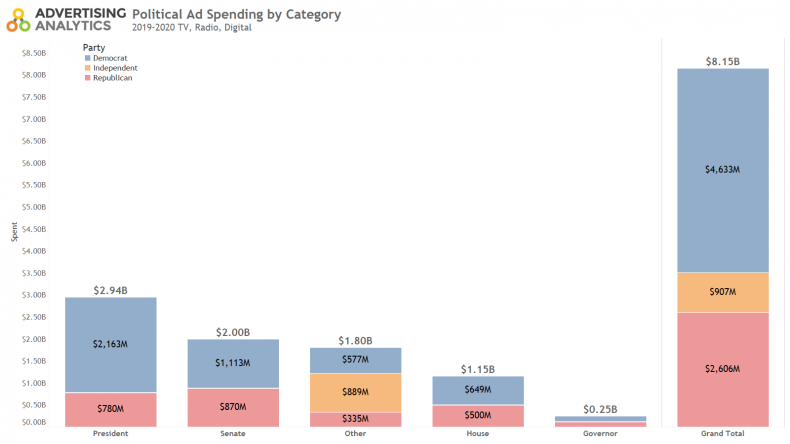 Democrats have outspent Republicans nearly two-to-one, in what Taber described as a "tsunami of cash" as they aim for winning the presidency, maintaining a majority in the House and seizing control of the Senate.
"Their base is all fired up," he said. "If Biden does win and Democrats do have a trifecta heading into 2022, you could see the equivalent [amount of spending] on the Republican side."
Taber said the Senate figure is particularly significant because larger states that are traditionally more expensive to campaign in, such as Florida or California, are not on the table this year.
"This is not what you would traditionally think of as a huge Senate year," he said. "They're not really in what you usually see as super expensive states."