2020 Presidential Election Odds: How the Democratic Nominee Contenders Rank Ahead of the First Debates
The long list of Democratic candidates for the presidency in 2020 will get their first big chance to boost their odds of taking the White House over the next two nights when the Party holds its opening round of debates in Florida.
Twenty candidates, split into fields of 10, will have little time to get their message across. But each will be looking for a viral moment that could cement their candidacy in the minds of the voters. As well as Americans across the country tuning in to the NBC debate, oddsmakers will also be casting an eager eye as they seek to capitalize on the lucrative political betting markets.
Ahead of the two-night debate in Miami, Joe Biden has been set as a clear favorite to win the nomination to take on President Donald Trump in 2020 with odds of 2/1, according to Las Vegas bookmaker Bovada. The former vice president will be lining up on the debate stage on Thursday alongside independent Senator Bernie Sanders, who sits at odds of 9/2.
Indeed, according to oddsmakers, Thursday's debate will be the one to watch with Pete Buttigieg, who will sit alongside Biden and Sanders currently enjoying odds of 4/1. That figure reflects the massive shift Buttigieg has made from unknown South Bend, Indiana, mayor to a major national figure.
Joining that trio on Thursday will be California Senator Kamala Harris, who is not to be overlooked with odds of 11/2.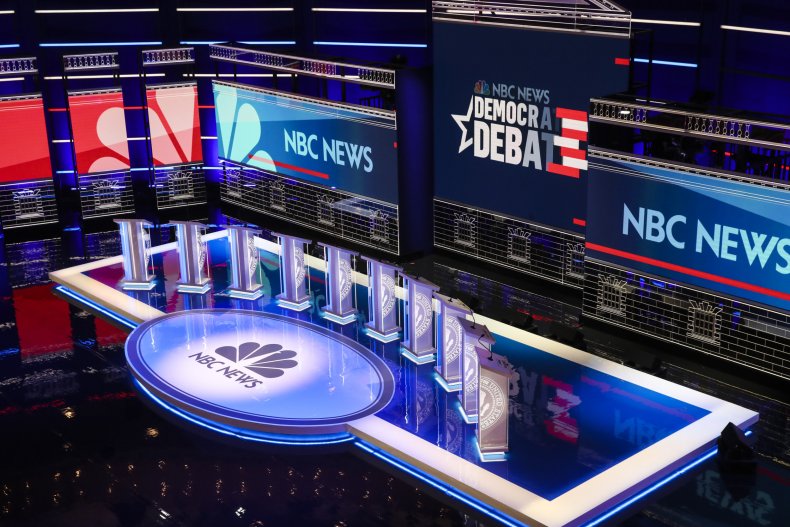 The top-rated candidate on Wednesday will be Senator Elizabeth Warren. The Massachusetts progressive has seen her polling numbers climb rapidly in recent weeks as her "I have a plan for that" mantra has taken hold among Democratic voters.
Warren will be the star attraction and center stage in the first of the debates on Thursday. Situated next to her will be former Texas Representative Beto O'Rourke, who entered the race to much fanfare after coming within touching distance of becoming the first Democrat to win a statewide race in Texas for a quarter of a century in 2018. However, O'Rourke has seen his campaign stall and, despite already having one relaunch, he is now faced with odds of around 20/1.
It has been a similar story thus far for Corey Booker. The 50-year-old has been hyped as a potential presidential contender since long before he became a senator from New Jersey but has struggled to gain traction in the polls and thus similarly with betting markets.
While for the most part the oddsmakers have followed the polls, the one notable outlier is Andrew Yang. The tech entrepreneur with a plan for a universal basic income has sat at around 1 percent in the polls but enjoys odds of 12/1, far shorter than the likes of Booker, O'Rourke and Senator Amy Klobuchar.
Democratic 2020 Odds (Provided by Bovada)
Joe Biden -- 2/1
Pete Buttigieg -- 4/1
Bernie Sanders -- 9/2
Kamala Harris 11/2
Elizabeth Warren -- 7/1
Andrew Yang -- 12/1
Beto O'Rourke -- 18/1
Tulsi Gabbard -- 30/1
Corey Booker -- 33/1
Amy Klobuchar -- 40/1
Julian Castro -- 80/1
Kirsten Gillibrand -- 80/1
Bill de Blasio -- 100/1
Eric Swalwell -- 100/1
Jay Inslee -- 100/1
John Delaney -- 100/1
John Hickenlooper -- 100/1
Marianne Williamson -- 100/1
Michael Bennet -- 100/1
Tim Ryan 100/1