2020 Presidential Election Odds Updated: Bernie Sanders Announces, but Can Donald Trump Be Defeated?
Vermont Senator Bernie Sanders announced on Tuesday that he'll give it another go in 2020, running for president again after an upstart 2016 bid in which he lost out to eventual Democratic nominee Hillary Clinton.
But while Sanders begins his second campaign with the kind of name recognition he lacked the first time around, he again faces an uphill task to take the White House, according to oddsmakers.
Meanwhile, he didn't waste time going after President Donald Trump in an interview with Vermont Public Radio that aired on Tuesday.
"I think the current occupant of the White House is an embarrassment to our country," Sanders said. "I think he is a pathological liar.… I also think he is a racist, a sexist, a homophobe, a xenophobe, somebody who is gaining cheap political points by trying to pick on minorities, often undocumented immigrants."
Reports say Sanders, 77, has already received donations from all 50 states. But, according to oddsmakers, it's more likely that Trump will be president after the November 2020 vote.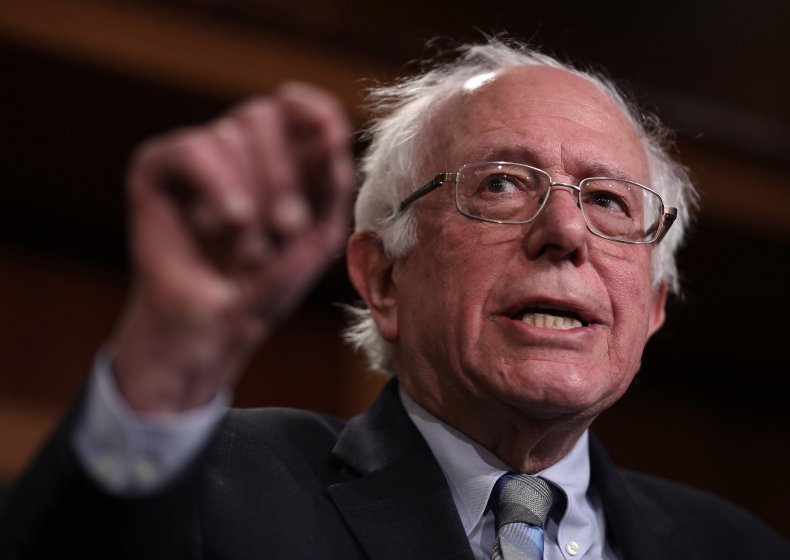 BetOnline had Trump as the clear favorite to win in 2020, at 3-2 odds. That makes some sense, considering that Trump will likely not face a significant primary challenger. But Sanders (who was pegged at 14-1) also trailed a number of Democrats who are either running or considering it, including former Vice President Joe Biden (12-1), California Senator Kamala Harris (8-1) and former Texas Representative Beto O'Rourke (10-1).
As oddsmakers often do, BetOnline also had odds for a number of famous long shots, like Oprah Winfrey (50-1), Mark Cuban (100-1) and Will Smith (100-1).
Here are BetOnline's latest odds on candidates in the 2020 presidential election, in full:
Donald Trump 3-2
Kamala Harris 8-1
Beto O'Rourke 10-1
Joe Biden 12-1
Amy Klobuchar 14-1
Bernie Sanders 14-1
Cory Booker 25-1
Elizabeth Warren 25-1
Kirsten Gillibrand 25-1
Michelle Obama 25-1
Sherrod Brown 25-1
Michael Bloomberg 33-1
Mike Pence 33-1
Tulsi Gabbard 33-1
Hillary Clinton 40-1
John Hickenlooper 50-1
Julian Castro 50-1
Nikki Haley 50-1
Oprah Winfrey 50-1
Ben Shapiro 66-1
Howard Schultz 66-1
John Kasich 66-1
Nancy Pelosi 66-1
Orrin Hatch 66-1
Paul Ryan 66-1
Pete Buttigieg 66-1
Ro Khanna 66-1
Steve Bullock 66-1
Tom Wolf 66-1
Dwayne Johnson 80-1
Andrew Yang 100-1
Bill de Blasio 100-1
Bob Iger 100-1
Caroline Kennedy 100-1
Eric Holder 100-1
Eric Swalwell 100-1
Gavin Newsom 100-1
George Clooney 100-1
Ivanka Trump 100-1
Jamie Dimon 10-1
Jay Inslee 100-1
Joe Rogan 100-1
John Delaney 100-1
John Kerry 100-1
Jon Stewart 100-1
Leonardo DiCaprio 100-1
Mark Cuban 100-1
Rand Paul 100-1
Seth Moulton 100-1
Terry McAuliffe 100-1
Will Smith 100-1
Bill Gates 150-1
Clay Travis 150-1
Marco Rubio 150-1
Marianne Williamson 150-1
Mark Zuckerberg 150-1
Stephen Colbert 150-1
Steve Bannon 150-1
Ted Cruz 150-1
Tim Ryan 150-1