CNN Analyst Says It's Not 'Time to Nominate a White Man' For 2020
With the 2018 midterms over, speculation about the 2020 election is increasing.
While discussing presidential prospects, CNN political analyst Harry Enten said a white male nominee might not be the best choice for Democrats.
"If you want to win in the Midwest, there may not be a better man than this guy," Enten said while talking about Senator Sherrod Brown, noting the Ohio legislator's success as Republicans dominated in the state's other races. "So if Democrats want to play, this is an interesting guy for them. I will point out though, another white male. I am very suspect of that this year going into a Democratic primary with women doing well and the African-American face of the Democratic party, I am not sure it's the time to nominate a white man."
The analyst's list also included Kirsten Gillibrand, Amy Klobuchar, Elizabeth Warren, Bernie Sanders, Cory Booker and Kamala Harris, among others.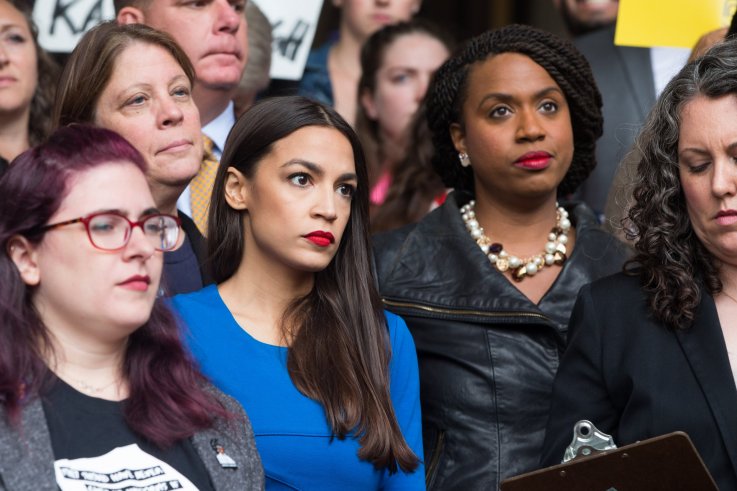 A number of women of color and progressive candidates won seats in the 2018 election, with some upending legislators who had long served.
Massachusetts representative-elect Ayanna Pressley, who beat a ten-term incumbent during her primary, told large donors gathered for a Democratic National Committee fundraising meeting that they needed to support candidates of color.
"Now we must push ourselves to ask the tough questions about whether or not we provided them with the institutional support so we can break through more glass and concrete ceilings as rapidly as possible," she said, according to BuzzFeed News, which reported that Pressley also promoted the need for greater diversity among staffers.
Rashida Tlaib, the incoming representative for Michigan's 13th Congressional District, has for years called for the abolition of Immigration and Customs Enforcement, according to Jezebel. She interrupted Donald Trump during a 2016 speech in Detroit and earned the endorsement of the local Democratic Socialists of America chapter. Tlaib and Minnesota representative-elect Ilhan Omar are the first two Muslim women elected Congress.
Omar ran on a platform that advocated for single-payer healthcare, debt-free college, criminal justice reform and the abolition of ICE.
Alexandria Ocasio-Cortez, along with other lawmakers, has called for the "Green New Deal," a plan that promotes shifting to cleaner energy forms while creating jobs.
The plan "intends to push climate change, clean air and water, pollution and unhealthy environmental conditions in poor and minority communities to the forefront of the agenda of the new Congress that will convene in January," according to NBC News, which reported that "Green New Deal" supporters are also pushing legislators to stop taking contributions from fossil fuel companies.
CNN Analyst Says It's Not 'Time to Nominate a White Man' For 2020 | U.S.