2020 Texas Poll Shows Beto O'Rourke, Bernie Sanders Could Upset Donald Trump, Turn State Blue
President Donald Trump could have a tough time winning Texas in 2020, a new poll released on Thursday indicated.
Texas has been a reliably Republican state for decades—the last time a Democratic presidential candidate took the state was Jimmy Carter in 1976. But Texas has changed demographically, and Trump is a pretty unpopular president.
A new survey from Quinnipiac University showed a handful of potential Democratic presidential nominees could pose a stiff challenge to Trump. It's a super early look at the race—things are bound to change—but surprising nonetheless. Former Vice President Joe Biden, Vermont Senator Bernie Sanders and former Texas Representative Beto O'Rourke all fared relatively well against Trump in hypothetical presidential matchups—all falling well within the margin of error in the Quinnipiac survey. Trump earned 47 percent to Biden's 46 percent in a hypothetical matchup. Trump garnered 47 percent to Sanders' 45 percent and, against O'Rourke, Trump had 47 percent to the former representative's 46 percent.
Other potential Democratic candidates didn't perform as well against Trump—although at such an early stage that could be a function of name recognition (or lack thereof).
"The 2020 presidential race in Texas, and how some of Democrats stack up against President Donald Trump, begins as a two-tiered contest. There are three more well-known contenders who run evenly against President Donald Trump. Another group, less well-known, are just a little behind Trump," Peter A. Brown, assistant director of the Quinnipiac University poll, said in a statement.
Trump topped former San Antonio Mayor Julian Castro (46 percent to 41 percent), California Senator Kamala Harris (48 percent to 41 percent) and Massachusetts​ Senator Elizabeth Warren (48 percent to 41 percent). ​
Trump won Texas easily in 2016 over Democratic nominee Hillary Clinton. He earned about 52 percent of the vote in the state to her 43 percent.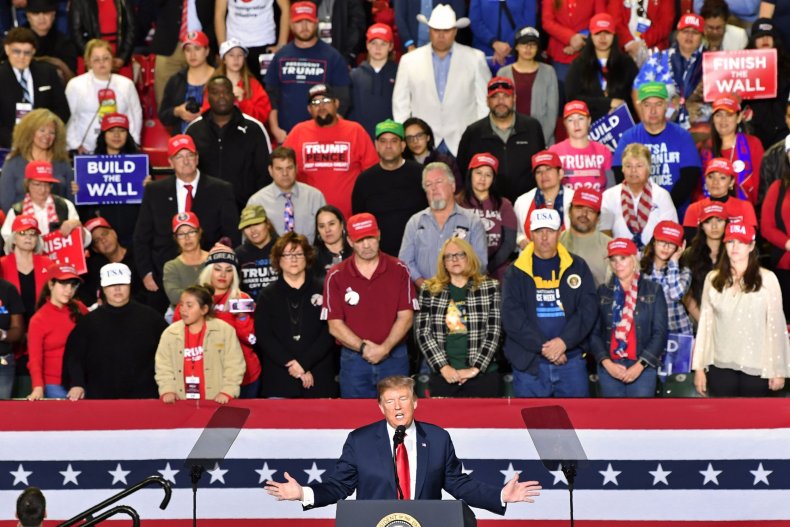 The Quinnipiac University survey polled 1,222 Texas voters from February 20 through February 25. It had a margin of error of plus or minus 3.4 percentage points.
O'Rourke—who lost a Senate bit to Texas Senator Ted Cruz in 2018—has teased a presidential bid but not formally announced. Neither has Biden.
The Dallas Morning News reported this week that O'Rourke was "likely" to announce a presidential campaign soon and eschew running for a Senate seat against Texas Senator John Cornyn.
"Amy and I have made a decision about how we can best serve our country," O'Rourke said in a statement to The Dallas Morning News. "We are excited to share it with everyone soon."
Biden, meanwhile, has said he's "very close" to deciding if he'll run.
The Quinnipiac University poll also found that in a hypothetical Senate matchup between O'Rourke and Cornyn, the two were deadlocked at 46 percent.