Through stunning architecture and art installations, a trip through these underground spaces can be interesting, unique, even unsettling—and at the very least, far from mundane. From space-age designs to murals celebrating local history, artists and architects have transformed the simple subway, metro or tube station into contemplative and artistic spaces that may even encourage the use of mass transit.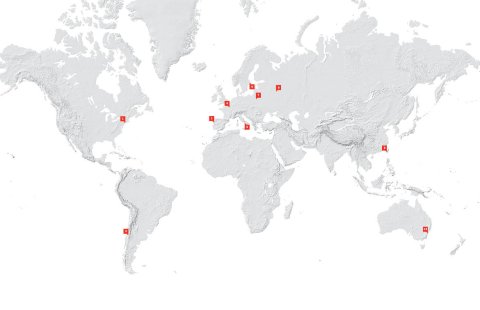 1. The Oculus
New York, New York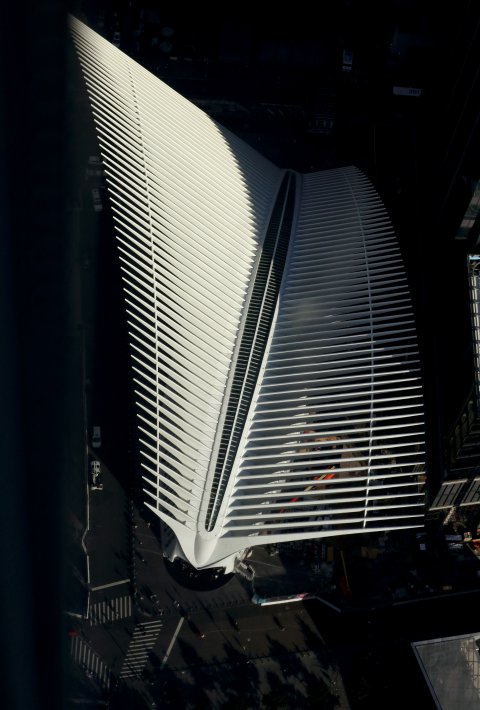 Designed by Santiago Calatrava, the Oculus serves as a transit hub to the rebuilt World Trade Center, a mall and an arresting piece of architecture. Some compare its sculptural white curved pillars to bones of a ribcage.
2. Universidad de Chile Metro Station
Santiago, Chile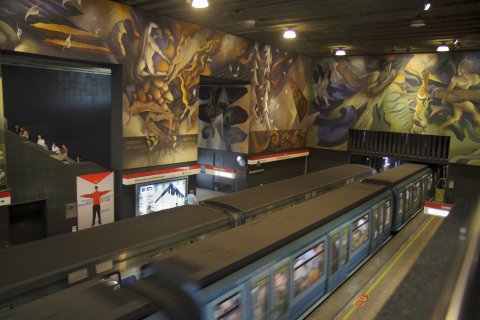 Visitors to this station in Chile's capital cannot miss the huge mural entitled Memoria Visual de una Nación (Visual Memory of a Nation) by Mario Toral. The 12,917 square foot mural—installed in two parts in 1996 and 1999—covers all the walls and depicts the history of Chile.
3. São Bento Railway and Metro Station
Porto, Portugal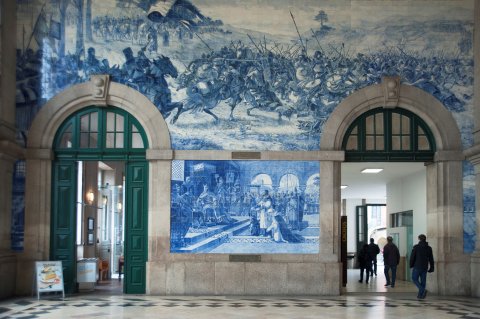 Considerably older than many of its peers, this station was completed in 1916 and is built on the site of a former convent. The inside of the station is covered in 20,000 decorative white-and-blue azulejo tiles creating a mosaic narrative of Portugal's history.
4. Arts et Métiers Metro Station
Paris, France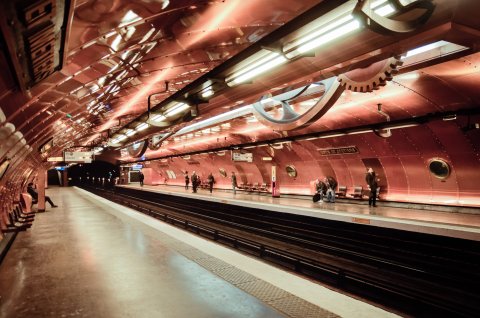 Redesigned in 1994, copper walls and steampunk accents line the tunnels of this science-fiction inspired station. Its style and design are dedicated to Jules Verne's Nautilus.
5. Toledo Station
Naples, Italy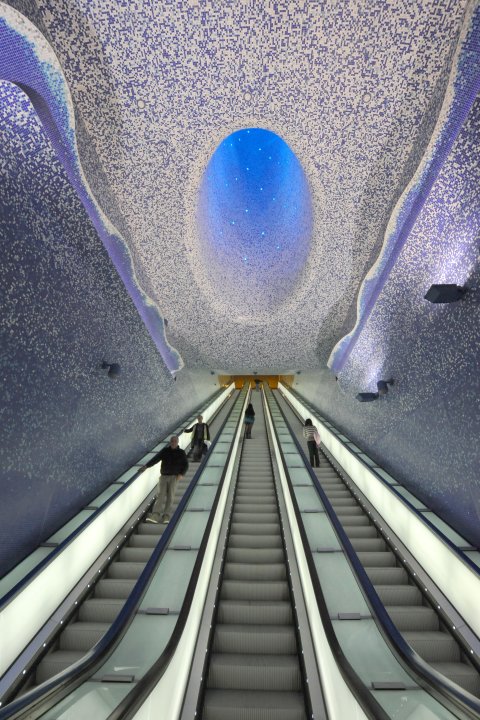 The tiny, blue-and-white mosaic tiles in this Neopolitan station are meant to replicate water and light, bringing a natural feel to the industrial underground in the deepest station in the city.
6. Solna Centrum Metro Station
Stockholm, Sweden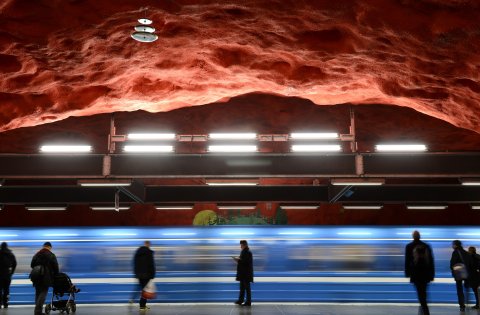 The arresting red ceilings and green walls are meant to depict a forest under an evening sky. But artists Karl-Olov Björk and Anders Åberg also used its design to make a political statement, commenting on the environment, overlogging and dwindling rural populations in the 1970s.
7. Nowy Świat-Uniwersytet Metro Station
Warsaw, Poland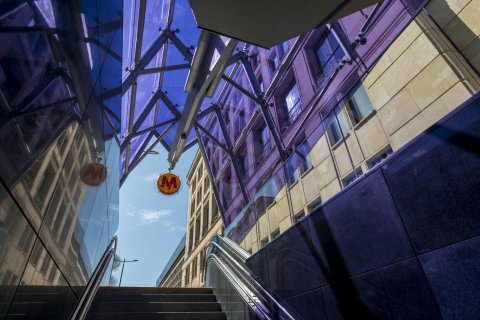 Descending the escalator of this metro station is like entering a spaceship. The purple color scheme and futuristic architecture designed by Andrzej M. Chołdzyński feel both modern and retro simultaneously. Built in 2015, the station also embraces the future by being completely accessible.
8. Mayakovskaya Station
Moscow, Russia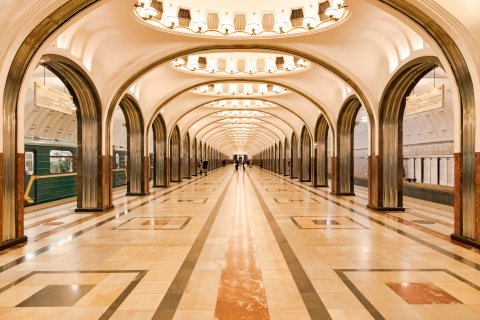 Named for the Square above it (and poet Vladimir Mayakovsky), this 1938 Art Deco station designed by Alexey Dushkin puts a twist on classical arches and columns by constructing them out of stainless steel. The station has function as well as form, hosting a mass assembly for Stalin in 1941 and serving as an air raid shelter during World War II.
9. Formosa Boulevard MRT Station
Kaohsiung, Taiwan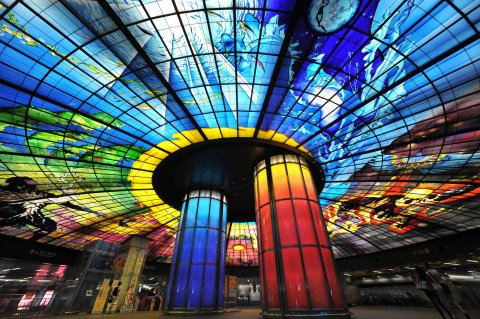 Formosa Station—named for the pro-democracy rally widely seen as a watershed event on the island—is known for a colorful glass display called the "Dome of Light." Designed by Narcissus Quagliata in 2008, the artwork depicts the stages of life such as water, earth, light and fire in 4,500 individual panels.
10. Wynyard Railway Station
Sydney, Australia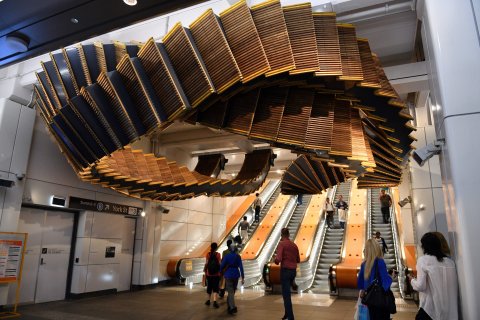 The sculpture by Chris Fox, Interloop, is the main attraction at this commuter station in New South Wales. Built from repurposed wood from original 1931 escalators, the sculpture is meant to evoke the flow of human traffic, which is similar to the natural flow of water.