As in Ecclesiastes, so with pop music: there's nothing really new under the sun. At their best, song-makers ape each other shamelessly (and sometimes litigiously), whether that means chord sequences, beats, melodic figures or even lyrical hooks. Bob Dylan copped Woody Guthrie down to his flow-and-fingerpicking, John Mellencamp did a fairly good Dylan impression and ad infinitum it goes. Oscar Wilde laid it down with pith and vinegar: "Imitation is the sincerest form of flattery that mediocrity can pay to greatness."
Then again, one is ever astonished how every season reveals yet another tiny twist in pop music's often repetitive journey. Amy Winehouse was not just a great singer, but a knowing, postmodern nod to soul icons past; Kendrick Lamar's melding of jazz textures and 21st-century beats was a welcome surprise; and Father John Misty mystified and delighted by brewing mind-bending psychedelia that defied categorization and even understanding. Bless the Holy Father for that.
The year to come has plenty in store for those of us still amenable to pop's humble charms. As Noel Coward said, it's "extraordinary how potent cheap music is." Remember that when you're trying not to weep as, say, Josh Groban hits the big notes in "You'll Never Walk Alone."
Is there a new Lizzo or Billie Eilish or even a Bon Iver in all this? Who knows? But these artists are worth listening to, for sure. Let the needles drop:
→ Let's start with Soccer Mommy, not only because Sophie Allison's nom de guerre is so tartly untrue-to-type. Her music is hardly of the tame, suburban variety (though it would sound fine in a millennial's minivan). Allison is the kid Kurt Cobain and Sheryl Crow might have spawned in a parallel universe. In "Circle The Drain," she welds words of constant sorrow to music fairly well-attuned to the soporific pop-country scene she runs somewhat counter to. Soft melodic lilt and downbeat musings—as old as coal but nowhere near as toxic. Mommy, can we get ice cream?
→ Mac Miller's passing is still a very sore spot for those rightly transfixed by his public and tragic quest for self-revelation. His new collection (Circles) is beautifully framed by his final collaborator, eclectic composer and producer Jon Brion. Echoing Lou Reed's "Walk on the Wild Side" (acoustic bass and drawling vocal), "Circles" is the antipode of hip-hop's braggy brashness, displaying a tender and blue-note wistfulness that is as affecting as it is velvet-to-the-ears. Music that feels felt, not just made—hats off to Mac Miller and Brion for an intimate ode to melancholy that cannot fail to stir.
→ Twenty-five years ago, Alanis Morissette was not only #MeToo's first unofficial spokeswoman and prophetess, her Jagged Little Pill album went 15-times platinum on the strength and freshness of her persona and sound (co-authored by producer Glen Ballard). When I heard a pre-release of that album, I thought the tracks were unmixed demos, such was their roughness and face-planting impact. "Reasons I Drink" is the first track from Morissette's spring album release and is, expectedly, X-ray frank and wryly funny about a "sober" topic, but missing is the sweet/sour thrill of her voice unadorned by digital delay and—even worse—fighting the slick, expansive-sounding mix for primacy. Even still, the "Irony Maiden" has an unmistakable voice and an ironclad conscience still fighting, Broadway aside, to stay clean in a filthy world.
→ Props to Michigan's Quinn XCII ("92," his birth year), whose 2020 "Two 10s" is a spare and pop-funky run for Bruno Mars' money. It has the same sly danceability—courtesy of a reggae-ish snare-and-cymbal dialog—and is a platform for Q's falsetto crooning, à la Justin Timberlake. Add to that a hint of the aforementioned Mac Miller's downtown diction and behind-the-beat flow, and it all clicks. Quinn XCII owes a debt to the Red Hot Chili Peppers—leanly-sculpted grooves and slurred, street-corner poetics—and that's a compliment to both for restraint, or what used to pass for "cool."
→ Zach Galifianakis' Between Two Ferns: The Movie is Morissette-level ironic, except for the doleful ditty —"Walking On a String"—that The National's Matt Berninger conjured up for the occasion. The solemn duet with Phoebe Bridgers is roots chamber music at its elegant best, an acoustic bass and shimmery-organ anthem that out-earnests the film by miles. Owing debts to Lou Reed and Sonny & Cher on the same track is a sly doff of the postmodern cap to one's varied forebears. What's to come? Berninger's forthcoming solo album, Serpentine Prison, co-produced by Memphis legend Booker T. Jones.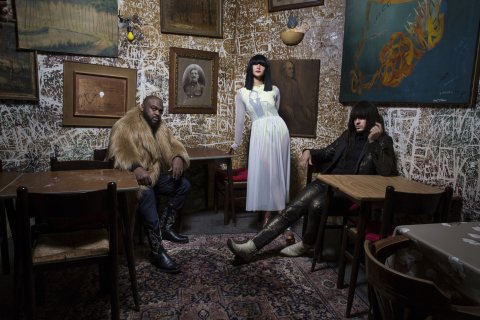 → If you ever gave up hope on the enduring charms of Texas twang, a new collaboration between neighbors Khruangbin and Leon Bridges—entitled Texas Sun—evinces echoes of "The Dock of the Bay"-era Otis Redding while staying true to its pan-fried rural roots. The usually instrumental Houston trio Khruangbin (Thai for "flying engine") is known for its genre-defying gumbo of soul, surf and funk, but here it toes the Americana line pretty closely, with a ladle of pedal- steel guitar as a down-home finishing touch. Leon Bridges holds it all down with timbres warm and dynamics soft, the mark of a vocalist mindful of the art that conceals art. Sometimes they call that having soul, not a bad thing to be accused of in an age of robots and super-fakes.
→ Take three hip-hop up-and-comers and turn them into a triple-bill called Ghetto Sage—then prepare to smile at their collective efforts. Chicagoans Saba, Smino and Noname are the Peter, Paul & Mary of the dropped-beat era, and their first single "Håagen Dazs" is a hypnotic, Mellotron-flute backed gem. The flow is alternately hyperkinetic and casually conversational, the former courtesy of the rat-a-tat ravings of a lyrical speed demon (Saba, a veritable Uzi of rap poetics). But it is Noname who represents for her fellow XX'ers in G'd-up fashion—she is every bit as hard and profane as you wannabe, man or woman, and is dazzlingly dope. Take that, Officer Ricky Ross. You ain't self-made—you're affiliated!
→ Admit it: Meghan Trainor's "All About That Bass" was difficult to turn off some six years ago when it first dropped. For slinky/sexy, in your face brat-i-tude and an inescapably bubbly hook, there were no rivals. Two-billion-plus YouTube views later, she's fitting to drop another benign bunker-buster called "Blink." One of 15 "self-love anthems" to come in 2020, it sounds like equal parts Kesha and Tony Robbins: "You better not blink/You don't want to miss this," Trainor spits with bravado and gumption to spare. The track skitters by at 176 beats per minute, a fast tempo for dance but a nice lively venue for her half-speed, self-empowerment affirmations.
→ At 25 years old, Phoenix native Alec Benjamin sounds like he's spent eons roaming around his capacious, poetic soul. His reports from the front haven't the riotous fury of his idol, Eminem, but songs like "Mind Is a Prison" are wise and wizened for a lad of his age, yet gussied up by a lyrical and shapely pop palette. His new joint refers to a community of "Demons" squatting in his boyish head, though he really doesn't sound so panicked by their presence, instead singing a spritely ode to the interlopers. Chalk that up to a confederate who "forgave me and gave me hope." Love and communion win out again over isolation and despair, an apt message in an age of dark clouds and distant thunder.
Detroit native David Weiss has produced, composed and written about music in Los Angeles for decades, counting Iggy Pop, Bob Dylan and Elvis Costello among his sometime collaborators.