As Americans watch dire predictions of 100,000 to 240,000 deaths in the United States materialize around us, those who have studied this country's health care system see the causes of the catastrophe as rooted in decades of policy decisions that prioritize medical care for individuals at the expense of public health.
The United States has more critical care beds per capita than any other industrialized country and about 20 mechanical ventilators per 100,000 people, and it still may not be enough. Most comparative studies of the U.S. health care system with those of other Organization for Economic and Cooperation Development (OECD) countries conclude that Americans enjoy far better access to most high-tech medicine, including MRIs, CT scans and many kinds of diagnostic imaging than most of the world.
The cost of this system with relatively easy access (at least for those who have health insurance) is well-documented: The United States spends about twice as much per capita on health care as the average among other OECD nations. But in the face of the COVID-19 pandemic, it is not enough? That is hard to accept. Many have lamented the country's lackluster performance in health outcomes. For a high-income country, the United States suffers unusually high rates of maternal mortality, infant mortality, obesity, diabetes, heart disease, chronic lung disease, HIV/AIDS, disability and the list goes on. But one place where the system has excelled is in the provision of high-tech intensive care.
Yet, here we are, with each day's news carrying more terrifying stories about the potential of rationing the use of ICU beds and ventilators, while COVID-19 cases overwhelm existing hospital resources.
The great fear is that many of the 100,000 to 240,000 deaths predicted by the scientific advisers to the White House Coronavirus Task Force will result from the health care system being overwhelmed and unable to respond effectively to those in need. If that's the case, frontline physicians, nurses and administrators will be left with the immediate decisions about how to apportion the scarce medical resources—ICU beds, ventilators and personnel. They will be making life-and-death choices, asked to guide us through enormous ethical dilemmas, patient after patient.
But the ethical issues are not just at the bedside. Underlying these agonizing frontline decisions are policy decisions about how health care resources are allocated in the United States. Such policy decisions are made far from the patient, family and care team. They are made in Congress, at the Centers for Medicare & Medicaid Services, in executive offices of health systems and insurance companies, at state capitols, in Medicaid offices and in employer's employee benefit offices throughout the country.
Time and time again, U.S. health policy decisions have privileged medical care over public health systems and emergency preparedness, leaving us woefully unprepared to deal with emerging and re-emerging infectious disease threats now on the rise due to a host of forces, including climate change, rapid population growth, urbanization, increased global travel and rising antibiotic resistance. What COVID-19 is telling us is our choice—often hidden but nonetheless revealing of our ethics—to underinvest in public health is now going to cost us in terms of economic instability, tragic choices and lives lost.
The approximately $275 per person per year (2.5 percent of all health care spending) we spend on public health is not enough—not enough to have timely, universal testing for emerging infections; standardized protocols for coordinated data collection and contact tracing to quickly and accurately identify early exposures to infected individuals; and clear, consistent public messaging about risks and prevention strategies to maintain the public's health in the face of outbreaks. In addition to the overall inadequacy of funding, it is unevenly distributed, with large geographical differences in availability of labs, testing sites and experienced public health professionals.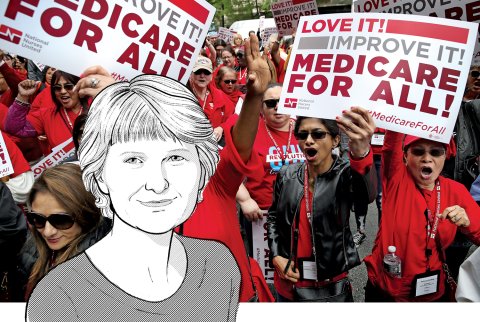 The needed public health investments are practical. First, we need the brightest and most creative minds in communications and social media to provide a constant flow of engaging information about health risks and opportunities, tailored to different ages and needs. Second, we need the capability to quickly scale up diagnostic testing, ideally home testing, and public health laboratories to make universal and regular testing feasible. And last, we need coordinated data collection and analysis resources to enable timely and accurate contact tracing and follow up to contain outbreaks at their source.
We can do better. But it requires a change in mindset. The tragic, ethical choices at the bedside are not isolated events. They are the culmination of many upstream decisions resulting in underfunding crucial public health and emergency preparedness efforts—these, too, were life-and-death decisions, albeit less visible. How many lives, how many trillions of dollars will it take to reorder our priorities?
Elizabeth H. Bradley is president of Vassar College, where she is a professor of political science, as well as science, technology and society. A global health care scholar, Bradley is also the former director of the Yale Global Health Leadership Institute and co-author of The American Health Care Paradox: Why Spending More Is Getting Us Less.
The views expressed in this article are the writer's own.