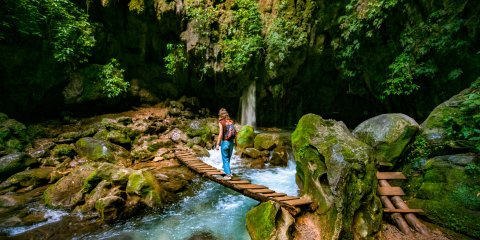 The world is filled with unique, breathtaking natural wonders—from boiling craters to caves full of luminescent glowworms. While a global pandemic or natural disasters and extreme weather like tsunamis, hurricanes and tornadoes bombard our psyche, we might be tempted not to appreciate nature. In fact, relishing the wonder of nature can provide some respite from too much time indoors. These sites are a great place to start when looking for hope in some of Mother Nature's greatest offerings.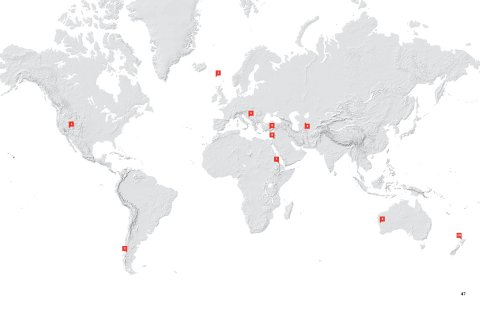 1. Fly Geyser, Washoe County, Nevada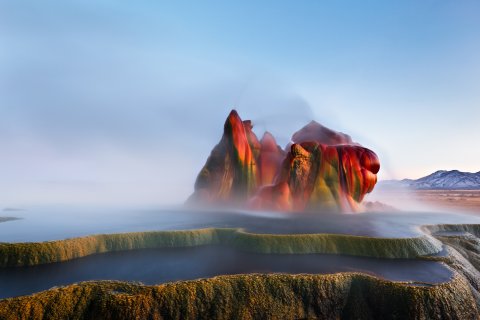 This geyser in northern Nevada, found amidst fields of grass was created by accident when—as the story goes—in 1964, a geothermal power company drilled a test well where the geyser now sits. The combination of calcium carbonate deposits and scalding hot water resulted in three nearly 6-foot-high, brightly colored red and green mounds that shoot hot water into the air.
2. The Marble Caves, Aysén, Chile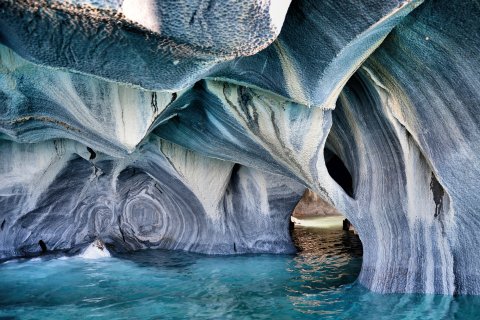 These caves—accessible only by boat—sit in the heart of Patagonia and were formed over 6,000 years as water continued to splash against the solid rock formations to create these intricate and unique blue marble formations.
3. Lake Sørvágsvatn/Leitisvatn, Vágar, The Faroe Islands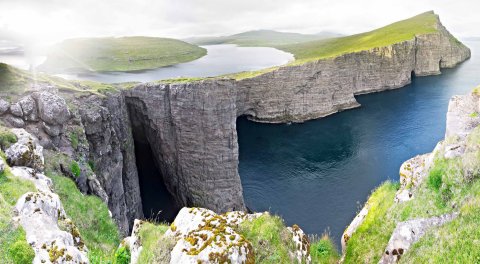 This freshwater lake is famous for its appearance of "floating" above the ocean. Though it's actually not even 100 feet above sea level, from various camera angles, the lake looks like it is hundreds of feet above the ocean because of its juxtaposition with a dramatic waterfall and the cliff to its side.
4. KrKa National Park, Šibenik-Knin, Croatia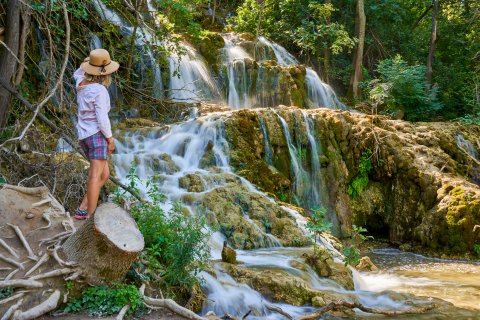 This national park in southern Croatia is famous for having not one, but seven, gorgeous waterfalls streaming with turquoise waters, including the picturesque Skradinski buk waterfall. The crystal clear water in its basin is typically filled with visitors taking a dip.
5. Pamukkale, Denizli, Turkey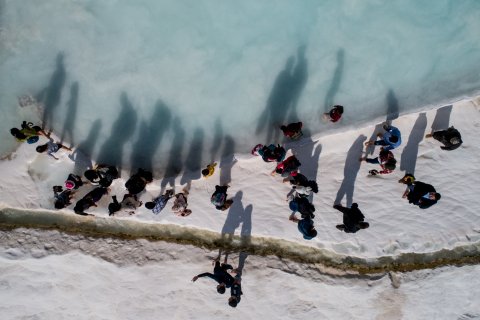 At Pamukkale—or "cotton castle" in Turkish—warm thermal water flows down the astounding limestone deposits that have formed along the rim of a valley. And while the natural waterfall is worth a trip in its own right, it also sits among the ancient Greek-Roman city of Hierapolis that has been well preserved for visitors to explore.
6. Dead Sea, Israel/Jordan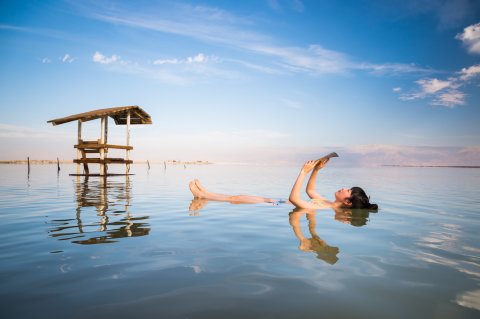 The Dead Sea has the lowest elevation on earth—at about 1,410 feet, and is also one of the world's saltiest bodies of water creating a unique experience; rather than swim, visitors will find themselves floating nearly effortlessly in the mineral-rich waters.
7. The Danakil Depression, Afar Region, Ethiopia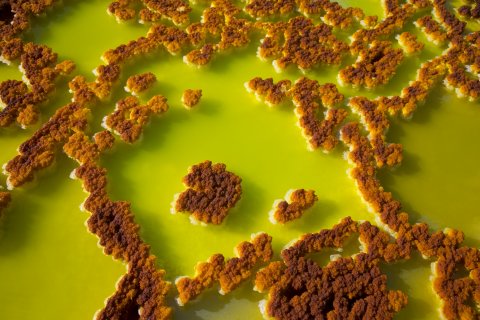 One of the hottest places on the planet—with average temperatures of 94 degrees and records reaching above 122 degrees Fahrenheit—the heat from volcanic activity creates yellow, green and orange deposits. The site is replete with sulfur springs, volcanoes, geysers, acidic pools, salt pans and mineral-filled lakes.
8. Darvaza Gas Crater, Derweze, Turkmenistan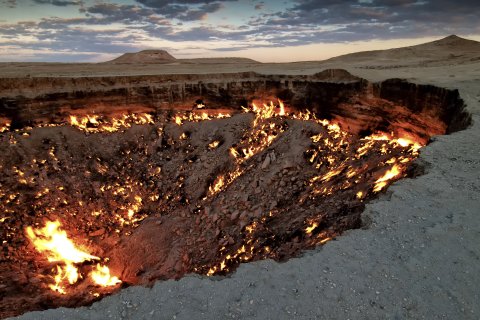 This burning hole in the ground—known as the "Door to Hell"—was said to have been created about four decades ago after the ground under a Soviet drilling rig gave way and the noxious gases were then lit on fire to protect the surrounding wildlife.
9. The Pinnacles, Cervantes, Australia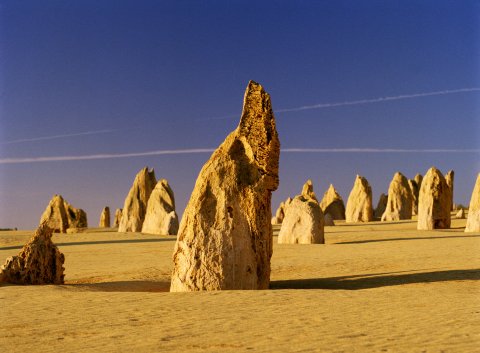 Rising from the Nambung National Park in Western Australia, these thousands of limestone formations look like they came straight out of a Star Wars desert scene, and each is unique—some visitors have even said various pillars resemble animals or cartoon characters.
10. Waitomo Glowworm Caves, Otorohanga, New Zealand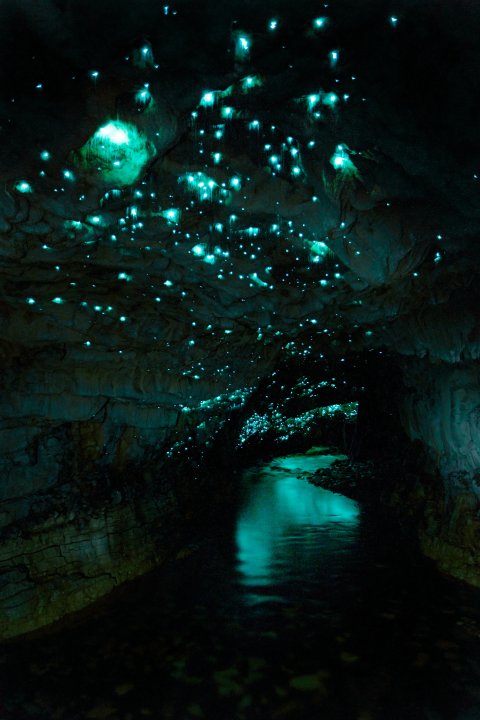 Inside this dreamlike cluster of caves in New Zealand's North Island is what looks like a star-filled night sky, but is actually thousands of glowworms. Key to seeing the glowworms work their magic is complete silence, as the worms don't respond well to noise.