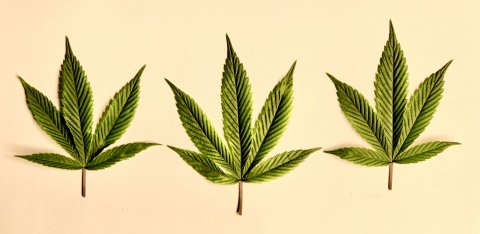 In these days of isolation, illness, fear and the staggering uphill climb of COVID-19 cases and related deaths around the world, many of us are facing stress like we've never known. We are desperate for things that will help us feel better. Between online ads, promotional e-mails, and friends and family who rave about how it helped them, you may be wondering if CBD is something you should add to your arsenal of meditation, yoga and affirmations. But what is CBD, anyway?
According to the World Health Organization, CBD—short for cannabidiol—is "one of the naturally occurring cannabinoids found in cannabis plants." But wait, isn't marijuana from the cannabis plant? Yes. But CBD products are typically derived from hemp, a cannabis species that contains little to no THC, the compound in marijuana that makes you feel, er, loopy.
So while CBD, which can be ingested or applied topically, does not make you feel "high," multiple studies have found that it can promote relaxation and reduce anxiety, has anti-inflammatory and anti-oxidant properties, and can reduce muscle tension, nausea, and pain. A study by the Laboratory of Neuropsychopharmacology in Brazil found that it can be helpful in relieving symptoms of Post Traumatic Stress Disorder. It has not been found to be addictive, nor does it have pronounced side effects. With all of these benefits, it's no surprise that CBD products are flooding the marketplace.
You might see CBD products designated as "full-spectrum," "broad-spectrum," or "isolate". Full-spectrum CBD contains additional, potentially beneficial, elements, like other cannabinoids, while isolate is pure CBD. Broad spectrum is somewhere between the two. One is not necessarily better than the other. It's more about how it's formulated and what other ingredients it is combined with. Also, you will see the term "tincture" reference below. A tincture is a form of CBD that is ingested orally, typically held under the tongue for a few seconds and then swallowed.
The right CBD product could help you or a loved one face these high-stress times more calmly, and a CBD skincare product could help soothe stress-related skin issues. In the past two months, after testing almost 100 CBD products, we found more than 25 gift sets or bundles that we thought would be a timely treat for yourself or someone from whom you are social distancing.
Under $50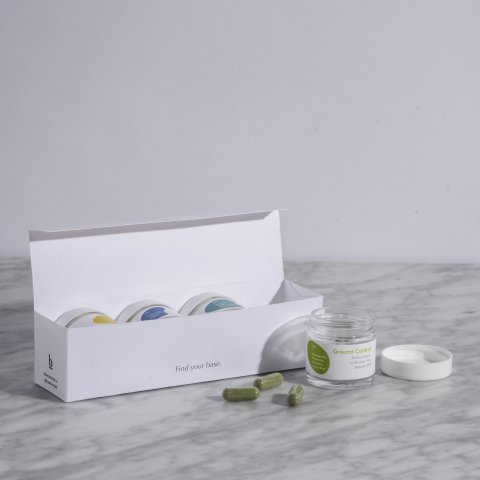 These dry capsules contain full-spectrum, Colorado-grown CBD and other whole-plant ingredients. Each of the four formulas is meant for a different time of the day, depending on whether you need energy, a mood boost, de-stressing or sleep. The kit contains five capsules of each formula, ideal for dabbling.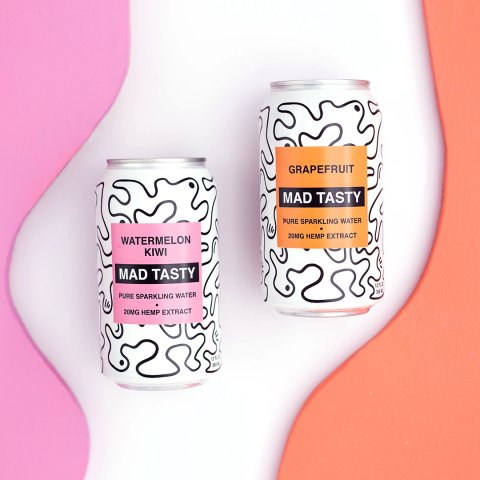 Created by Ryan Tedder of OneRepublic and NBC's "Songland," Mad Tasty is a subtly-flavored low-calorie sparkling beverage with 20 mg of pure broad-spectrum hemp extract. Available in Grapefruit, Watermelon Kiwi, and their new flavor, Unicorn Tears. In partnership with Drop4Drop, for every 12 oz they produce, Mad Tasty donates 12oz of clean drinking water to people and places in need. (Note: Mad Tasty is experiencing temporary shipping delays due to increased demand.)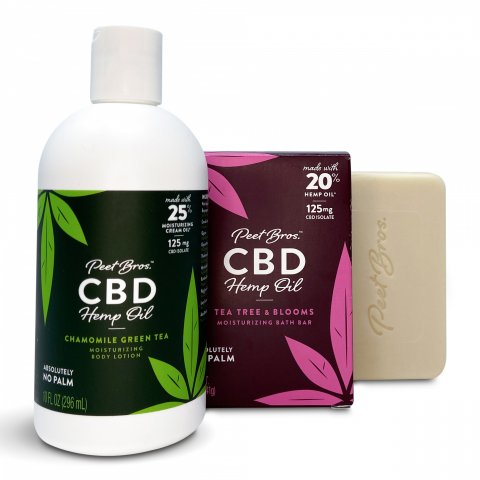 This soap-and-lotion bundle is perfect for right now, what with all the hand-washing and moisturizing. Beyond CBD, there are good-for-you ingredients like shea butter and vitamin oils to clean and nourish your skin. Available in several pleasant fragrances, including Chamomile Green Tea and Tea Tree & Blooms.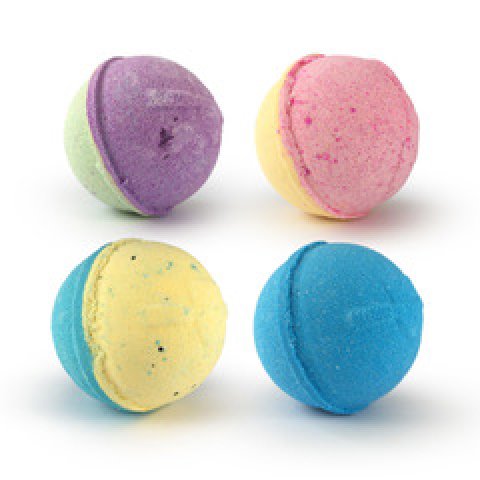 Need a long, relaxing soak? CBD bath bombs are a must-try. This set contains four different scents--Lemongrass Kiwi, Citrus, Fresh Bamboo, and Eucalyptus & Peppermint. Each bath bomb has 35 mg of CBD and other plant-based ingredients. (Warfighter Hemp offers a 50-percent discount to veterans, caregivers, and first responders with ID.)
$50 to $99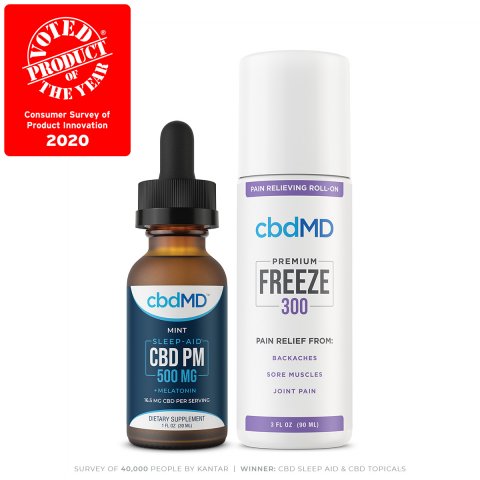 This two-pack was named 2020 "Product of the Year USA" in a poll of consumers,topping both the "topical" and "sleep aid" CBD categories. Freeze is a roll-on that contains 300 mg of CBD, plus menthol and other muscle-relaxing ingredients. The minty PM tincture combines 500 mg CBD with melatonin to promote deep, high-quality sleep.
beam Blend Travel Pack ($85 for 30 single-serve packs, at beamtlc.com)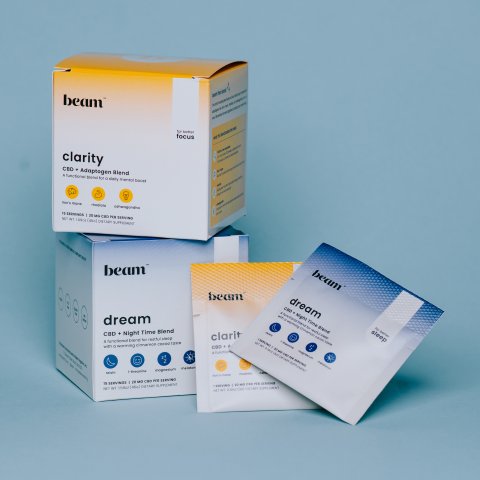 These single-serve 20 mg CBD powder packs dissolve in liquid and are perfect for enjoying CBD on the go. The set contains the Clarity blend, which promotes improved focus with ingredients like rhodiola and ashwagandha. The Dream blend contains magnesium and melatonin for sleep.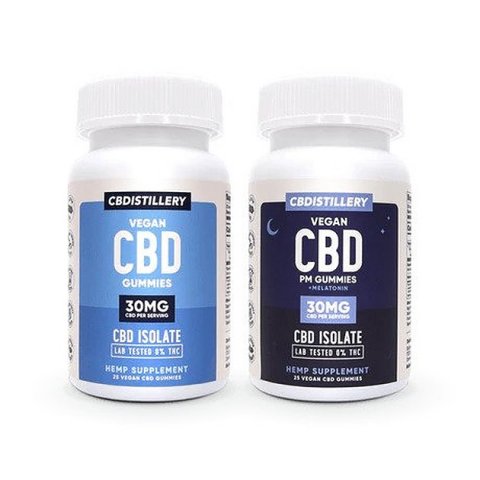 Gummies are a popular way to enjoy the benefits of CBD. After all, they taste great and quickly deliver the soothing effects. This duo from Colorado-based CBDistillery contains one bottle with melatonin for nighttime use and one bottle for daytime. The gluten-free, vegan, kosher gummies come in raspberry-lemon, raspberry and strawberry, and contain 30 mg of CBD--on the generous side as gummies go.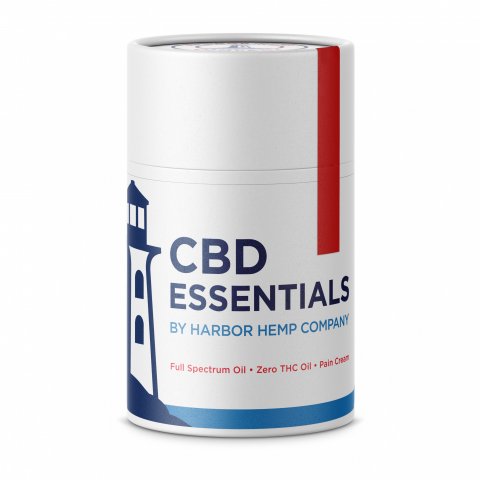 This set from New England-based, family-run Harbor Hemp CBD, contains their 500 mg full-spectrum CBD Oil, 500mg Zero THC Oil and 175mg CBD Pain Cream for soothing aches and pains.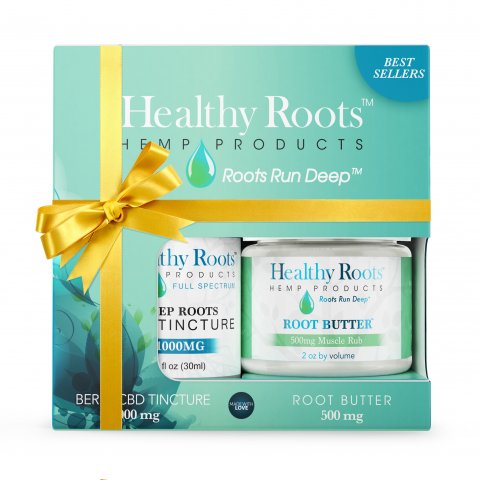 Crafted from hemp grown on a certified-organic family farm in Oregon, this gift set contains a 1,000 mg full-spectrum berry-flavored tincture and a 500 mg Root Butter scented with rosemary and lavender to rub on those sore, inflamed muscles.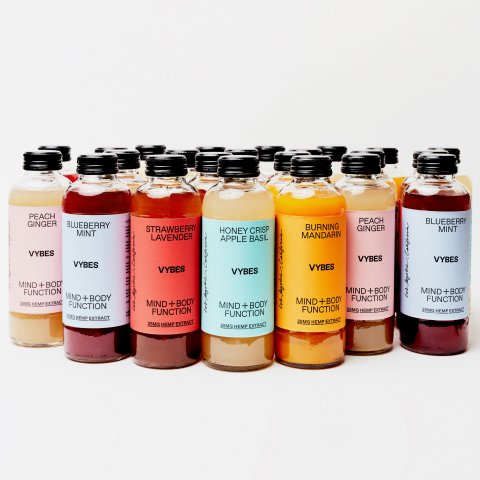 A celebrity favorite, these vegan beverages contain 25 mg of CBD. The six tasty low-sugar flavors include Strawberry Lavender and Blackberry Hibiscus. (For a limited time, save 30 percent on all beverages with the code HumansRise.)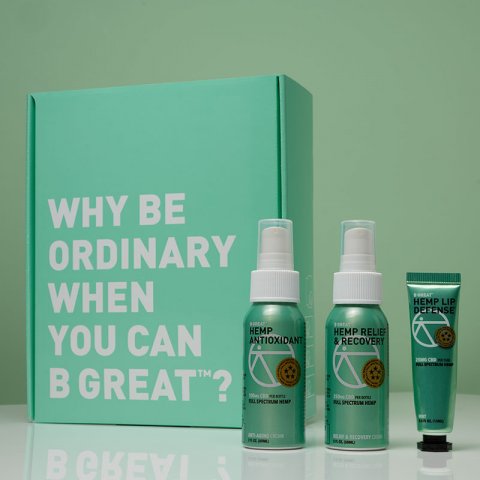 This unisex, anti-aging, CBD skincare set contains a nourishing lip balm with jojoba seed oil and shea butter, an unscented antioxidant face cream with hyaluronic acid and Vitamin C and a lightly minty muscle rub with 250 mg of CBD to relax sore muscles.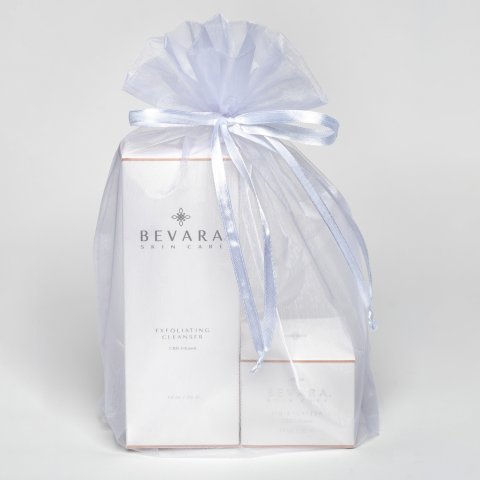 This skincare set includes Bevara's refreshing Exfoliating Cleanser and their nourishing The Moisturizer. In addition to broad-spectrum CBD, these products are rich in botanicals, vitamins, antioxidants and collagen. Bevara Skin's products are vegan and free of sulfates, parabens, and phthalates.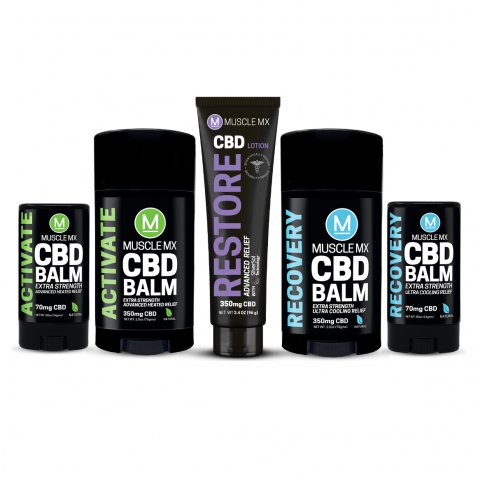 Research suggests CBD can soothe muscle, joint and tendon strain. This set, which contains 350 mg of broad-spectrum CBD oil and 100% natural ingredients, contains two balms: Activate, which warms and loosens sore areas before a workout; and Recovery, for post-exercise relief. It's also good before bed.
CBD Pillow ($99 at cbdpillow.com)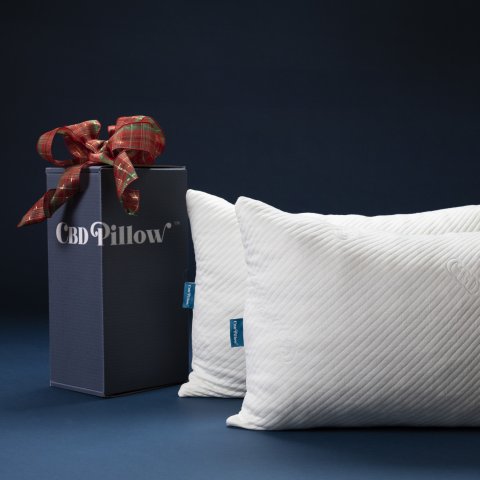 If you don't want to ingest CBD or slather it on your skin, this memory-foam pillow comes with a pillowcase that delivers tiny doses of CBD using micro-encapsulation technology. The pillowcase lasts at least six months and can be replenished for $49.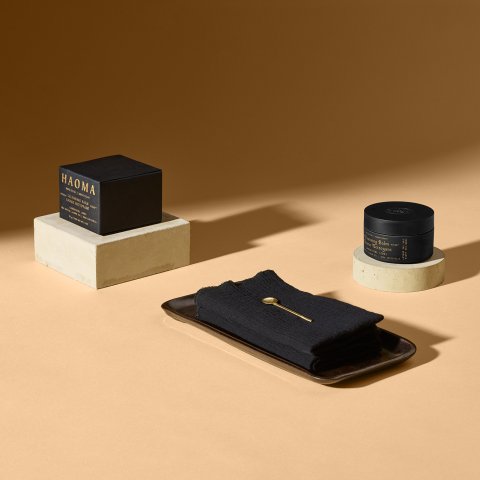 This oil-based facial cleansing balm smells like a luxury spa and comes with an organic face towel that gently exfoliates the skin as it cleanses. In addition to CBD, the cleanser contains ingredients like chamomile and sweet almond oils to balance, clean and hydrate the skin. For each product purchased through April 30, HAOMA will make a donation to Americares to help with COVID-19 relief efforts.
$100 to $250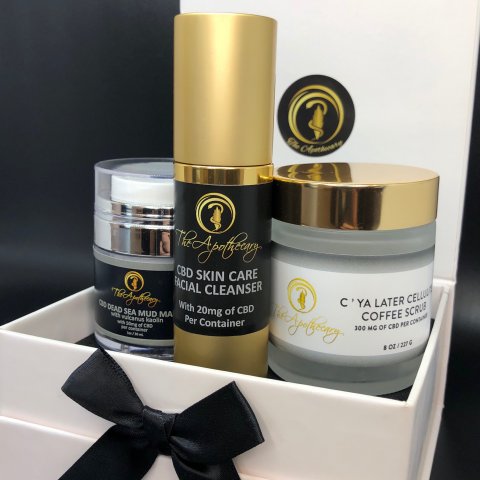 This Texas-based CBD boutique created this gift basket of three best-selling Apothecary products exclusively for Newsweek readers. The Dead Sea Mud Mask and the Facial Wash help to achieve clear and smooth facial skin. The water-activated coffee-scented C'ya Later Coffee Scrub targets cellulite and stretch marks on the body. (Save 20 percent with code TRAE20.)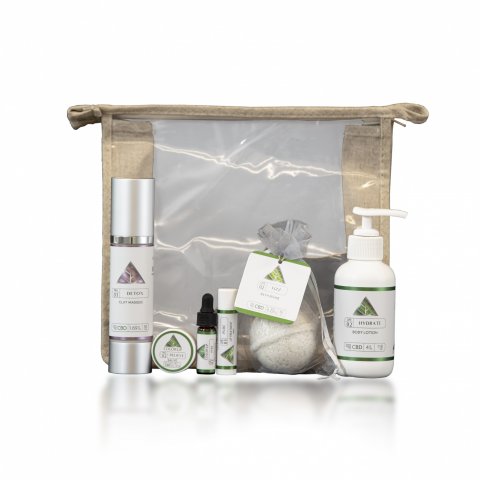 This kit is like a spa day in a pouch: a relaxing Rehab Bath Bomb, the Detox Facial Masque (which smells heavenly), a moisturizing Mint Lip Treatment and the lightweight Hydrate Body Lotion. Color Up also includes two gifts--a mini Relieve Pure Salve for sore muscles and a travel-sized 75 mg Pure Daily CBD oil tincture.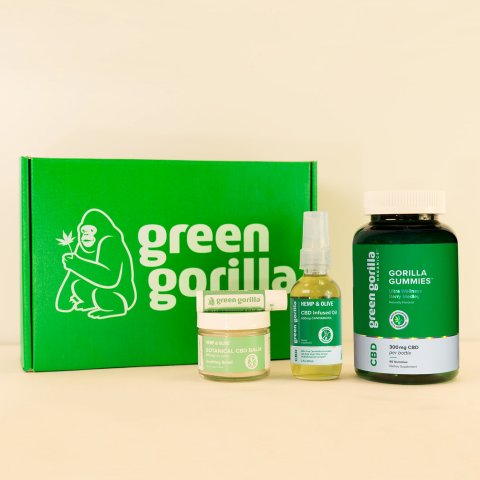 This Malibu-based lifestyle brand's USDA-certified organic products are derived from sustainable organic-farming practices. The limited-edition Organic CBD Wellness Bundle includes 5 mg Organic Ultra Wellness Gummies--a good introductory dose for CBD newbies--a 600 mg CBD Infused Oil that is ingested orally, a Botanical CBD Balm for the body and a CBD Lip Balm.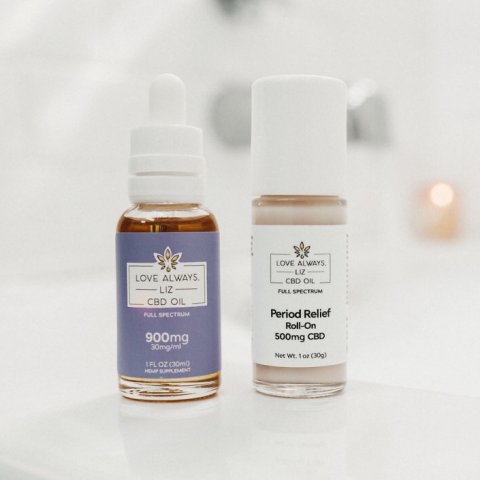 This set of full-spectrum CBD oils contains a 900 mg CBD Oil Tincture and a Period Relief Roll-On, to relieve discomfort in the abdomen, lower back and other areas of the body affected by period pain. Love Always, Liz uses sun-grown, pesticide-free hemp grown on their GMP-certified farm. (GMP means it meets FDA regulations for Good Manufacturing Processes.)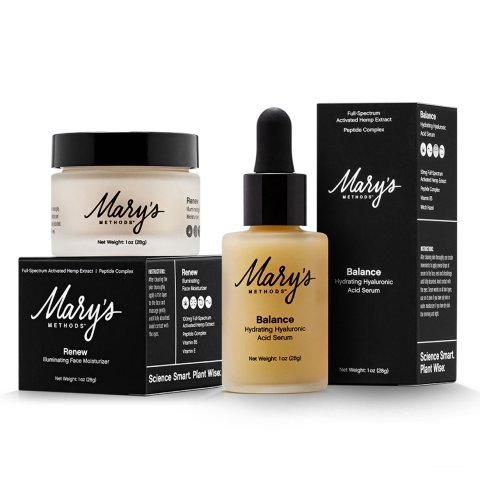 This anti-aging duo consists of the Balance facial serum and the Renew face cream. Both have a mild, pleasant scent, full-spectrum activated hemp extract, vitamin B5 and peptide complex. If you're new to CBD and just want to dip a toe in, Mary's also has a Sample Pack that includes introductory sizes of tincture, muscle freeze, and other favorites.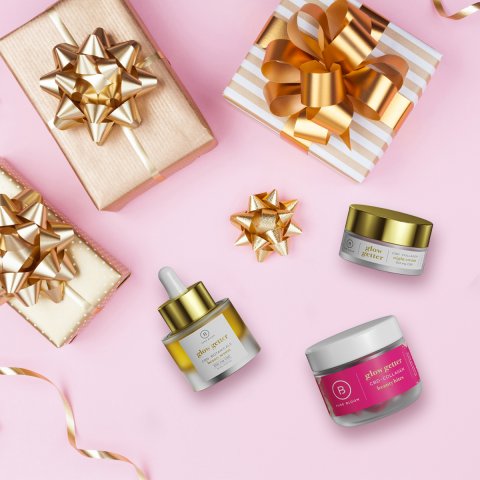 This female-founded luxury skincare company offers this beautifully packaged set to treat the skin from the outside-in and the inside-out. The set includes mini sizes of lightly-scented night cream, beauty serum, and collagen-infused gummies, which contain CBD that is nano-optimized, a process that helps to allow for maximum absorption. (Use promo code NEWS30 to save 30 percent.)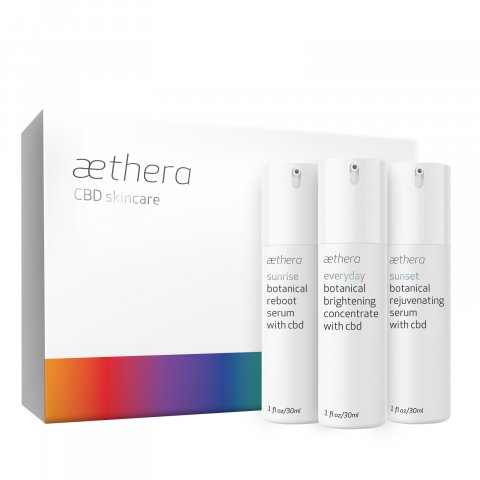 Aethera's non-toxic skincare combines CBD and concentrated natural ingredients to soothe and nourish the skin. The light morning serum is packed with vitamins, an all-day moisturizing serum contains fruit-seed oils and an extra boost of CBD and the rich evening serum contains jojoba, coconut and carrot seed. Aethera donates a portion of net proceeds to Caribbean hurricane-relief efforts.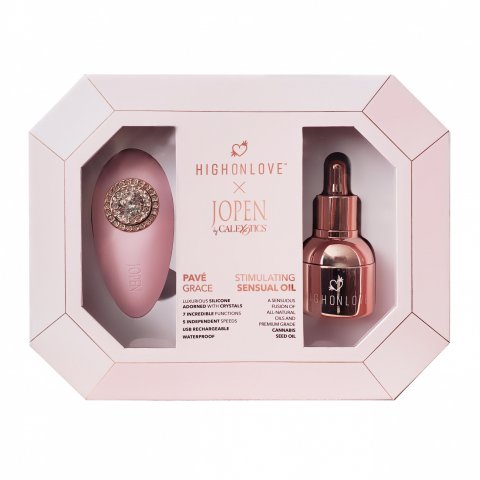 Looking to spice things up in the bedroom? This set for couples includes a Stimulating Orgasm Oil made from cannabis seed and natural oils and High On Love's ergonomically-shaped JOPEN Palm Massager. All in a tasteful gift box.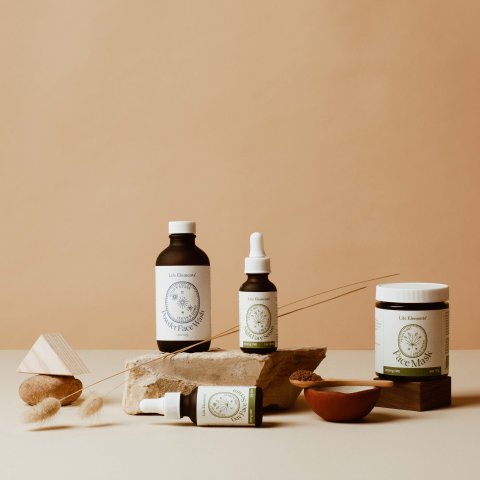 This collection of plant-based skincare products uses broad-spectrum CBD powder and other natural ingredients to fight the signs of aging and protect the skin from environmental stressors. The set includes day and night facial serums, a face mask and a unique powdered face cleanser that is activated with water.
PG PRIME Gift Set ($175 at pg-prime.com, a $270 value)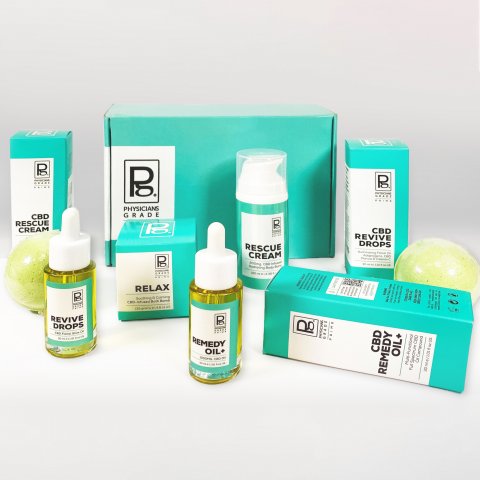 Packed with treats for stressed skin, this gift box contains Revive Drops nourishing facial oil, Rescue Cream moisturizing body balm, two CBD bath bombs and the multi-use Remedy Oil + for soothing red and irritated skin. The CBD is blended with treatment oils like squalene, marula and avocado. (For a limited time, receive a free Eucalyptus Bath Bomb ($25 value) with any order of $50 or more. Individual products are also available at Nordstrom, Neiman Marcus and Bloomingdale's.)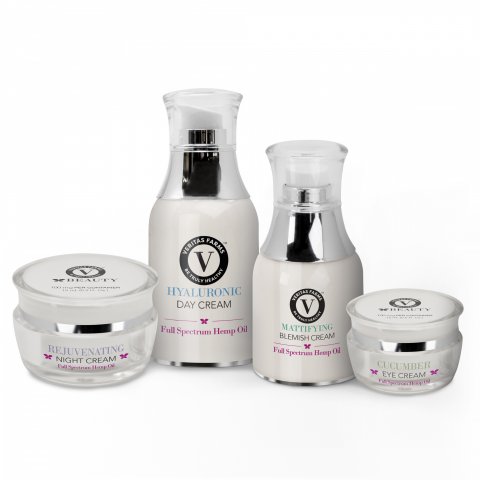 This bountiful set includes four full-spectrum hemp beauty products to address a multitude of skincare concerns: Rejuvenating Night Cream, Cucumber Eye Cream, Mattifying Blemish Cream,and Hyaluronic Day Cream. Veritas Farms also makes excellent CBD gummies. All straight from their 140-acre farm and manufacturing facility in Pueblo, CO.