The first thing you should know about Natasha Nielsen is that she lives in a house with 11 other 20-something women. Not a sorority house—though the 21-year-old University of Michigan senior did pledge Alpha Gamma Delta freshman year, and quickly got accustomed to having a bunch of people around when she needed help with homework (she's a public policy major) or a cheap beer down at Good Time Charley's ($2.50 drafts on "Mug Club Mondays"). So when the coronavirus pandemic started tearing through the U.S., her little corner of the world got pretty lonely.
U. of M.'s classes are all online now, and the Ann Arbor campus is deserted. Nielsen's graduation ceremony has been canceled, along with the lawn parties, bonfires and barbecues where she expected she'd be celebrating her final weeks as a student. Most of her roommates have moved back home, leaving Nielsen and four other girls in an eerily quiet off-campus house that was buzzing with activity less than a month ago.
"It's hard not having the support system I had," she says. "It's a scary time."
In mid-April, without a post-college job lined up and with the prospects looking grim in the current environment, Nielsen wasn't sure how she'd make her rent for May. "I was so stressed about money," she says. But just in the nick of time, she landed a job starting May 1 working the phones for the state Democratic Party—remotely, for the foreseeable future—which will tide her over for now.
That's a big relief for Nielsen, who still bears emotional scars from the Great Recession, and the blow it dealt her family. The resulting financial strain, she says, contributed to her parents' divorce and changed the course of her own life forever. It also left her with ongoing anxiety about her finances. She says, "I'm constantly thinking, when is the other shoe going to drop?"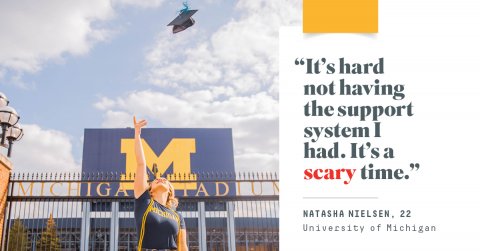 The truth is the other shoe already has dropped, landing like a torpedo for Nielsen and the roughly 2 million other members of the Class of 2020, who are now rewriting the script for their entry into adulthood. Just a few months ago, these college seniors were about to graduate into one of the most robust job markets in U.S. history, with record-low unemployment amid the longest economic expansion ever. Now, as Covid-19 continues to spread throughout the country, they're facing dwindling employment opportunities and nixed job offers, throwing one of the most foundational periods of their lives into complete chaos.
It's not just about work. They're missing out on milestones like walking across a graduation stage, diploma in hand, and moving into their first adult apartment. Forget about dating and, well, fun.
The anxiety these young adults feel is unprecedented, yet totally familiar, for a generation whose lives have always been molded by forces out of their control. Many of their first memories were of the terrorist attacks on 9/11 when they were preschoolers and an era-defining financial crisis during their elementary school years that introduced a precarity some of their families never recovered from. Now they're suffering another body blow, making it feel as if they're living a storyline better suited to the dystopian novels and movies many of them favored growing up.
They have no jobs, no money and no social lives. There are only questions: How will they get through it? When, if ever, will "it" end? And, perhaps most importantly, are they forever doomed?
In the meantime, they wait. "Our futures are completely put on hold," says Tabitha Bair, 24, a soon-to-be-graduate of Arizona State University. "Everything is changing. I'm just trying to keep my head above water."
The Kids Aren't Alright
Bair is studying business administration—a major she chose specifically, she says, because it allowed her to take online classes while working full time to pay her way through school.
In early April, though, Bair was furloughed from her job as a sales support specialist at a local tech company. She interviewed for a new job not too long ago, but Covid-19 forced the company to institute a hiring freeze before she got an offer.
"Everyone said that business administration was one of those degrees you can do anything with," she says. "I didn't know I was susceptible to something like this."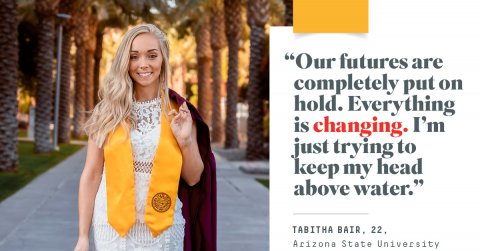 Of course, most Americans are feeling pretty out of sorts right now, with the country's collective nervous system buzzing with around-the-clock dread. Everyone is second-guessing every trip to the grocery store, and Googling "coronavirus vs. allergy symptoms," just to be sure. People are worried about the health of their grandparents, coworkers, family friends. Everyone is watching too much Tiger King.
And no one is exactly having an easy go of it career-wise. In just five weeks (through April 18), some 26 million Americans lost their jobs—more than the number who filed for unemployment over the entire 18 months of the Great Recession.
Still, it's hard to imagine a group of workers more vulnerable during this period than the ones just getting started. During the last recession, the unemployment rate peaked at 10 percent for the general population but hit 19.2 percent for people aged 16 to 24. "I graduated in 2009, and saw how difficult it was then to get our feet on the ladder," says labor market expert Martha Gimbel, a manager of economic research at Schmidt Futures. "I think today's graduates are going to have, unfortunately, an even harder time."
The early signs aren't exactly encouraging. A College Reaction/Axios poll poll last month found that, among college students who had jobs, 75 percent had already had their work canceled, moved to remote or delayed. Of the 450 employers listed on the website Is My Internship Cancelled, 69 percent were reported to have canceled, delayed or made their internships remote; only 129 were moving ahead with offers and just nine were actively hiring.
Meanwhile, as business owners across the country scramble to comply with government quarantines, the restaurant, retail and other "bridge" jobs people tend to fall back on in times of uncertainty barely exist right now—for young 20-somethings trying to figure out their place in the world and who tend disproportionately to hold these positions, or anybody else.
"A lot of the people who graduated into the financial crisis ended up taking jobs they felt they were overqualified for," says Gimbel, the former research director of Indeed.com's Hiring Lab. "Now there's no hiring at all."
Even graduate school, historically more popular when folks can't find good jobs during recessions, looks less appealing in this downturn. The move to virtual classes, probable cuts in funding to public institutions and the fear that university endowments could lose billions of dollars because of Covid-19 could make earning an advanced degree a less viable option.
"There aren't a lot of great choices right now," Gimbel says. "Graduates are going to face a really bleak time until this public health crisis gets sorted out."
The timing of the pandemic, coming just a few months before graduation, has only made the situation worse for soon-to-be grads. Online classes have made it impossible to get face time with favorite professors for references or to network at on-campus job fairs. Library closures have thrown a wrench into final exam prep and thesis research. Senior shows, film projects and theater performances have all been canceled.
A few weeks ago, for instance, Annie Lee-Daly, a 21-year old senior at Montserrat College of Art in Massachusetts, was putting the final touches on a gallery show she'd been working on for an entire year. Now she's back in her childhood bedroom in Rego Park, Queens, attempting to finish her last semester—and some critical, career-defining classes—without any of the necessary materials or equipment. Her gallery show has been canceled too—and with it, one of the first big chances she had to network with prospective employers and art buyers.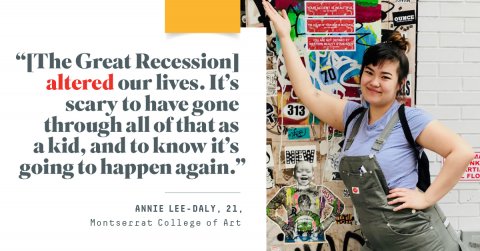 A Lifetime Defined by Crisis
For Lee-Daly, who was in the fifth grade when the last recession hit, the economic fallout of the pandemic brings back vivid memories of that earlier time. Her dad was an architect, so the housing market crash of 2007–09 hit her family particularly hard.
"Those events altered our lives," she says. "It's scary to have gone through all of that as a kid, and to know it's going to happen again."
Lee-Daly and her peers in "Generation Z," born in the '90s and early 2000s, are too young to remember much about what life was like before video chat and Animal Crossing, a video game where players interact with cutesy anthropomorphic animals on a virtual island and which has surged in popularity amid state-wide quarantines. But they are old enough to have already lived through two of the most profound crises in U.S. history and are getting up close and personal now with a third.
They're the first kids to grow up with the 24-hour news cycle at the tip of their iPhone-clenched fingers. And though they've been called "lazy" and "entitled" by people who got to be kids before anxieties about climate change and school shootings hung over every young person's head, in reality, they've always had it pretty rough. Their lives have been punctuated by collective national trauma, first with the 2001 World Trade Center attack and later the financial crisis—a period of extreme uncertainty that rocked many of their families with layoffs, bankruptcy, foreclosure and divorce.
When colleges first started announcing they would close campuses to prevent the spread of Covid-19, the class of 2020 grieved the premature end of their senior year. But many weren't exactly surprised that something was about to go terribly, overwhelmingly wrong.
"Growing up and reading the news...there's this sense, this general air, that you can't count on things to go uphill," says Drew Pendergrass, a 22-year-old physics major at Harvard University.
Pendergrass is in an okay spot financially, he says. He's enrolled at the richest university in the world, where he'll be continuing his studies in the fall as a Ph.D. student. But he isn't worry-free.
He researches atmospheric pollution, based on lab experiments and observations made from airplanes, ground stations and satellites. Most of these aircraft missions have been canceled due to Covid-19, he says, and the people who work in the research centers that process satellite data risk being furloughed. Without data, Pendergrass' research is in limbo. And while his grants are secure, the shape of the economy is not.
"Five years down the line I may be looking at a very different job market," he says.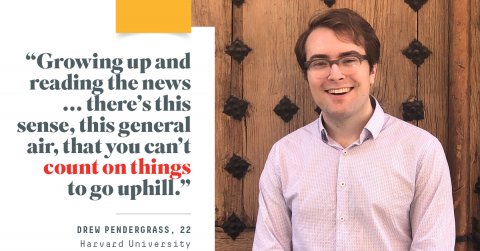 The deep sense of uncertainty Pendergrass and his classmates are experiencing will only add to the emotional distress many Gen Zers already feel. Research has shown that these young people are more anxious and depressed than any other generation, with only 45 percent saying their mental health is excellent or very good, vs. 56 percent of millennials and 70 percent of boomers, according to a 2018 report from the American Psychological Association. What are they most stressed out about? Money (81 percent), work (77 percent) and health (75 percent)—all the issues dominating the national consciousness right now.
Spending their last college semester in quarantine—bombarded by news about one of the scariest events in modern history—probably won't do much to ease their minds. "What we're all going through, it's just very intense," says Tess Brigham, a San Francisco-based psychotherapist and life coach who specializes in working with young adults.
Gen Zers are still "trying to figure out who they are and what life is about," she says. "This is a very anxious generation and this will make them even more so."
A Lasting Impact
Research suggests that the Class of 2020's anxiety about the future is not entirely misplaced.
Judging by the impact on previous generations, for instance, they are likely to take a pretty big hit to earnings on their first job. While at Yale, labor economist Lisa Kahn, now a professor at the University of Rochester, found that for each percentage point increase in the unemployment rate, students who got their degrees during the 1980–81 recession earned about 7 percent less on average at the start of their careers than those who graduated in better economies.
And while the gap narrowed with more job experience, it didn't disappear. Almost 20 years later, those who graduated during the downturn were earning about 2 percent less, with cumulative salary losses of more than $100,000 over their careers.
Millennials who entered the workforce during the Great Recession also earned less at first than typical college grads but—hey, potentially good news here, Class of 2020—those with a B.A. and a full-time job had largely caught up salary-wise a decade later, according to Pew Research. Still, the early hit took a toll: Millennials overall have somewhat less in savings than older generations did at their age, which, along with higher levels of student debt, has hampered their ability to buy homes. A 2019 study by the Brookings Institution shows they'll probably have less money to retire on, too.
As if all that weren't depressing enough, a new study from Northwestern University and the University of California Los Angeles found that people who entered the labor market during the early 1980s recession were also more likely than other people to die in middle age from heart disease, lung cancer, liver disease and drug overdoses—what the researchers referred to as "deaths of despair."
There are also sociological implications associated with graduating from college during an international crisis, says Corey Seemiller, a Gen Z expert and assistant professor at Wright State University. Almost overnight, in the case of this pandemic, daily routines have shifted to something close to dystopian: staying indoors, avoiding handshakes, stocking cabinets with cans of cannellini beans and toilet paper, loading up on hand sanitizer.
For the class of 2020, these habits that could linger, just as they did for the "GI Generation," Seemiler says. Now in their 90s or older, these Americans lived through the 1918 Spanish flu and joined the workforce during the Great Depression. Along the way, they picked up some deeply-ingrained habits—penny pinching; hoarding emergency supplies—that stuck with them for the rest of their lives.
"What happens in our late teens and early adulthood has a profound impact on how we behave later on," Seemiller says.
Of course, that's not always a bad thing.
Alicia Frison, a 25-year-old law student graduating from Howard University, says watching her parents struggle through the financial crisis has motivated her to always save as much money as she can. And talking to law students from the 2008 era—many of whom struggled to find work and pay off student loans—drove her to look for a job long before her last day on campus. (Frison recently accepted a position working in a public defender's office in New Orleans.)
Some things are beyond her control, though. It's unclear when Frison will be able to take the bar exam, and whether it will be online, in person or postponed indefinitely. Her family lives in a different state, and it hurts that she can't be with them right now—a relative passed away recently and the spread of Covid-19 prevented them from having a funeral.
"I have wanted to practice law since I was seven years old," Frison says. "Every step of my life I've tried to position myself to become a good litigator. I just couldn't plan for something like this."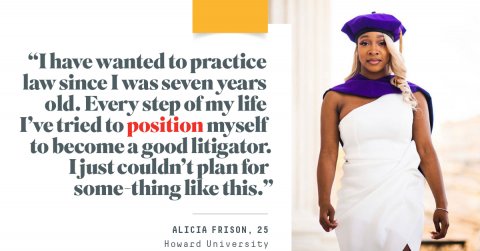 Keeping Calm and Carrying On
The good news is, Gen Z is resilient. Far from the lazy, social media-obsessed stereotypes they've been pigeonholed as, today's college seniors are ambitious and determined. Just like the GI Generation was.
"It's insane what we've been through," says Christian Santiago, 22, a senior at St. John's University in Queens.
This month, Santiago will graduate with a communication arts degree that he wants to use in the television and film industry world. For a long time, he'd planned on getting his own apartment in Brooklyn, and a temporary gig at a restaurant or coffee shop to pay for it. "I was very excited about living on my own," he says. "You're only young once."
Instead, he's back in the Bay Area, sleeping on his parent's couch, and has no clue when he'll be able to fly back East. Film production in New York City has been suspended indefinitely, so there aren't any career-worthy jobs he can apply to. And since most restaurants and bars have closed or are operating with a skeletal crew to comply with state-wide quarantine orders, he can't work at any of those either.
These days, Santiago spends most of his time looking for jobs on LinkedIn, and working on the promotion of his new short film. His friends back in New York are starting to get stir crazy in self-isolation—hosting Zoom parties to pass the time and creating TikTok video after TikTok video—so they'll have no excuse not to watch his film, he jokes. Another new pastime for pals: "Some have been downloading dating apps like Bumble and Tinder, and 'swiping right' on everyone just to have an honest-to-god conversation," he says. "I think they need some sort of human interaction."
If Covid-19 keeps Santiago on the West Coast for much longer, "the game plan," he says, "is to try to find a job, any sort of job, save every single dime that I have, and use that to move back to New York."
In other words: He's not giving up.
All told, the class of 2020's losses so far are mostly abstract—a virtual graduation party here, an empty sorority house there—but they're more than just symbols.
Even the simple act of walking across a graduation stage "is a big moment for a lot of us," says Katya Vera, a 22-year-old Princeton University student.
Vera was born in Mexico and is the first person in her family to make it to college. After Princeton announced its 2020 commencement ceremony would be held online, she started an online petition to reschedule it later in the year when the threat of the virus has passed.
"This is not the worst possible thing that could happen," Vera says. "I'm going home to a safe space, it could always be worse. But at the end of the day, this is a dream of mine. Walking across the stage, throwing our hats in the air, is really symbolic. I've been looking forward to this practically my whole life."
She adds, "It didn't feel right that this could be taken away."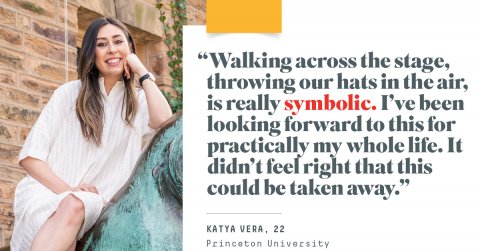 There are a lot of things that keep Vera up at night. She wants to apply to medical school, but needs to take a few classes in the fall to be eligible. Will those classes still be held—and will they count toward her pre-med requirements if they're all online? Will she be able to work this summer, as she'd planned? Or will she have to take out a loan to cover her living expenses?
She can't escape the realities of the coronavirus pandemic—one of her last classes at Princeton is an epidemiology course, and she's part of a family phone chat that buzzes every so often with a new, scary headline. But through a mix of doggedness, fatigue and an unmistakable "the world is my oyster" determination that somehow, miraculously, hasn't faded, she's pressing forward.
So is Natasha Nielsen, the University of Michigan public policy major, who along with her friends, is figuring new ways to deal with the loneliness of social distancing and how to get on with their lives. She goes on Animal Crossing "dates" with her boyfriend, playing the Nintendo Switch game together from their respective homes. And she hops on a Zoom call every Monday with the friends who used to gather at Good Time Charley's, the pub near campus.
"The effects [of the pandemic] are so personal and detrimental to our lives but everyone is dealing with this," Nielsen says. "I have to remind myself that everyone is in this together."
Kristen Bahler is a freelance business and culture reporter based in Brooklyn.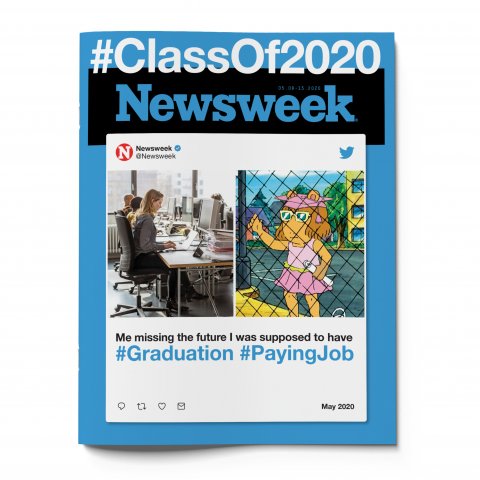 ARTHUR, based on the best-selling books by Marc Brown, is television's longest-running children's animated series, produced by WGBH Boston. For over 23 seasons, it has remained one of the most popular and beloved weekday children's series on PBS. Funding for ARTHUR is provided by public television viewers. Corporate funding is provided by ABC Mouse®. For more information, visit pbskids.org/Arthur and follow ARTHUR on Facebook, Instagram and Twitter.