Tom Insel has watched the nation grapple with plenty of psychologically challenging situations over his long career in the field of mental health. The psychiatrist became director of the National Institute of Mental Health (NIMH) in the months following 9-11, when Americans were traumatized over the twin tower bombings. He watched residents of Louisiana and Mississippi dig out from the waterlogged rubble of Hurricane Katrina. He's seen mass shootings in Tucson, Fort Hood and Newtown.
But nothing in Insel's experience has tested the nation's psychological resilience like COVID-19, which has millions of Americans living in fear of contracting a deadly new disease, hunkering down in involuntary confinement, contemplating rising unemployment and the prospect of a worldwide economic collapse, cut off and worried about loved ones, besieged by a parade of bad news and tormented by boredom, fear and loneliness.
Mental health experts are now bracing for what Insel calls a "mental health tsunami." They're anticipating a steep rise in the diseases of isolation—suicides, opioid abuse, domestic violence and depression—that will unfold over the next few months and could stretch on for years.
The plague is not only fueling these mental health problems. The same economic collapse that is putting people out of work is also eroding the ability of society to deal with the crisis. In particular peril are the federally-funded mental-health clinics that treat millions of the poorest and sickest. Two months into a crisis that could last years, they are already on the edge of failure.
Casualties from the mental-health problems are expected to rival the pandemic itself. Deaths from drug overdoses and suicide totaled about 110,000 a year before COVID-19 struck. Historically, each five percent increase in the unemployment rate leads to about 3,000 additional suicides and 4,800 overdose deaths, says Insel. That means an unemployment rate of 20 percent would cause an additional 20,000 deaths.
"We've never seen a moment where the demand for mental health care will be as great as it's going to be in the next few months and next couple of years," says Insel. "If you add the spike in suicides and drug overdoses we are likely to see to those we were already expecting, the psychological toll from deaths of despair in the months ahead could very likely surpass the final mortality numbers for COVID."
The disaster model
Mental health fallout usually follows a disaster. In hurricanes, there's generally a 60 to 90 day lag from the "acute" phase of the crisis before the full psychological fallout is felt. Once the imperative to survive the immediate calamity passes and people begin to grapple with what they have just been through and what it means for the future, their resilience faces its true test. The psychological impact begins to show up in a rise in suicides, alcohol and drug-related incidences, and new mental health-related cases. Economic downturns typically take a couple of years before the impact begins to show up in the statistics that suggest the true mental costs on the population.
The 2003 SARS epidemic was followed by a 30 percent increase in suicide deaths among those 65 and older in Hong Kong. Half the population remained anxious in the months that followed. As many as 50 percent of New Orleans residents who were present during Hurricane Katrina experienced a diagnosable mental disorder such as PTSD, major depression or an anxiety disorder.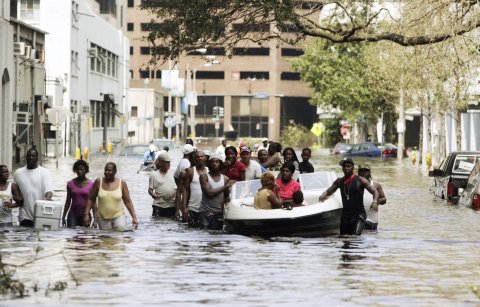 Likewise, says Stefan Hofmann, a clinical psychologist who directs Boston University's Psychotherapy and Emotion Research Laboratory at the Center for Anxiety and Related Disorders, "once the viral pandemic passes, there will be the pandemic of emotional distress." Hofmann predicts the full extent of the damage won't be clear for months, and it may unfold at a different pace for different people.
For some, the challenges are already beginning. Presently, about one third of Americans say they have experienced "high levels" of psychological distress such as anxiety, sleeplessness or depression at some point during the extended period of social distancing because of the present circumstances, according to a study by Pew Research Center, released in early May. Kaiser Family Foundation put the number Americans for whom worry or stress had caused at least one negative effect on mental health and wellness at 56 percent. Calls to a government disaster distress helpline were up tenfold in April from the previous year; a Los Angeles suicide and help hotline handled 8,000 percent more calls than usual in February and March.
Domestic abuse hotlines are also seeing increased activity: More than 5,000 people have reportedly called the National Domestic Violence Hotline since mid-March, specifically referring to COVID as the catalyst for their problems.
In recent years, psychologists have established strong evidence that loneliness is linked to higher levels of anxiety, depression, alcoholism and drug abuse. It can also be a threat to physical health. Lonely people feel more pain, which has some public health officials worried about a second spike in opium use. Lonely people are also more likely to get physically sick. The impact of social isolation on mortality is greater than obesity, smoking 15 cigarettes a day or high blood pressure, researchers have found.
"The recognition of the impact of social isolation on the rest of our mental health is going to hit everyone really soon," says Kay Tye, a neuroscientist at the Salk Institute for Biological Science who studies the brain circuits involved in loneliness. "The impact on mental health will be pretty intense and pretty immediate."
How lethal the fallout turns out to be may depend on the depth and duration of the current economic downturn. One study based on data from Hurricanes Katrina and Harvey found that every 1 percent rise in unemployment preceded a 2 percent increase in the number of drug overdose deaths. Another found it that a 1 percent uptick in unemployment was associated with a 1.6 percent rise in the number of people who succeed in taking their own lives.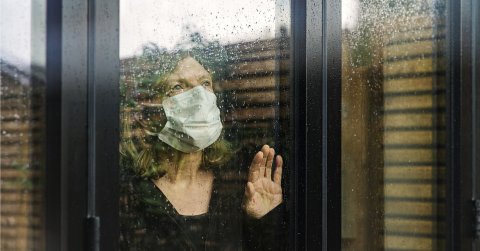 Suicides were already rising when the pandemic hit. The U.S. has seen a 33 percent increase since the year 2000, according to an analysis released last year by the Centers for Disease Control and Prevention, which placed the rate at 14 deaths by suicide for every 100,000 Americans—the highest age-adjusted suicide rate recorded in the U.S. since 1942. Although men were still three times as likely to kill themselves as women, female suicide rates increased by 53 percent between 1999 and 2017, almost twice the rate of increase for men.
Insel attributes the spike to a wide range of factors ranging from a lack of treatment options for the mentally ill to societal factors that are adding to stress and uncertainty. COVID-19, however, "really adds fuel to the fire."
The most ominous warnings are emerging from a report on "projected deaths of despair" from COVID-19 by the Robert Graham Center, a think tank associated with the American Academy of Family Physicians and the nonprofit Well Being Trust. They are predicting tens of thousands of additional deaths from suicide, alcohol and drug overdoses, depending on the extent of the economic dislocations and action taken to help those who are struggling. Their estimates range from an additional 27,644 if there is a quick recovery, with the smallest impact on unemployment. In a worst case scenario, they predict the number of additional Americans who will die from suicide, drug overdoses and alcohol-related deaths will hit 154,037.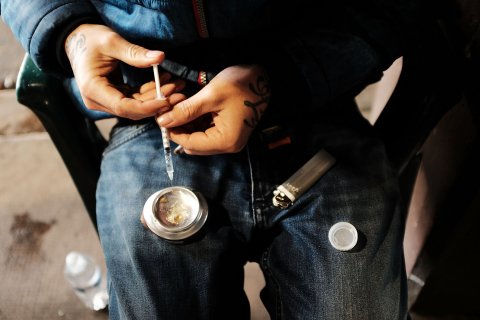 Self-medicating
Even if the mental health system had the capacity to treat everyone, research and history show that 50 to 60 percent of those who need treatment fall through the cracks. Most people don't seek care, instead turning to alcohol and drugs. Some withdraw, becoming more isolated. Some become angry and uncontrollably violent or self-destructive. In the months and years ahead, we will be battling an epidemic we may not always be able to see.
Social distancing may be fueling opioid abuse, worries Elinore F. McCance-Katz, assistant secretary for mental health and substance use at the Department of Health and Human Services. When doctors cannot meet face to face with patients, they are more likely to prescribe addictive drugs, she says.
COVID-19 could erase progress of the last few years in dealing with the opioid epidemic. By some accounts, federal efforts to get the crisis under control were beginning to yield results. In 2017, more than 70,000 people died of drug overdoses—68 percent involving prescription or illicit opioids—making it the leading cause of injury-related deaths in the U.S. Between 2017 and 2018, overall overdose death rates decreased by 4.1 percent—with prescription opioid-involved overdose death rates decreasing by 13.5 percent. (Deaths from synthetic opioids, excluding methadone, increased by 10 percent over the same period.)
However, previous studies have found that for every 1 point increase in unemployment, drug related deaths increase by between 3.3. percent and 3.9 percent. An unemployment rate of 20 percent or higher, which economists predict is likely in May and June, would probably be devastating.
Data on domestic violence and child abuse is spotty, but local officials tell McCance-Katz that cases seem to be rising. She recently issued a document of resources for victims to access help (here) and has been pleading with the media to publicize it. "It's very important to get the message out there that for thousands of Americans staying home isn't safe," she says. "We expect that we are going to see great increases in these numbers. We know from some cities that they're already seeing big increases in calls to domestic violence hotlines. We're quite concerned."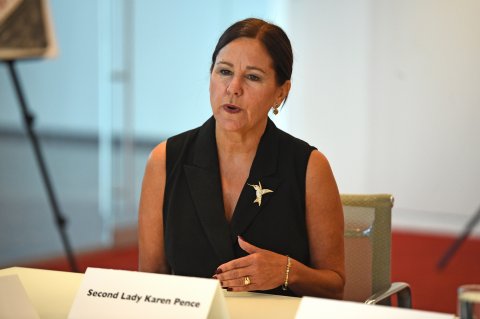 A lack of action
There's no shortage of efforts to attract attention to the problem. Second Lady Karen Pence launched a three-year initiative aimed at changing the culture around mental health and suicide just as COVID-19 struck. Pence, serving as a "lead ambassador" along with a dozen other "influencers"—including Surgeon General Jerome Adams, the celebrity DJ Nash and several former presidents of the American Psychiatric Association—will try and attract attention via social media and get people talking to one another.
Joshua Gordon, director of the National Institute of Mental Health (NIMH), and former Congressman Patrick J. Kennedy, founder of The Kennedy Forum, also announced a new effort in late April to raise money and awareness to address mental health and prevent suicide. "I'm particularly concerned about those who might have trouble accessing mental health care, such as homeless, seriously mentally ill, incarcerated individuals because they might have challenges staying well," Gordon told Newsweek.
So far, there's been little action where it is needed most: providing funding to address the mental health challenges brought on by the pandemic. Of the $3 trillion passed for economic stimulus and relief, only a tiny sliver has been allocated for mental health. "People have been speaking up about the mental health effects of this emergency, but we have yet to see real concrete actions to shore up our mental health system," says Angela Kimball, national director of advocacy and public policy for the National Alliance on Mental Illness. "Any shortfall is likely to hit the poorest the hardest."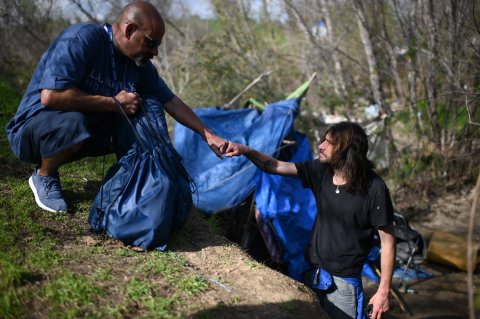 The nation's existing mental health infrastructure is not even remotely equipped to handle the rise in mental health problems, says Insel, and he should know—he spent last year surveying California's mental health system. He found the prisons filled with mental health patients and mental health facilities filled with the criminally insane. "We were in a bad place before," he says. "And now we have COVID."
Mental health agencies, which operate on a shoestring budget in the best of times, have seen reimbursements plummet. The federal Medicaid program funds behavioral health clinics to low-income Americans with the most severe conditions, such as schizophrenia, psychosis, depression, OCD and other disorders—usually the last stop before the streets or prison. When COVID-19 hit, federal officials at the U.S. Centers for Medicare & Medicaid Services moved with uncharacteristic speed to revise its regulations and allow reimbursement for telehealth appointments, which some mental health advocates have been urging for years. (Many private insurers followed suit.) But the poorest patients don't have laptops or access to broadband internet; many are homeless.
Instead, patients have inundated crisis services lines. One mother called NAMI pleading for help for her daughter, an Iraqi-war vet, who was psychotic, homeless, off her meds and unable to get help. "She's desperately worried, because her daughter believes we are being invaded by aliens," says Kimball. "She's been in contact via cell phone. But she can't get mental health services to come help her daughter." Kimball has compiled a list of more than 600 such stories to share with lawmakers and the media in the hope of getting more funding.
The problems appear to be widespread and getting worse. The National Council for Behavioral Health, the nation's biggest association of mental health and community substance abuse clinics, found in a survey of members that more than 90 percent had cut back on some programs, and 30 percent were turning people away.
The initial relief bill passed by Congress included about $425 million in additional federal funds to help HHS boost suicide prevention efforts and treat patients with serious mental illnesses and substance abuse disorders through certified community behavioral health centers. To keep operating, mental health advocates claim they need $38 billion—about 90 times that amount. "Urgent assistance is needed to keep the doors open," the National Alliance on Mental Illness wrote in a letter.
In early April, President Trump held a half-hour call with leaders of the mental health and substance abuse community to hear their concerns. Last month, a coalition of lawmakers sent a letter to congressional leaders to increase funding for mental health in the next coronavirus package.
"Many organizations that primarily treat individuals with mental health and/or substance use disorders ... are at risk of closing their doors as a result of the COVID-19 pandemic," the lawmakers wrote. "The immediate and long-term effects of this cannot be overstated." Congressional leaders, having already doled out more than $3 trillion, have been deadlocked over the next spending package.
Experts agree that most of the population will get through the crisis intact. "We are all highly, highly stressed," says Insel. "But most people are resilient. As long as there is an endpoint, as long as they know this isn't forever, they will find a way to make it through." How many tens of thousands of fellow Americans we lose along the way, he notes, will depend on the actions we take in the weeks and months ahead to help them get through it, too.
If you have thoughts of suicide, confidential help is available for free at the National Suicide Prevention Lifeline. Call 1-800-273-8255. The line is available 24 hours, every day.