"Here's the embarrassing thing, I didn't know this country had a space force until after I was done shooting it."
Lisa Kudrow is up there with Lucille Ball, Carol Burnett and Julia Louis-Dreyfus as one of the great icons of TV comedy. With her new Netflix series Space Force, released May 29, one thing is also becoming clear: Kudrow loves leisurewear. For nearly the entire season, her character, Maggie, wears a prison jumpsuit similar to the tracksuit she wore on The Comeback. "It was just as comfortable as Aunt Sassy's tracksuit." Space Force, created by The Office alums Greg Daniels and Steve Carell, finds Kudrow's character in prison while her husband, played by Carell, leads a new government agency to get the U.S. back on the moon. However, why Maggie is in prison is just as much a mystery to Kudrow as it will be viewers. "She's still sort of up in the air. Is she a badass or what happened? They don't know." It's a busy time for Kudrow. Soon she'll take part in a Friends reunion special for HBO Max, but she's quick to point out it's not a new episode. "It worries me that people think it's going to be an episode. It's not. It's a special. We don't want to disappoint people."
What about the show inspired you to want to do Space Force?
Daniels and Carell together was already wow, great, yes! Here's the embarrassing thing, I didn't know this country had a space force until after I was done shooting it. Somehow it never came up because I think everyone just assumed that I knew what was going on in the world. After I saw the president's State of the Union, I texted Greg and Steve, 'Oh my God, I'm so sorry. I had no idea that we had a space force.'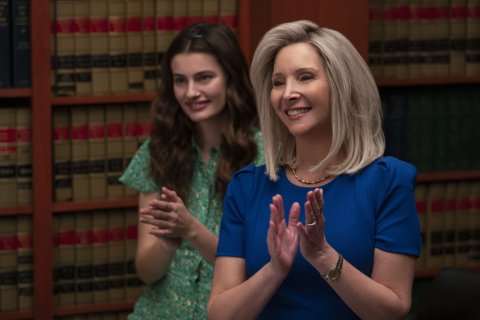 What about Maggie inspired you?
Just that she's still sort of up in the air. Is she a badass or what happened? Maybe this is secret information if there's more, but I don't know. I talked to Greg about it for a while. I just decided there's a range about what happened. Either she just sort of said, "We're here because there's a base here in Colorado. I don't think that's a secret, is it?" And then that's what she did wrong and has to be in prison for 40 years. Or she was involved in some kind of initial international espionage. I don't know.
For whatever reason she's in prison, she assimilated to prison life real quick.
Yeah, she's good. I felt like the way she was when we first see her, she's the perfect wife of a general [to Steve Carell's character]. And if there are political aspirations for him, then she's perfect there, too. She just knows how to fit in. But when she sort of bursts into tears after hearing they're moving to Colorado out of D.C. Is that because "How will I do my work?" or "God, I'm screwed?" Whatever her sideline is, it's just that superficial misery. I wanted to keep it open in my head.
Was it difficult not knowing a lot about Maggie's backstory?
No. Look, if she does turn out to be this like super-spy badass, then you know that works. Now that I've said it, it probably won't be that.
It's the 15th anniversary of The Comeback. What do you think Valerie Cherish would be up to today, especially in isolation?
I think she'd be trying to get her 200 followers to start a thing. Like, "Let's watch I'm It. While we're sitting here and have nothing better to do. Right? Fun. Take your mind off things. Stop watching the briefings. Time to laugh." Maybe she does a fashion show thinking she's just adorable and cute showing off all of her scarves. She would call them "my iconic scarves." Just because you say it doesn't make it true. But she's a firm believer in that.
It's so jarring, in a great way, hearing you break into Valerie so seamlessly.
For so long I would just have her in my head. Sometimes I would just mumble as Valerie Cherish. Unfortunately, that's gone away a little bit. I miss her.
Would you do a third season?
Yeah. There's always something to be done. Michael Patrick King and I talk about it sometimes.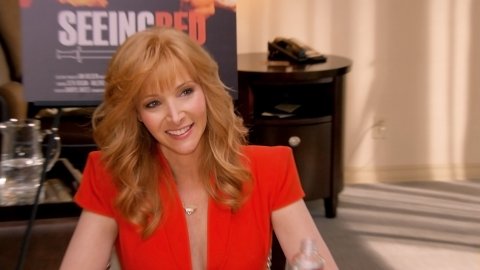 Valerie's iconic "Hello, hello, hello" lives on every time RuPaul enters the workroom on RuPaul's Drag Race. Would you love to see a queen do you for the show's Snatch Game someday?
That would be fantastic. That would be great. Ru had me on Drag Race saying "Hello, hello, hello." But I didn't want to be a judge at all. I'm in no position. I can't even imagine judging or having one complaint about any of them.
You've worked with some legends of Hollywood. Is there anyone you're eager to work with?
A million people. I haven't worked with more people than I have worked with. I know that's not a funny answer, but honestly, there's too many. I'd feel bad for not saying someone. It would be fun to work with Allison Janney. How's that? Wait a minute. I did! On Web Therapy.
The Friends reunion special was postponed because of COVID-19, but what are you looking forward to most about returning to the set?
We've only all been together once before, privately years ago. To me, the fun thing is we all remembered different things. Jennifer [Aniston] and [Matt] LeBlanc remember absolutely everything perfectly. I can't wait to just relive the stuff that was behind the scenes.