Can eight minutes and 46 seconds change the world?
From London to Lisbon, Berlin to Brisbane, Pretoria to Paris, as well as Toronto, Tokyo, Rio de Janeiro and scores of other cities in dozens of other countries across the Americas, Europe, Asia, Africa and Australia, the answer, increasingly, seems to be yes.
In the month that's passed since George Floyd was killed and that horrifying, heartbreaking nearly nine-minute video revealed his treatment by four Minneapolis police officers, protests have spread beyond the U.S. and around the globe. The themes are at once universal—demonstrators demand justice for Floyd, and call for police reform and an end to systemic racism—and unique to the particular challenges of racial justice in each country. Protestors invoke the names of Black people killed in their country along with Floyd's, topple symbols of racism specific to their culture, point to what they believe are egregious examples of inequality particular to where they live.
The overarching message that ties the global protests together: "Black Lives Matter."
"This is a watershed moment," said Patrisse Cullors, who co-founded the Black Lives Matter movement in 2013 in response to the acquittal of the man who killed Black teenager Trayvon Martin as he was walking home from a convenience store. People are saying, said Cullors: "Enough is enough."
Why now? In part, it's the singular brutality of what happened to Floyd, coming on the heels of a recent series of racially-charged encounters sparking outrage (the killings of Ahmaud Arbery and Breonna Taylor, the birdwatching-while-Black incident in New York City's Central Park). Add in the coronavirus pandemic hitting the health and economic well-being of the Black community particularly hard, and the combination is proving to be a tipping point. The result, said Hawk Newsome, a prominent New York civil rights activist who started Black Lives Matter of Greater New York, an unofficial chapter of BLM, is nothing less than a seismic shift in global awareness around the realities of racism.
"I've heard from people in Thailand who are having rallies with Black Lives Matter of Greater New York t-shirts; I've had people in Paris taking pictures in front of things on fire with their fist up...I've had people FaceTime me to show me what's happening in London," Newsome said. "It feels like there is actually change happening right now. And it's opened the door to new conversations about what's needed in the future: a pathway to justice."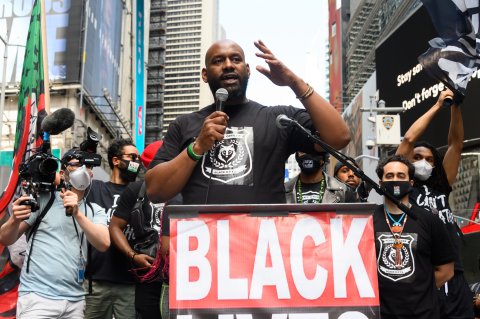 The big question for Cullors, Newsome and other activists leading Black Lives Matter movements in countries around the world: How do you turn those conversations into real and lasting change—and what kinds of change is needed most? Here is a look at what is happening on the ground in many places at this moment of global reckoning and what the leaders guiding those movements see as the path ahead.
Europe Rising
Virtually every country in Europe has seen on-going demonstrations in multiple cities, as protestors defied strict lockdown guidelines barring large gatherings to protest in solidarity with Black communities in the U.S.—and to demand an end to police violence and systemic racism in their own countries as well.
In London, demonstrators have chanted "No justice, no peace" outside the U.S. Embassy but also in front of Britain's Houses of Parliament. And the protestors invoke the names of Britons like Mark Duggan, Sheku Bayoh, Sean Rigg, Sarah Reed and Cherry Groce—all members of the Black community who died during interactions with law enforcement—along with the names of slain Americans like George Floyd, Breonna Taylor, Tamir Rice and Philando Castile.
The incidence of police violence in Britain, where officers do not generally carry firearms, is dramatically lower than in the U.S. Since 2015, police in the U.S. have shot and killed around 1,000 people each year, with Black people twice as likely to die at the hands of law enforcement as white people, according to an online database maintained by The Washington Post. In England and Wales, the number of people fatally shot by police in 2019 was three.
But while the number of violent encounters is small, the racial pattern is similiar. "A disproportionate number of Black people are stopped and searched and a disproportionate number of Black people are dying in interactions with the police," says Arike Oke, managing director of the Black Cultural Archives, a cultural heritage center that preserves and celebrates the histories of African and Caribbean people in Britain. In fact, of the 292 people in England and Wales who died while in police custody or soon after over the past 15 years, 23, or 8 percent, were Black, according to the Independent Office for Police Conduct, even though they make up just 3 percent of the population.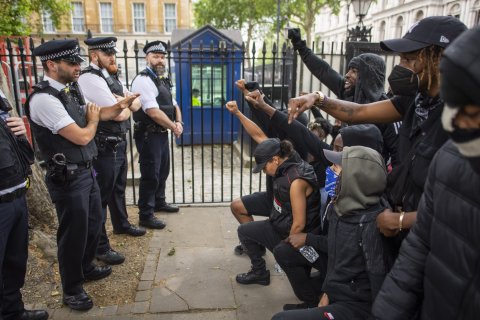 As in the U.S., the pandemic has only added to racial imbalances in Britain, where the risk of dying from COVID is more than three times higher for Black men and nearly two and a half times higher for Black women than white people of the same gender, according to data from the Office for National Statistics. Inequalities in healthcare, housing and economic opportunities are believed to play a major role.
"Racism is a public health issue," Oke notes.
Britain cannot craft meaningful solutions to its current problems of systemic racism without coming to terms with its colonial past, particularly its role in developing the slave trade, Oke believes—the theme of historical reckoning being one that is echoed in the growing Black Lives Matter movement in the U.S. and other countries. She says, "Slavery existed since the dawn of time, but the specific trade and enslavement of Africans that America's wealth is built on and that Britain's modern wealth is built on came from Europe."
That's why it was especially symbolic when earlier this month protestors in Bristol, in southwest England, toppled a statue of 17th-century slave trader Edward Colston, heaving it into a nearby harbor. It wasn't the only statue to meet its demise in the protests. In London, a statue of former Prime Minister Winston Churchill was branded with the words "Churchill was a racist," just as Confederate statues in the U.S. have been pulled down or vandalized over the past few weeks.
The incidents led to a rebuke from British Prime Minister Boris Johnson, who said he could not "support or indulge those who break the law, or attack the police, or desecrate monuments" in a statement published by The Voice, a British news outlet serving Black communities. He also said he could not condone protesters flouting Britain's "rules on social distancing" amid the pandemic while acknowledging that Britain still has "much more to do" in "eradicating prejudice and creating opportunity."
What Oke would like Britain to do is use this moment to tackle the issues laid bare by George Floyd's death and dedicate substantial resources and funding to understanding why racism persists in Britain and how it needs to be addressed. She seems to be, at once, both optimistic and skeptical about the likelihood of success. "We hope this is a movement of genuine social change across our nation," Oke said. But, "we feel almost nervous to believe in what the longevity could be of the change."
In Germany, protesters have been fighting a similar, yet unique, battle in a country determined to draw a firm line between its present and its painful past.
Speaking with Newsweek, Berlin-based activist Diana Arce, who was born in the U.S. before moving to Germany in 2004 in her early 20s, said she feels that the realities of racism in the country are largely swept under the rug. In a post-Holocaust Germany, Arce explained, "The argument is that Germany has dealt with its racist past. Like, 'we really messed up with the Holocaust, but we've learned everything now and we're good. We don't see color.'"
For years, said Arce, she has struggled to explain to white people, including fellow activists, that for Black people, racism is very much alive in the country she calls home. And by at least one measure, it's on the rise: Hate crimes in Germany more than doubled from 2014 to 2018, rising from 3,059 cases to 8,113 within five years, according to the Office for Democratic Institutions and Human Rights.
The fact that Black people are still fighting to see the use of the German equivalent of the "N-word" deemed racist, Arce said, should be telling. In December, the State Constitutional Court of Mecklenburg-Western Pomerania, the equivalent of a state Supreme Court in the U.S., issued an ambiguous ruling suggesting that, while the term's use can be pejorative, whether it should be considered discriminatory depends on the context in which it is used.
The ruling sparked an outrage among many, with more than 130,000 people signing an online petition published on Change.org to see the N-word deemed racist in Germany.
"Can you imagine activists in the U.S. fighting to get the government to recognize the N-word as a bad word?" Arce said. "So, if you are a Black person and someone screams the N-word at you over and over again while attacking you, it won't be tried as a hate crime."
Even since Floyd's death, with protests being held under the BLM banner in Berlin and a global conversation taking place about systemic racism, Arce believes many Germans continue to view it as a largely U.S. problem. "No one here is talking about this, it's extremely rare," she said. When Arce and other advocates do get contacted by the press, she said, it's to be asked to comment on racism in Germany "from a personal anecdotal level," rather than to talk about it "from a structural level."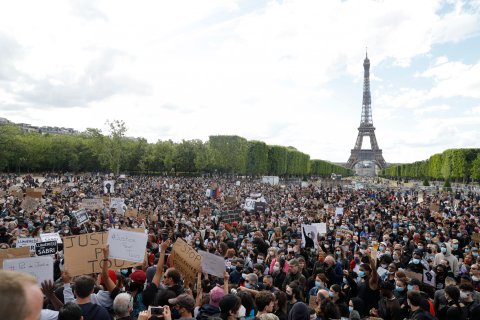 Beyond the West
In countries across Africa, protesters have also marched in solidarity
with Black communities in the U.S., while also calling on their governments to address police brutality. Those calls were strengthened after African Union chairman Moussa Faki Mahamat called on the U.S. to intensify its efforts to address police brutality, leading demonstrators to question whether their own governments would commit to doing the same.
Protests have ignited across the continent's capitals, with people marching in Accra, Lagos, Nairobi and beyond, with demonstrators in the Kenyan capital demanding justice after a rise in the number of police killings since a curfew was enforced in March to help slow the spread of coronavirus.
In Australia, rallies organized by indigenous groups were also held in solidarity with the Black Lives Matter movement. Protesters marched in Sydney, Melbourne, Brisbane, Adelaide and elsewhere to call on the U.S. to address police brutality, but also for Australia to reckon with its own treatment of indigenous groups and minority groups in the country. According to data published by the Australian Human Rights Commission, of all the complaints received by the country's Commission under the Racism Discrimination Act in 2015 to 2016, 54 percent were submitted by Aboriginal and Torres Strait Islander people, even though indigenous Australians account for just 3 percent of the country's population.
Indigenous people in Australia are also disproportionately represented in the country's criminal justice system. A study by the Australian Institute of Criminology found that indigenous prisoners made up 28 percent of the country's prison population during fiscal year 2017 to 2018 and accounted for 22 percent of in-custody deaths.
In Sydney, the name of David Dungay, an Aboriginal man who died in the Long Bay Prison Hospital in 2015 after being restrained by at least four prison officers, was invoked at protests to highlight the disproportionate rate of indigenous deaths in custody. Like Floyd, Dungay's family has said he too uttered the words "I can't breathe" before he died.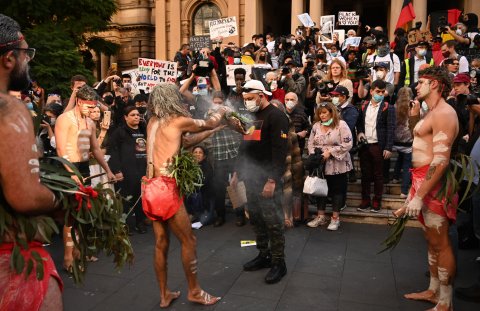 Meanwhile, in Tokyo, protest organizer Sierra Todd, a 19-year-old U.S. student studying art abroad through Temple University, said that while racism in Japan might manifest itself in different ways from the U.S., it "definitely exists" for the country's 2.9 million foreigners, who make up 2.3 percent of the population.
In 2017, a landmark survey conducted by Japan's justice ministry found that nearly a third of 4,252 foreign residents surveyed said they had faced derogatory marks over their backgrounds. Many participants, more than half of whom were Chinese and Korean, also said they believed discrimination played a critical role in being denied jobs, equal pay and housing.
While police brutality in Japan may not be as strong a focus as in the U.S., Todd, who is Black, said that protesters, who she said were "largely foreigners," but also Japanese citizens, rallied to demand justice over a recent case of alleged police brutality that unfolded in Tokyo just days before Floyd's death. In that case, a 33-year-old Kurdish man has alleged that police officers shouted at him and shoved him to the ground after he refused to allow them to search his car after they stopped him while driving.
"So, there have been protests about police brutality," Todd said, "but not only about what is happening in the U.S., but about something that happened in Japan."
Whether or not discrimination played a role in the incident, in the wake of Floyd's death, it has sparked a wider discussion in Japan about the pervasiveness of racism and discrimination in the country. "It's becoming more of a talking point," Todd said.
The Protests in the Americas
Anti-racist protests are also springing up across Latin America and Canada. In Brazil, which was the last country in the West to abolish slavery, rising anti-racist fervor has been additionally fueled by the disparate impact of the coronavirus outbreak on the country's predominantly Black and mixed-race population. As of late June, Brazil had the second-highest number of confirmed COVID cases in the world after the United States, and the Brazilian Health Ministry has been sounding the alarm for months about disproportionately high death rates among residents who identify as "Black" and "brown."
Gabrielly Nunes, an organizer of Vidas Pretas Importam, the Brazilian chapter of Black Lives Matter, told Newsweek that Black people in Brazil "are tired. Every day, a Black person is dying, a Black person is being killed."
And the coronavirus is not the only killer. In Rio de Janeiro, police have killed nearly 9,000 people in the last decade, according to Human Rights Watch. More than three quarters of those who died were Black men.
Meanwhile, in the first four months of 2020 alone, Rio police killed 606 people, by their own count. Even in April, robberies and other crimes dropping dramatically amid COVID-19 lockdown measures, police violence surged, according to HRW, with police killing nearly six people a day, representing a 43 percent spike from the same month last year.
All told, in the month of April, police were responsible for 35 percent of all killings in Rio de Janeiro state. "To put that in perspective, imagine police in the United States killing at a similar rate; they would be responsible for more than 36,000 deaths each year," HRW said in a recent report.
Adding to the rising unrest: the increasingly authoritarian leadership of President Jair Bolsonaro, who has been in power since 2019 and has a history of making discriminatory comments about both Black and indigenous communities in the country, with the Brazilian leader once suggesting he did not believe indigenous people were fully "human."
For Nunes, Bolsonaro's rhetoric is both a symptom and contributing factor of racism in Brazil. "He is not above God," she said, in Portuguese. "The voice of the people is the voice of God and the government is just a hand that is dirty and that we can clean."
To the north in Canada, as demonstrations have cropped up across the country, Prime Minister Justin Trudeau has expressed support for the goals of the movement, making headlines as he kneeled before protesters in a public show of solidarity. Trudeau, whose office did not immediately respond to Newsweek for comment, has acknowledged that "racism still exists in Canada" and said the country needs to "be better."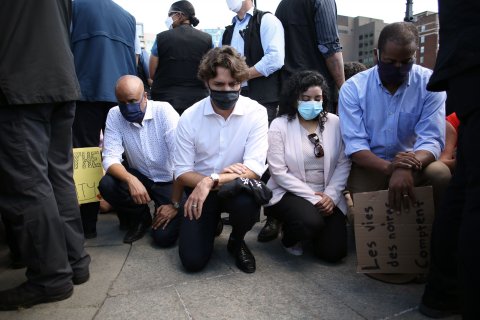 But for many, his words were not enough. Leaders of the movement are looking for more concrete actions to address longstanding issues of police brutality and racism and greater awareness of the role the history of both the U.S. and Canada have played in creating the inequities that Black people and Indigenous communities face today.
"Both of these things are very related, especially when it comes to police violence," Sandy Hudson, the founder of BLM Canada told Newsweek, pointing out that early policing in both nations came in the form of slave patrols. "That's the history and you see the impact of that history today in the way that police continue to view and treat Black people and Indigenous people as people to be patrolled, to be surveilled."
Just as in the U.S. and other parts of the world, the protests in Canada have been given a very human face by recent deaths resulting from encounters with police, including that of Regis Korchinski-Paquet, a Black and Indigenous Toronto woman who fell from her 24th-floor balcony after her mother called police to help her daughter through a mental health crisis. The exact circumstances of her death are unclear but her mother has said she called police in hopes that they would de-escalate the situation. Instead, she believes their presence made things worse.
Also adding to unrest: the death earlier this month of Chantel Moore, an Indigenous woman who was fatally shot by police in Edmundston, New Brunswick, during what was meant to be a wellness check. The Edmundston Police Force had been asked to check on Moore's wellbeing, but when they arrived, police said Moore was holding a knife and making threats. An officer responded by firing their weapon at her five times, killing her.
What Comes Next
The deaths of Korchinski-Paquet and Moore within a week's time of each other have prompted debate in Canada about why police are being tasked with responding to non-criminal crises in the first place. It's a question being asked a lot these days as activists in many countries embrace an idea that's been gaining traction in the U.S. since Floyd's death: defunding the police.
Black Lives Matter co-founder Cullors is an advocate of defunding, which redirects money typically budgeted for law enforcement to other community-serving initiatives, including education, healthcare, mental health services and social services programs. "This is a watershed moment," Cullors told Newsweek. "And we need bold and courageous approaches."
Already, in the U.S. and in Canada, the idea is taking root, with city council members in Minneapolis voting to dismantle the police department implicated in Floyd's death and replace it with a new community-based public safety system. Meanwhile, officials in Toronto are discussing a motion seeking to slash that city's police department budget by 10 percent.
"A significant re-allocation of resources away from ineffective or harmful police approaches and toward programs that demonstrably reduce crime could actually improve public safety," said Paul Hirschfield, an associate sociology and criminal justice professor at Rutgers University. "Much of what the police do—random patrols, patrolling schools, traffic enforcement, and drug enforcement—do far too little for public safety to justify the enormous expense."
In fact, Hirschfield pointed out, some tasks routinely handled by law enforcement in the U.S. are not assigned to them in other countries. "Public schools in Europe maintain order and safety without stationing police inside them," he said. "And the much greater accessibility of mental health care and income and housing supports in Europe reduces the need for police to regulate the behavior and movements of the unhoused or respond to mental health crises."
While advocates can point to some specific actions being undertaken or at least seriously discussed on police reform, the larger question of whether calls for deeper understanding of the impact that colonialism and slavery have had on modern day society will translate to concrete action remains open. Likewise, it's too soon to tell whether policy changes that address system racism in healthcare, education, housing and employment will result from the movement.
For Cullors, just seeing the calls for such changes reverberate around the world has "been a really powerful moment for Black folks."
While the BLM movement has grown around the world, however, it is not without its detractors—and global momentum could subside if criticism continues and grows in strength. Some commentators, for instance, have derided the movement as a "neo-Marxist" effort bent on dismantling critical institutions like the police and redistributing wealth by calling for reparations for slavery and endemic racism. Others have been critical of the violence and looting that has marred some protests, both in the U.S. and abroad.
Since starting the BLM movement, however, Cullors has heard from detractors—and she believes calls for reform will not be deterred by them. Like it or not, she told Newsweek, change is happening: "People on the ground are making the changes now."
For the time being at least, this much is true: No matter what language is spoken, there are serious conversations happening now in many countries about police violence toward Black people, the long-term impact of slavery and the economic and public health risks of systemic racism that weren't being talked about as broadly and publicly as they are now—and that feels like noteworthy progress for many in the international Black Lives Matter movement.
"People who were on the periphery of all of these issues are, all of a sudden, here. There are grandmas now talking about prison abolition." Berlin activist Diana Arce told Newsweek. "We've gone from zero to 100. It's exciting."