Why would somebody 37 years old, with no diplomatic experience, take on the job of making peace in the Mideast? "My father-in-law asked me to do it," Jared Kushner says.
Never mind that Henry Kissinger, James Baker and Bill Clinton, among others, failed to resolve the Israeli-Palestinian conflict. President Donald Trump told Kushner to get it done, so that's what Kushner set out to do. He spoke to experts and negotiators from previous administrations. One was Aaron David Miller, a senior fellow at the Carnegie Endowment for International Peace. When Kushner told him what he was up to, a dumbfounded Miller spoke for sons-in-law everywhere: "Wow, I wish my father-in-law had the kind of faith in me that yours has in you!"
When the history of Donald Trump's tumultuous time in the White House is written—and that may be sooner than later—it will show one thing for certain: His most influential adviser, by far, was Jared Kushner. Now 39, Kushner has been a de facto chief of staff, influencing the hiring and firing senior White House aides; an important architect of Trump's foreign policy, including the map of the Mideast and the renegotiation of the North American Free Trade Agreement; he became a key member of the coronavirus task force; the prime force behind initiatives like criminal justice reform; and now, increasingly, a critical adviser to a struggling re-election campaign. He is, in fact, the most influential presidential relative—first ladies aside—since Robert F. Kennedy served as attorney general for his brother, President John F. Kennedy.
Kushner differs far more from Trump than the intense RFK did from his elder brother, known more for his cool reserve. Trump and Kushner are in many ways an odd pairing. He is reserved, thoughtful and disciplined (traits no one associates with Trump). Trump is bombastically bumptious. Kushner is quietly sure of himself. He does his homework. He reaches out for different points of view—including to Democrats. And though criticism comes his way, and it frustrates him and his friends, he doesn't vent about it in public or seem to feel sorry for himself in private.
The RFK analogy is not a reach. As with Bobby Kennedy, Kushner has been portrayed by much of the press as an entitled rich guy who lacks the proper experience for the job he's been given, who got to where he is only because of nepotism. Or, as his friend Adam Boehler, whom Kushner brought in to work on the coronavirus response in March, puts it, "The myth of the son-in-law who hasn't earned it."
It's true that Kushner had no government or political experience before coming to Washington (though he did run his family's large real estate company). "He and his wife [Ivanka] aren't even basically qualified for the sensitive positions they hold on the White House payroll," wrote one outraged Washington Post reader after a columnist dared to say something nice about Kushner in print. The view that his power and influence in the Trump White House is the product of nepotism is accurate—as far as it goes. RFK got precisely the same heat nearly six decades ago.
The criticism, Kushner insists, doesn't bother him. His role as Senior Adviser to the President—his official White House title—is, in his view, straightforward: "I'm a utility player," Kushner tells Newsweek. "I can give [Trump] a point of view on the severity of a given problem, I can give him some diagnoses and a prescription."
On issues as different as the Mideast and criminal justice reform, his approach is similar: Ask experts, study previous efforts—and then do something different. "The thing that guided me was, I didn't want to do what had failed in the past," he says. That willingness to blow things up is a technique he shares with Trump. "The president's very good at eliminating the status quo," he says.
Unlike his father-in-law, though, Kushner seems a pragmatist more than a political animal, proud of being someone who simply gets things done. "Take the Wall," he says. "This isn't what I came to do. But [John] Kelly and [Kirstjen] Nielsen failed. And by the end of this year we'll have over 450 miles built... I feel I've been able to take on challenges, I feel like I know Washington better and I've been effective... I have the ability to build relationships and have trusted dialogues, and the president knows they won't leak." As Anthony Scaramucci, who served briefly as White House Communications Director and has known Trump for years has put it: ''loyalty is the president's bottom line."
If filial devotion were all that mattered, though, Eric Trump would be senior adviser. So it's fair to assume that Kushner brings something else to the job. What, more than three years in, has he accomplished? Has he been bouncing from one important issue to another, diving into things he doesn't really understand? Why did he take on the issues that he did? And what, at the end of the day, does he think about the fact that for all his efforts, President Trump may well lose an election that six months ago his team was supremely confident of winning?
For this article, Newsweek interviewed Kushner twice at length—by phone because of the pandemic—as well as dozens of people inside and outside the White House, to examine how he's handled the most important, high-profile assignments he's taken on. What we found doesn't always jibe with the caricature of the entitled failure. There have been failures, to be sure. But there also have been some successes, and efforts that fall somewhere in between. And through it all, he has been loyal. Here are a few of the notable projects he's worked on, and how he and others see the results.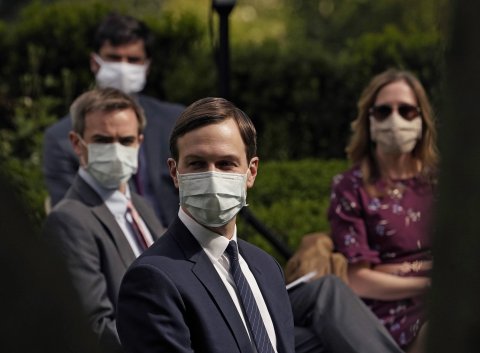 The Pandemic
Kushner had hoped—believed, actually—that by now the worst of the COVID-19 pandemic would be behind the nation, "that by July we'd be rocking again as a country," as he put it in a mid-June interview. That hasn't happened: even as the virus has receded everywhere from east Asia to western Europe, cases are soaring in the United States. In late June and early July, Kushner was more involved in the re-election campaign, particularly after the president's poorly attended rally in Tulsa, Oklahoma, on June 20. He conferred more frequently with campaign manager Brad Parscale (an ominous sign: amid worsening poll numbers, Parscale was demoted and replaced on July 15). Kushner, aides say, has also been trying to get the president to focus more consistently on the campaign. But as the number of virus cases rises, he's been drawn back in, fielding frequent phone calls from governors who in many cases now need more PPE and medical personnel.
The coronavirus crisis showcases both the president's reliance on his son-in-law and Kushner's modus operandi. In early March, it was clear that the virus, which Trump downplayed for weeks, was spreading. It had seeded far more widely on both East and West coasts than the administration understood. Kushner met in the Oval Office with Trump and other advisers to thrash out a decision on shutting down travel from Europe. As the meeting ended Trump asked Kushner to wait. "He then asked me to drop everything I was doing and work with Vice President Pence on the coronavirus task force," Kushner says.
Kushner's status as a family member would often irk senior administration officials. But the standard jealousy receded a bit, according to multiple sources, because of the magnitude of the crisis. Says Kushner: "The gap was quite great between what we needed to do versus what we were doing...I attribute it to the fact that [the virus outbreak] was unprecedented. It was as if we were standing on a beach watching a tsunami coming. There were some very, very dark and daunting days. I didn't always feel necessarily that we would meet the challenge."
With Pence's approval, he focused on three key areas—PPE supplies, ventilator production and testing—all of which were huge problems and showed just how unprepared the U.S. was for the crisis. He recruited his friend Boehler, a former health care executive whom Trump had put in charge of the Center for Medicare and Medicaid Innovation in 2018. Boehler in turn asked health care entrepreneur Brad Smith, an executive at insurance giant Anthem, to join. They brought in several Wall Street and private equity executives to work on the three key issues.
Critics questioned why a bunch of relatively young health care and finance types—the junior varsity, in other words—was suddenly in the middle of things that the Federal Emergency Management Agency (FEMA) would normally handle. But press reports about general chaos brought on by Team Kushner were overwrought, Kushner's people insist. They say the stories of crossed wires between agencies were exaggerated, and that the people they brought in had the skills and industry contacts—the "big Rolodex," as Kushner says—to help in a crisis.
Take testing. Kushner, Boehler and Smith rounded up private sector companies such as Walmart and CVS to participate in setting up drive-through sites. "I never really had a problem working with Jared's team," says Admiral Brett Giroir, an assistant secretary at the Department of Health and Human Services and a physician who was in charge of deciding where the sites should go and setting them up.
Still, when Trump announced the plan in the Rose Garden on March 13, it was widely derided. The announcement was premature, to be sure. The companies were nowhere near ready. But Boehler says there are now more than 3,000 of the drive-through testing sites, and overall testing now approaches 700,000 per day, compared to less than 15,000 per day in mid-March. The administration still insists one million tests per day will be available by the fall, but lines are lengthening for tests now in hot spots as demand surges. And the administration also didn't anticipate the lags in processing test results that are now hampering efforts to do effective contact tracing.
Kushner's crew faced the same criticism in its hunt for PPE: that he brought in cronies not suited to the task. That's wrong, Boehler insists, saying Kushner's team played an important role in finding supplies. "There are thousands and thousands of offers coming in at crazy prices from random traders in China," Boehler says. "You don't know what's real and what's not. People who source deals for investment firms, like the people we brought in, go through offers and tee them up for senior people." Look at the net results, he says: "we got the PPE, and we didn't get defrauded."
Kushner was effective at negotiating. For example, he got involved in a dispute between the government of China and U.S. multinational 3M, which manufactured masks at a factory in Shanghai at a rate of 50 million a month.The Shanghai government had temporarily taken control of the factory. The U.S. needed masks, the sprawling health bureaucracy was ill-suited to figure out how to make that happen quickly, and U.S.-Sino ties were deteriorating rapidly. Kushner called Cui Tiankai, China's ambassador to Washington, and told him, "This is a time when a lot of people are saying a lot of things. If we can't get masks from the 3M plant in Shanghai this will not play well [with the American public]." Twelve hours later, Kushner says, his team had a deal with 3M.
Meanwhile, Kushner worked closely with Dr. Deborah Birx of the White House COVID-19 task force, to prevent a crisis in ventilators.
Some state governors, most notably New York's Andrew Cuomo, feared they wouldn't have enough machines to prevent mass casualties. The White House shared the concern. A senior official says one internal estimate showed that the U.S. might need 130,000 new ventilators by May 1. At the time the Centers for Disease Control's Strategic National Stockpile had between 12,000 to 13,000 ventilators. Kushner helped persuade Trump to invoke the Defense Production Act in April to kickstart more production. His team worked with the six companies involved in manufacturing, and Kushner got on the phone with governors.
"We tried to force discipline on them," he says. "How many [ventilators] do you have, what's your utilization rate? Some governors were quite competent, other governors literally didn't know how many they had."
Kushner says he had a good working relationship with Cuomo, and quickly came to share the governor's view that ventilators didn't need to be supplied throughout the country simultaneously. They needed to go to hot spots, like New York—and then sent elsewhere once the need dissipated. That is what the White House strategy became, and Cuomo praised Kushner for it. It is fair to say Kushner played a role in averting what could have been a ventilator crisis.
By early summer, after three months of frantic work, Team Kushner thought the worst was behind them. But as COVID-19 cases spike in states including Texas, Florida, Arizona and California, spot shortages of PPE are flaring, according to the American Medical Association. In Fort Worth, Texas, Kathryn Mandal, a physician at Continuum Pediatrics, says her office was just able to order a box of protective gloves for the first time in a month, and they paid five times what they used to pay pre-COVID-19. Kushner's team and HHS say that PPE supply chains should be able to withstand the current increases in cases. But it's clear that premature economic reopenings—urged by Trump, who downplayed the importance of mask-wearing while insisting "we've got to get the country open again"—contributed to the surge, undercutting Kushner's efforts.
The resurgence now might lay waste to Kushner's summer plans. Instead of focusing solely on his father-in-law's floundering re-election campaign, he is finding himself in the medical supplies business again.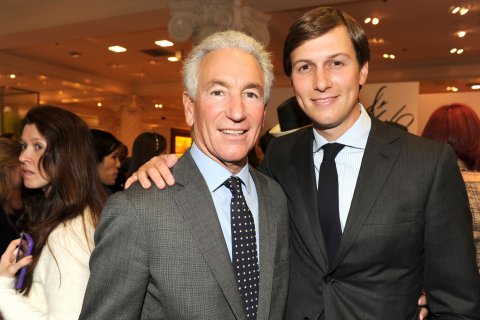 Prisons
Criminal justice reform is not an issue associated with Republicans. But few in Washington were surprised when Jared Kushner took it up in early 2018. After all, the whispers about the politics of Kushner and his wife, Ivanka Trump, have been consistent: "You know, they're really New York liberals." Although the couple had donated to Democratic candidates in the past, Kushner disputes these characterizations. Instead, this is an issue he's passionate about for personal reasons. The passage of the First Step Act, as the reform legislation was known, is Kushner's clearest success to date.
In 2004, Kushner's father, Charles, was convicted of federal election law violations, tax evasion and witness tampering. He cut a plea deal with then-New Jersey U.S. Attorney Chris Christie, and was shipped off to a federal prison in Montgomery, Alabama. (He served 14 months before being sent to a halfway house.) While visiting his father in prison, Jared Kushner says, "I met a lot of good people who didn't have the same chances that I had, that my father had. That really struck me. It was something that I knew intellectually, but to meet people who were good people who had just made one mistake, it hit home. People need a second chance."
His first task was to convince Trump. Kushner says he walked the president through the numbers, showing, for example, that without training and education programs in prison, recidivism rates are higher. "What are these people going to do when they get out?" Kushner says. "They are going to commit crimes." He also showed his father-in-law how many people—particularly young African American men—were in jail because of minor drug offenses. Trump gave the okay to push for legislation.
Kushner began working with a bipartisan group in both the House and Senate. There were skeptics, of course, like Arkansas Republican Senator Tom Cotton. "They thought we were just all about letting murderers and rapists out of prison. It wasn't true," Kushner says. He never got Senator Cotton's support—the senator thought the bill would make Trump look soft on crime—but Kushner did gain a key ally: former Obama administration official and CNN commentator Van Jones, who had started #cut50, which was billed as a bipartisan organization aimed at pursuing criminal justice reform.
In 2018, Kushner invited Jones and organization co-founder Jessica Jackson to the White House. "I was very skeptical," says Jackson. But when Jackson heard Kushner speak about his father, she sympathized: when she was 22, her then-husband was convicted on a drug charge. "They threw him in a cage for three and a half years," she says. Hearing Kushner out, she became convinced "he was in it for the right reasons." She and Jones agreed to work with Kushner "though we were doubtful he would get it done, even if his heart was in the right place."
The Jones/Jackson endorsement showed Democrats that Kushner might be serious. Jackson acknowledges that she and Jones took some grief. "People were calling us saying, how could you do this, how can you do something that might give Trump a win?"
Kushner set about working his right flank. He says he called "Hannity [Fox News' Sean] and Laura [Ingraham] and [radio host] Mark Levin" to promote the bill. Another conservative skeptic, radio chat show host Hugh Hewitt, got three phone calls to go over details. In the end Kushner got an initially skeptical Mitch McConnell, the Senate Majority leader, to schedule a floor vote. At Kushner's urging, Trump had lobbied McConnell himself. The Kentucky senator not only scheduled the vote, he supported the legislation. "Jared was persistent, worked the issue hard, and persuaded me of the bill's merits," McConnell told Newsweek.
On December 18, 2018, the Senate passed the First Step Act, 87-12; the House followed and Trump signed. The bill discharged thousands of prisoners from federal jails—including first-time offenders—relocated thousands more to prisons closer to their families, got rid of the "three strike" rule mandating life in prison for a third conviction and increased funding for in-prison education.
"After it passed I met Matthew Charles, one of the first guys let out of prison under the bill," Kushner says. "Hearing his story when he came by my office, it was like having a shot of espresso."
Says Jackson: "Everything [Kushner] said he would do, he did. Van and I still sort of shake our heads about that."
By all accounts Trump was serious about trying to boost his share of the Black vote from 8 percent in 2016 to 13 percent or more in 2020. His campaign believed, pre-COVID-19, that the record low unemployment rate among Black Americans (5.5 percent in December), plus rising wages, plus the criminal justice bill would give him a case to make.
Now, of course, that hope is largely gone. The deep pandemic-driven recession has driven Black unemployment back up to 16.7 percent, and the killing of George Floyd by police has prompted widespread outrage and social unrest. Trump's law-and-order rallying cries and support for Confederate symbols don't help.
Asked if he still thought his father-in-law could increase his share of the African American vote, Kushner says, "Maybe. Maybe not."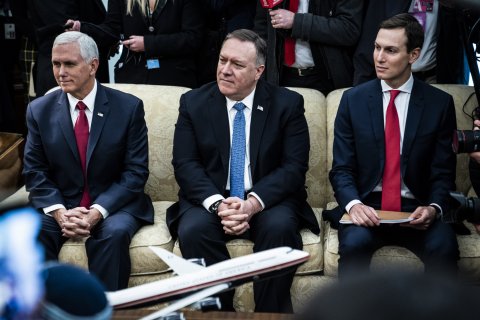 Peacemaking
Succeeding in a bitterly divided Washington is hard enough, and then there's the Mideast. Kushner says his effort to resolve the Israeli-Palestinian conflict was done in good faith—that it was not a plan designed to provoke Palestinian intransigence so that Israeli Prime Minister Benjamin Netanyahu, a longtime Kushner family friend, could do whatever he wanted on the West Bank.
"I understand that people are going to criticize," he says. But "it's okay to take on hard challenges. I'd rather spend time on harder things."
Kushner went about the task with his characteristic mix of earnestness and self-assurance. He studied previous deals and met with Middle East experts and former negotiators—Miller at the Carnegie Endowment, Clifford May, the head of the Foundation for the Defense of Democracies, and several others. All describe him as respectful personally but dismissive of previous efforts to resolve the conflict. "A lot of the former peace negotiators told me the goal is to give hope, it's not to actually make a deal," Kushner says. "I said the goal is to make a deal and finish this thing." He did not want to go down the road of past negotiations only to fail again. (Robert Satloff, executive director of the Washington Institute for Near East Policy retorted, "Oh, so you want to fail in a whole different way!" Kushner, he says, laughed.)
Kushner also insisted he wasn't going to be guided by "the history of the conflict, and the history of the peace process—those are traps." To which Miller replies, "But the history is the conflict."
Kushner did have one thing going for him. Anyone in the Israeli government or the Palestinian Authority knew that when you were talking to Kushner, you were talking to Trump. "That is how it was for Baker, when he was Secretary of State under Bush 41," says Miller, who worked for Baker. "There was no daylight."
Kushner's problem was the plan itself. It did put forth a two-state solution. But it required the Palestinians to forgo control over exit and entry into the proposed new state, and allow Israel to oversee its internal security. "In other words, it takes away the most basic functions of a nation-state," Satloff says. Kushner coupled that with economic incentives for the Palestinian Authority that shrank over time. To Satloff, this was Kushner's real estate background poking through. "It was like a landlord trying to entice a tenant to get out of a building because he wants to put up condominiums: You give him 25 cents on the dollar now if he takes the deal, but if he waits two weeks he only gets 10 cents."
The deal went nowhere after it was unveiled, but Kushner is unapologetic. "Does it make Israel more secure? Yes. Does it lead to Palestinians living a better life? Yes," he says. He blames the Palestinians for the plan going nowhere. "They say they want to compromise, but they are never willing to get into the technical discussions that are going to lead somewhere." He says much of the rest of the Arab world is now fed up with the Palestinian Authority.
Along with others in Washington, Miller believes that domestic political considerations—"Trump's desire to be the most pro-Israel president in history"—shaped the plan. The president had already fulfilled a campaign promise by moving the U.S. Embassy from Tel Aviv to Jerusalem. A lopsided deal favoring Israel would solidify his support among evangelical Christians and conservative Jews. Kushner denies politics drove the peace effort, but concedes, ''the president's political base is thrilled with how we've handled this so far."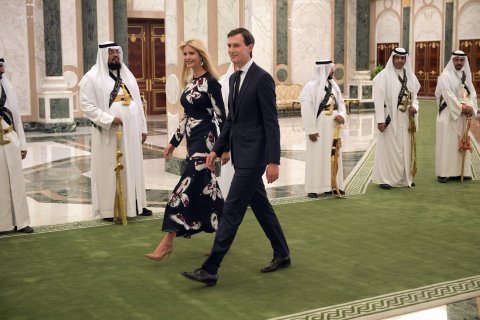 The Prince
Kushner is not wrong to suggest that much of the Middle East is exasperated with Palestinian leadership. The Trump administration, including Kushner, has encouraged the Gulf states to move closer to Israel. Kushner has been involved in the reorientation of U.S. policy away from Iran and back toward traditional allies, most importantly Saudi Arabia. This wasn't his baby, the way criminal justice reform was. Other key members of the administration—then National Security Adviser H.R. McMaster and Defense Secretary James Mattis—broadly supported the policy, and so have their successors. But Kushner was important, not least because of his relationship with Mohammed bin Salman, aka MBS, the controversial Crown Prince and de facto ruler of the House of Saud. And when that relationship proved troublesome, Kushner stood by the Saudi prince.
Riyadh was delighted by Trump's campaign promise to junk Obama's nuclear deal with Iran and urged an early meeting after the inauguration.
Kushner had never met the Crown Prince, but the two began communicating; Trump's visit in May 2017 was his first overseas trip as president. During their meetings, MBS told Kushner what the son-in-law would later relay to the president: "he had very ambitious goals," Kushner says. "He wanted to modernize his society. But he said he needed space and time. 'Let me do this in my time.'" Trump's circle viewed the 2017 Saudi trip as a triumph, the elation captured by a photo of Kushner high-fiving McMaster after a lavish lunch with the Saudi delegation..
But in October of the following year, Washington Post columnist Jamal Khashoggi, a vocal critic of the Saudi monarchy, was killed and dismembered in the country's Istanbul embassy. It was a high profile—and brutal—assassination; the CIA told the White House that it believed MBS had signed off on it, and the administration was taking serious heat over the murder. But Kushner and other advisers including Bolton and Secretary of State Mike Pompeo urged Trump to hang tough rather than alienate Riyadh while they were breaking off the Iran deal.
Kushner still defends MBS—and his own decision to support him. He says MBS has cleaned out some of the most radical Imams in the mosques and tamed the notorious religious police. The new foreign policy maven speaks like a hardened "realist" when talking about MBS and the Saudis. If Team Trump had to bear some unpleasantness in the pursuit of broader goals with the Saudis, so be it. "There have been a couple of missteps," he says, "but they've been a very good ally."
Kushner's close relationship with MBS proved useful earlier this year. Moscow and Riyadh were engaged in a ruinous oil price war, wreaking havoc on the U.S. energy sector. Demand was plummeting because of the COVID-induced economic coma. But the two largest foreign producers, the Saudis and the Russians, were not cutting production in order to boost prices. Instead, they were increasing the flow. Kushner called MBS several times asking the Saudis to halt. He and Energy Secretary Dan Brouilette also lobbied Moscow. Finally, the two superpowers called a truce. Critics say the administration should have pressured the Saudis earlier and harder. Kushner deflects the criticism. "Ultimately, we got it done," he says. "That's what matters."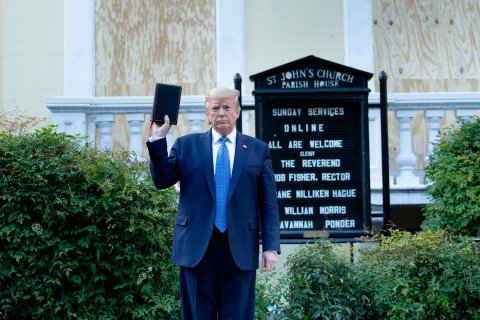 Presidential Politics
The campaign could be the loyal son in law's final task. Joe Biden has been pulling ahead, COVID -19 cases are soaring, and Republicans around the country are increasingly nervous about the race.
If Kushner himself is nervous, he doesn't let on publicly. But the demotion of campaign manager Parscale in favor of Bill Stepien, the former White House political director and Parscale's deputy, was a bow to reality. Parscale had been a Kushner ally but campaign insiders say his fate was sealed by the horrible optics of the Tulsa rally. Now, Kushner aides say he attends a daily morning meeting with Trump and the campaign's high command. He is trying to get the president to focus more consistently on the campaign, a senior administration official says.
As recently as mid-June, Kushner was praising the campaign team he helped build. He had brought back Jason Miller and Brian Jack, two veterans of the 2016 run. (Miller focuses on campaign strategy, while Jack runs the White House's office of political affairs.) The campaign, he boasts, has a $60 million, state-of-the-art data operation, which Parscale, who ran digital and data strategy in the 2016 campaign, will continue to oversee. "We're message-testing what will make [voters] like Trump more, and [Joe] Biden less. We have a big war chest, our operation is clicking. We have an eternity of time." Kushner recently signed off on a tough new ad tying Biden to the rise in crime in cities like Seattle, Minneapolis and New York in the wake of the George Floyd murder.
The public polls that show the president trailing badly are "all b.s.," Kushner says. "I'm not a political strategist but I know what the message is: He may not be the politically correct one, but he gets things done." The fact that Trump has not yet laid out a vision for a second term also doesn't faze Kushner. "The strategy side matters more in the last 90 days," he says.
To anxious Republicans, Kushner's assessment sounds divorced from an increasingly grim reality. The "eternity of time" is slipping away, as Trump's poll numbers drop. He still out polls Biden on the economy, albeit barely. But the virus is killing him politically. A Washington Post-ABC News poll published July 18 showed only 38 percent of respondents supported his handling of the pandemic, while 60 percent disapproved. Any doubts that Kushner may have, aren't shared with a reporter. But it's unclear how he can help overcome the hardening perception that Trump's handling of the pandemic has been a disaster.
Dutiful and discreet, Jared Kushner has done whatever his father-in-law has asked of him. He wants to see his father-in-law re-elected, and hopes his work helps. But neither Kushner nor anyone else around the president can undo the damage from the early, shambolic response to the virus, which helped produce a summer of rising cases and renewed economic shutdowns.
Nor does he control Trump's Twitter feed, which continues to be a source of self-inflicted wounds. The White House, Kushner included, loved Trump's July 3rd speech at Mt. Rushmore and the patriotic themes it struck. But Trump then stepped all over the message by tweeting criticism of NASCAR for banning the Confederate flag, and of Bubba Wallace, the African American driver who Trump said had taken part in a "hoax" regarding the noose found in his team's garage. It was as tone deaf as anything Trump has said as president, and at a time when millions of Americans are confronting racial injustice.
It's lucky for Kushner that he likes hard challenges. Getting Donald Trump re-elected may not be as tough as achieving Mideast peace. But it's close.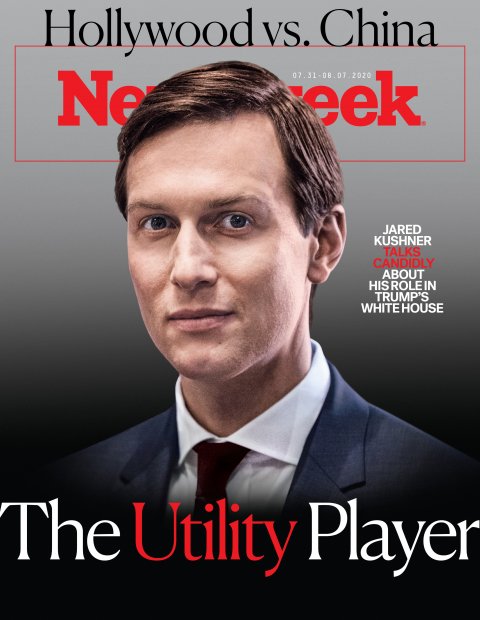 Correction July 20, 2020, 11:58 a.m. ET: A quote from Jared Kushner about construction of the border wall was corrected to say that more than 450 miles will be built by the end of the year.