The political entity known as the Squad should be riding high right about now. A slew of diverse, progressive candidates performed strongly in recent Democratic primaries, and Squad star Alexandria Ocasio-Cortez lit up the internet last week with her smackdown of the Florida congressman who called her a f---ing b---h. But there's looming trouble in Michigan: the very real possibility that Squad member Rashida Tlaib may lose her House seat. It's a re-election fight that doesn't test merely Tlaib's personal appeal but that of the Squad itself—and its claim that the Democratic Party mainstream has moved leftward.
The group's emergence in 2018 seemed to presage a new era for the party, a triumph of youth, progressivism and diversity over tired, middle-of-the-road (and predominantly white) politics that motivated other ambitious young people of color to run for office. But how potent is the Squad credo if the core quartet can't get through even one re-election cycle intact? Is there genuine, growing support for key progressive initiatives like free public college, Medicare For All and the Green New Deal—or are they still niche ideas that find favor only in certain enclaves?
AOC had all but secured her re-election in New York's 14th congressional district after a landslide primary win last month, even before her cool dismemberment of GOP Rep. Ted Yoho drew widespread applause. Young candidates of color also triumphed in June primaries across New York and Virginia by advocating the Squad's uber-progressive policies, including a Black middle school principal who ended the career of 16-term Representative Eliot Engel in a Bronx-area district adjacent to AOC's.
Even the near-misses seemed to signal the growing strength of candidates outside the Democratic mainstream. In Kentucky's June 23 Senate primary, Charles Booker, who is 35 and Black, lost by less than three points to Amy McGrath, 45 and white, who'd been recruited to challenge Republican Majority Leader Mitch McConnell by Senate Minority Leader Chuck Schumer. Meanwhile, back in New York, Suraj Patel, a 36-year-old Indian-American, came within two points of sending veteran Democratic Representative Carolyn Maloney into retirement.
Yet the thrill of those June successes is tempered by the possibility that Tlaib, a Democratic Socialist and one of the first two Muslim women elected to Congress, could well lose her August 4 primary.
In her upcoming rematch with Detroit City Council President Brenda Jones, Tlaib faces a well-known party insider who already beat her in a special election once and came within a few hundred votes of keeping her out of Congress in 2018. Their district, Michigan's 13th, is 55 percent Black and traditionally more socially conservative than the coalitions of white liberals and young minority voters who elected fellow Squad members AOC, Representative Ayanna Pressley of Massachusetts and Representative Ilhan Omar of Minnesota, or the electorate that handed allies their June primary wins. It's also notable, in a period of ascension for the Black Lives Matter movement, that Jones is Black.
"When you only have four members, losing one is a blow," says Sean McElwee, co-founder of the nonprofit think tank Data For Progress. "It's not something that can't be overcome, but it's not good."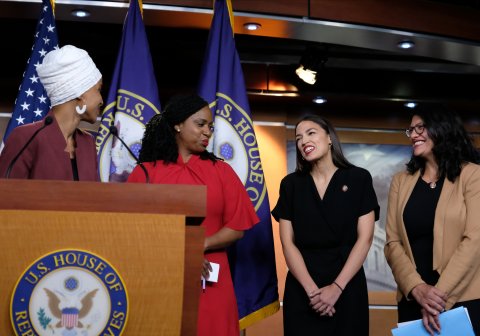 Tlaib is not the only one facing a challenge. Antone Melton-Meaux, Omar's opponent in her August 11 Minnesota primary, earlier this month reported a surge in fundraising for the second quarter, raking in $3.2 million vs. just under $480,000 for the incumbent. That's all the more noteworthy given that Melton-Meaux, who considers himself a progressive but one who emphasizes "collaborations and partnerships" over divisiveness, had raised less than $210,000 in the previous quarter, according to Federal Election Commission filings. That brought the cumulative totals raised by the two candidates to a dead heat, with nearly $3.9 million for Omar and $3.7 million for Melton-Meaux.
The open questions, particularly in Tlaib's race, have left many political observers guessing about the outcome and its impact.
Inside the Michigan Race
That Tlaib is vulnerable is not exactly a shock given how she barely eked into Congress in the first place.
The other Squadders took office following resounding primary victories in overwhelmingly Democratic districts. In Pressley and Ocasio-Cortez's cases, famously, that also meant taking out entrenched incumbents in twin shocks to the electoral system.
Tlaib, by contrast, garnered just 31.2 percent in her 2018 primary to Jones's 30.2 percent to win the Democratic nomination, which is tantamount to winning the seat in their district. Another 24.5 percent of the vote went to three other Black candidates including former State Senator Ian Conyers, grandnephew of the late Representative John Conyers who had held the seat in contention since 1965; an additional 14.1 percent of the vote went to a moderate suburban mayor who is white.
Moreover, Tlaib actually lost an election to Jones that same day. After Conyers resigned the seat amid a sexual harassment scandal in December 2017, then-Governor Rick Snyder scheduled a special primary election to complete the congressional term on the same ballot as the regularly scheduled Democratic primary for the next full term. In that second race, Jones edged out Tlaib by 2 percentage points in a four-person field, then served in Congress for five weeks until Tlaib was sworn in the following January.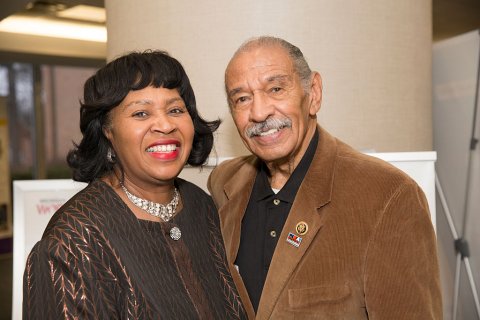 This summer, it's just Tlaib vs. Jones, who has served on the city council for 14 years and been its president for six. The prize is the honor of representing a district gerrymandered to boost Black representation in Congress with its large chunk of Detroit plus a few working-poor suburbs to which many African-Americans born in Detroit have moved over the past three decades as the city's population shrank. (Despite the Detroit region's large Muslim population, Tlaib's district encompasses little of the territory where the majority of the area's Muslims live.)
Polling has been all over the place in this race. Tlaib was up by 37 points in a head-to-head matchup in June of 2019 but led by just 9 points with 23 percent of voters undecided in early April. A new survey in mid-July seemed to suggest a rebound, with Tlaib drawing 52 percent to Jones' 24 percent, but caveats abound. The poll, reportedly of just 500 likely voters by Target-Insyght, showed 23 percent still undecided and there's significant uncertainty about who will vote amid COVID-19. A major uptick in absentee voting prompted by health concerns could bode poorly for Tlaib, says Adrian Hemond, a Lansing-based Democratic campaign consultant.
"Last time, Brenda Jones stomped now-Congresswoman Tlaib on the absentee vote, just blew her away," he says. "Representative Tlaib did much, much better with election day voters, so she was able to prevail that way. If she's still got a problem chasing absentee ballots, that could be decisive the other way this year with how prevalent absentee voting is."
Jones has another big advantage, Hemond says: "A built-in base of name ID in Detroit from being Council president and having won several citywide elections. Voting is habitual behavior, and there are a lot of Detroiters who have been in the habit of voting for Brenda Jones."
Still, in the two years since their last face-off, Tlaib has become one of the most famous members of Congress. In addition to her Squad credentials, she became a far-left folk hero by uttering a profanity about President Donald Trump at a reception hours after being sworn in. She said: "When your son looks at you and said 'Mamma, look, you won—bullies don't win.' And I said, 'Baby they don't, because we're gonna go in there and impeach the motherfucker!'" She later defended her words on Twitter, using the hashtag #unapologeticallyMe.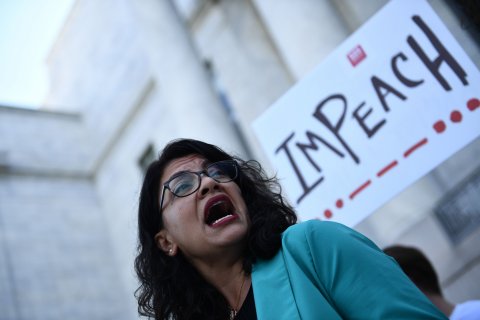 That moment, followed by a spat with Israel when the Netanyahu administration refused to allow her to visit her grandmother in the West Bank and an incident in which she booed when Hillary Clinton's name was mentioned at a Bernie Sanders rally, have provided an opening for Jones to assert that Tlaib is uncouth and divisive. Jones also maintains that while Tlaib has a high profile nationally, she has neglected her district and failed to pass any helpful legislation.
"I am interested in opening a dialogue with people that I do not always agree with for the good of the district," says Jones, 60, whose parents moved to Detroit from Alabama for work in the late 1960s. "I don't know that any coalition has been built in her tenure to help the people of the 13th Congressional District. I am interested in building those coalitions."
Tlaib, unsurprisingly, disagrees with Jones' characterization of her tenure. She tells Newsweek she's hustled to stay visible in the district, returning most weekends and holding 22 town halls in her first year alone, the tenth most among Democratic House members, according to a Washington Post analysis. Tlaib says she created four neighborhood service centers to handle citizen concerns and problems, showed her bipartisanship by co-sponsoring a measure with then-Representative Mark Meadows of North Carolina to combat fraud in the federal retiree pension system that President Trump signed into law, and brought two congressional hearings to the district, one on affordable housing and one on environmental injustice. In addition, since daily Black Lives Matter protests erupted, Tlaib has been a regular presence at marches in Detroit. Jones has not attended any of the demonstrations.
"I've been very much grounded in the work of my district," says Tlaib, 43, who was born and raised in Detroit and served three terms as a state representative for a portion of her congressional district. "I'm just Rashida at home. The national persona of who I am is one thing, but at home people know I come home every week, they will see me at the service centers, they will run into me at the block clubs."
A sure sign both candidates recognize the importance of the race: The campaign is getting nasty in its final month. A local activist and Tlaib ally filed a lawsuit on July 6 in federal court seeking to throw Jones off the ballot on grounds she may owe some filing fees from a 2017 campaign; Tlaib distanced herself from the move and Jones has not commented on it. Meanwhile, a super PAC that has not disclosed its funders has spent $38,000 on a mailer attacking Tlaib. "Has Rashida's celebrity status on TV improved lives in your community...or just hers?" the front reads. On the back, it says Tlaib has passed no laws and brought no money back to the district, both of which are false claims.
The two candidates also diverge on their support of Biden, whom Tlaib has refused to endorse (among the Squad, only Omar has formally endorsed the presumptive Democratic nominee, although AOC has said publicly that she will vote for him and served on a task force that helped shape his climate-change plan). By contrast, Jones's website features several images of her with the former veep.
Tlaib insists she wants Trump defeated but that announcing support for Biden would be controversial among some of her constituents. "Residents come up to me and say to me, 'Rashida, I don't know, Joe Biden this, Joe Biden that.' I say, 'Listen, do we need another four years of Trump? No. Then what I need you to do is go out there and focus on that.'"
Jones is dismissive of that explanation, noting that Biden crushed Bernie Sanders, Tlaib's ideological mentor, by 20 points in the state's March presidential primary. That shows, Jones says, that she's more in tune with the politics of the electorate: "I have already endorsed the Democratic candidate for president, and we have most of the same views."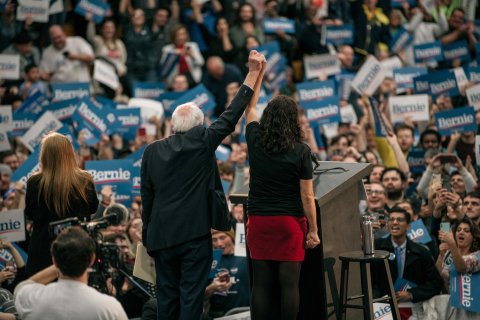 Also a central issue in the campaign: race. Specifically, the fact that Jones is Black and Tlaib is not—which has been referenced by prominent Jones supporters such as Ian Conyers, grandnephew of the late Representative John Conyers who held the seat now occupied by Tlaib for 52 years before her election in 2018, and Coleman Young II, son of Detroit's first Black mayor. It's also a stated reason why Jones has received the endorsement of the Michigan Democratic Black Caucus. "African-Americans deserve to plead our own case," says Conyers. "I don't think it takes away from the Squad. But this moment is specific to the Black community."
Jones believes it's an issue as well. "What I can tell you is the district has quite a few African Americans in it and no one has to tell me about being an African American because I am an African American," she says. "So I would not be going on second-hand information on what someone said about what African Americans endured."
Tlaib's response showcases her political skill. She can sound surprisingly vulnerable one moment and move to attack the next.
"I get so emotional thinking the community that raised me just elected me, that they didn't care that I didn't share their same faith, didn't care that I didn't share their same ethnicity, they knew me as one of their own," she says.
The knife thrust: "You know, Brenda has been the second most powerful person in the city of Detroit and during this time, you see schools that don't have clean drinking water and neighborhoods in some blocks with no access to water at all because the water had been shut off."
And finally, the kicker: "I'm very woke. I grew up in the most beautiful, Blackest city that taught me not to sit on the sidelines when you see injustice."
While Jones's race may be an asset in Michigan's 13th, the political realities of Detroit suggest the issue is more complicated than some observers say. This "Blackest city," after all, resoundingly re-elected a white mayor, Mike Duggan, in 2017 with Jones's endorsement over Coleman Young II. And while Jones is popular among the Black political establishment, she's been seen by some Black Lives Matter protesters as dismissive of their complaints and in league with the forces they are opposing. In late June, Jones infuriated demonstrators by opposing a council resolution to drop charges against protesters arrested at recent marches.
"I must allow the criminal justice system to address these charges," Jones wrote in a statement. "I will not support this mindset of entitlement or special privilege given to one group over another group."
For that, she was blasted in a July 3 open letter posted on Medium by Nakia Wallace, co-founder of the local group organizing the ongoing demonstrations: "You say that you stand with protestors and believe Black Lives Matter, but y'all don't mean it. I am deeply disturbed by the many ways in which you have failed this city and its young people, and I am uncertain of how you can sleep at night."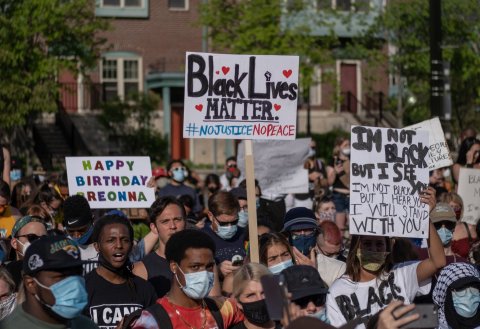 As always, though, the results depend on what groups actually vote. The discontent expressed by Wallace reflects the anger of younger residents who tend not to vote as faithfully as older ones, Hemond says. And Mildred Gaddis, a longtime fixture of Black talk radio in Detroit, says Tlaib may have done enough work since her election to neutralize the issue.
"What are Black issues? Has she talked about crime? Has she talked about poverty? Has she talked about the disenfranchisement of education for black children? Why yes, she has," Gaddis says. "Has she done it enough? To some people no and to others yes."
"If I had to call the [Michigan] race, I don't know who would win," says Gaddis. "People I talk to believe Rashida is still gonna pull this off. But I just don't know."
What the Squad Means to the Race
Besides the two candidates, there is a third entity that looms large in the Tlaib–Jones election: the Squad itself. Each member of the group may run an individual campaign in their own district, but the foursome are encouraged -- by them -- to be viewed by the public as a unit. That means that voters's perception of the group and what they represent can affect the outcome of races they're involved in.
What do they represent? According to Tlaib, it's an idealistic agenda that goes beyond the four of them as individuals. "People see us as part of a values team," she says. "If you believe in justice and equity, then you're part of the Squad. If you believe that we should end poverty in our country, you absolutely are part of the Squad."
That's a bit like saying if you love Beatles music, you're a Beatle. The practical reality is that the Squad is these four women and their intertwined political fortunes. And everything about the Squad—from its serendipitous origins to how the group functions on a daily basis to the recent formalization of their alliance—backs that up.
That's been true since the moniker made its debut in November 2018, when Ocasio-Cortez posted an Instagram photo of herself, Tlaib, Omar and Pressley on their first visit to the Capitol as members-elect and captioned it "Squad," a common expression for a group of friends. They had an instant affinity borne out of both their hard-left politics and the unlikeliness of their individual ascents to power—Omar came to the U.S. at 12 as a Somalian refugee; Tlaib is a first-generation Palestinian-American; Pressley is the first Black woman sent to Congress from Massachusetts; and Ocasio-Cortez, then 29, went from local bartender to youngest-ever female House member.
More to bond over: Tlaib and Omar were the first Muslim women elected to Congress; Pressley and AOC both toppled 10-term incumbents to win their seats. "Since we were sworn in together—and even before—I've been so grateful for the friendship and support of my sisters-in-service, Representatives Ocasio-Cortez, Tlaib and Omar," Pressley tells Newsweek.
The media—and the Squad's adversaries—quickly glommed on. The quartet presented a unique, irresistible new political construct, at once appearing diverse and modern while also sounding, policy-wise, like Bernie Sanders minus the rumpled grumpiness.
Along the way, there were defining moments. In June of 2019, the four women became the only House Democrats to vote against the $4.5 billion border funding bill referenced by Slotkin because they asserted it didn't allocate money to alleviate squalid conditions for detained immigrants. The legislation was doomed in the Republican-controlled Senate anyway but the move reinforced public perception that they're a unit of outsiders.
A month later President Trump fused the four permanently in the public's consciousness with a series of tweets attacking them as foreigners and for "viciously telling the people of the United States how our government is to be run" and telling them to "go back and help fix the totally broken and crime infested places from which they came." Pressley, Tlaib and Ocasio-Cortez were all born in the U.S.; Omar became a citizen in 2000 at age 17.
As a calling card, the nickname does have benefits. Each member of the Squad has amassed a multimillion-dollar campaign war chest thanks to the draw of their collective star power. Through June, Tlaib has raised nearly $2.9 million for her re-election bid, putting her in the top 3 percent of House candidates this year, while Omar has roughly $3.9 million and AOC, $12.7 million. (Pressley, running unopposed in the primary and with nominal opposition expected in November, has raised $1.5 million.) Still, as Hemond notes, "Representative Tlaib has gotten less mileage out of being a member of the so-called Squad affiliation than any of the other members."
That may be about to change. Earlier this month the four congresswomen announced the formation of a joint fundraising committee called the Squad Victory Fund whose purpose, says Omar spokesman Jeremy Slevin, is to reaffirm and formalize the quartet's alliance and, as the name suggests, raise money. Says Slevin, "Part of the idea of this is to have each other's backs."
Tlaib says the prominence she gleans from her association with the Squad also gives her a louder voice when attempting to raise awareness of local issues, such as the high rate of water shutoffs in Detroit. She points to a $1.5 billion fund in the House's most recent COVID-19 relief bill to pay for water for low-income residents.
"I said, 'You're all asking my residents to wash their hands 10 times a day, but they don't have access to water because it's become unaffordable,'" Tlaib says. "Every time I walk into committee or do an interview, I bring my district with me. And that has benefited them in a profound way."
There are also downsides, too, including constant death threats and vulgar racial and misogynistic abuse both online and in person. The foursome are now starring in political ads across the country in which Republicans hold them up, as failed House candidate Renee Swann of Texas did, as "socialists," "extremists" and "Trump-haters."
"If you put a woman of color on the screen and you paint her as part of a group that's trying to do terrible things to this country, you'll mobilize voters to vote," says Kelly Dittmar, a political scientist at Rutgers University who focuses on women in politics. "When the attacks were initially waged against the quote unquote, Squad, that was an attempt to paint them as all the same type of person who is gonna take away your guns and your money and whatever else makes you feel secure."
That outsized fame is also being used by primary opponents of Tlaib, AOC and Omar— people who mostly agree with their political views but want their jobs—as evidence that they are "more interested in the national spotlight," as Jones puts it, than the needs of constituents. Melton-Meaux, the Omar challenger in Minnesota, zeroed in on the Squad as a distraction in a Newsweek interview, saying, "I as a congressman should be focused on the 5th congressional district, not what AOC is doing or Congresswoman Tlaib or Congresswoman Pressley are doing."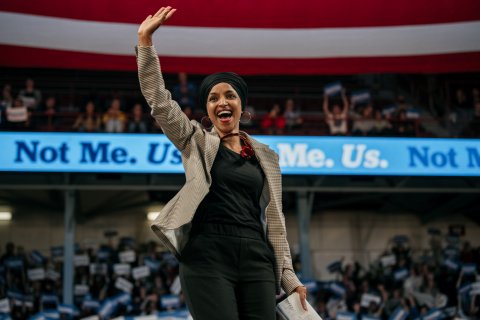 Backlash against the celebrity aspects of Squad-dom may explain why the four women took so long to formally embrace their nickname and routinely insist they are not a monolith. Still, there's little daylight between them on policy and they often coordinate efforts as a unit. Slevin says that not only do the four House members have their own texting chain but separate four-person text groups exist for their chiefs of staff and their communications directors as well.
The biggest "break" among them was Pressley's endorsement of her home state senator, Elizabeth Warren, in the 2020 presidential primary while the other three backed Sanders. Otherwise, the nuances are more style than substance—Omar and Tlaib given to making controversial remarks that grab headlines and generate social media outrage, Pressley content to work quietly in the background without fanfare and AOC somewhere in between.
The launch of the Squad Victory Fund could have been a chance to deputize new members and broaden the brand—Representatives Deb Haaland of New Mexico and Jahana Hayes of Connecticut are also first-term women of color whose views line up neatly with the Squad's—but instead it reinforced the idea that there is an exclusive core.
And that heightens the political danger for the unit should Tlaib falter. "If she lost, would it be some mark on the failure of the Squad?" Dittmar asks. "People will say that and people might be surprised and concerned."
What the Race Means to the Squad
Tlaib is one of the few incumbents in 2020 who is at a distinct disadvantage due to the COVID-19 pandemic. In most cases, it is challengers who are suffering from the inability to get out and raise their profile by holding rallies, knocking on doors and pressing the flesh. Tlaib, however, faces an opponent equally well-known in the district.
That is where the star power and aura around the Squad was supposed to become handy. The original plans for the Squad Victory Fund were formed before the pandemic hit and included a Beatles-like tour of each member's district, Slevin says. It's easy to imagine the headlines written, the made-for-TV ad footage filmed and the huge crowds gathered to help Tlaib recruit campaign volunteers and donations.
Says Hemond: "Having AOC or Ayanna Pressley come to the district, throw you a fundraiser, participate in a rally—it's good for name ID. It's good for receipts. It's good across the board. And obviously they've been cut off from that sort of thing."
That previously planned show of support reflects the high stakes in the Michigan race not just for Tlaib but for the Squad itself. Failure to remain intact would be construed a show of weakness and would, in turn, undercut their ability to get traction for their initiatives. But, also, the nature of the electorate in Tlaib's district—very different from the voters her fellow Squad members face—makes it something of a test case for whether the Democratic electorate has really moved as far to the left as the Squad claims, McElwee says.
The other Squad members and several of the like-minded primary winners of late triumphed by assembling coalitions that combine strong support from voters of their own race or ethnicity with popularity among white, often well-educated and well-heeled, progressives. Tlaib must alter that calculation, McElwee says.
"Tlaib is the only candidate among them where she neither has a lot of white liberals in the district nor is she a Black candidate who would automatically be able to lockdown that Black vote for her re-election," he says. "So we're going to see."
His own view? "It's very possible that Tlaib does have enough community relationships with the Black community that she's able to win it," he says.
On the other hand, Nadia Brown, a Purdue University political scientist who focuses on women of color in politics, says voting patterns among the Black electorate bode poorly for Tlaib. "Research has shown that African Americans are steadfast Democrats, but they hold pretty conservative social values and they feel captured by the Democratic Party in terms of they're not going to go and vote for a Republican, but they feel uncomfortable with some progressive values on social issues," Brown says. "If Tlaib does not win in this primary, I don't think it's this death blow to the Squad but it signals that voters in her district want something else."
Both Jones and Tlaib, for different reasons, downplay the broader implications of the race. Tlaib, of course, wants to win on her merits and not drag her group down. As for Jones: "I am not going up against someone who is part of the Squad in my mind. In my mind, every two years, a congressional race occurs. I am in that race."
Tlaib, for her part, insists she's not nervous about the election, but she is going to surprising lengths to get her message out. Last month, for instance, a debate raged among Black Detroiters after Keith Williams, the chair of the Michigan Democratic Black Caucus, attacked Tlaib in a Facebook post by telling her to "stop pandering to Black people to get a vote" when she doesn't know anything about "Black history and the struggle that Black folks went through."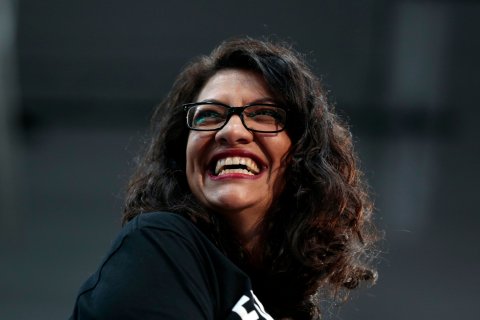 Tlaib was enjoying a healthy defense from other posters, but the scrapper in her couldn't leave it alone. Over the course of 24 hours, she posted 23 times on the thread, providing a blitz of links to news coverage of her efforts in D.C. along with some pith like "I have more receipts if needed" and "Pretty impressive for a new member of Congress." Many in the thread thrilled at her participation, but it's difficult to imagine the other Squad members feeling the need to do that.
Whoever wins the race won't have long to feel complacent, though. A bigger fight looms in 2022 after Michigan loses a congressional seat following the 2020 Census on account of population loss around Detroit over the past decade. The efforts to continue to provide two districts with black majorities will force some complicated redistricting efforts, and one scenario has much of the 13th drawn into the 14th district, which encompasses the rest of Detroit. That's now the district of Representative Brenda Lawrence, whom Tlaib or Jones would have to take on — or stand down.
Tlaib says she can't worry about that while she's fighting now to remain in Congress and to keep the Squad intact. "What I do is I focus on the work that I've done and focus on what I'm going to do for my residents," she says. "I just outwork it."
Steve Friess is a Newsweek contributor based in Ann Arbor, Michigan. Follow him on Twitter at @SteveFriess.