Dreaming of exotic escapes? While travel may be limited this summer, a creative cocktail hour doesn't need to be. You can sip your way around the world from Tokyo to Mexico City to Maui. From a smoky mezcal-roasted coffee Negroni in Milan to a blue algae-gin drink served on driftwood in Vancouver, these drinks will give you a taste of somewhere else.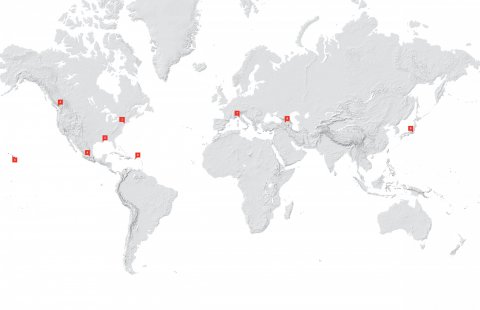 1. Rob Roy, New York City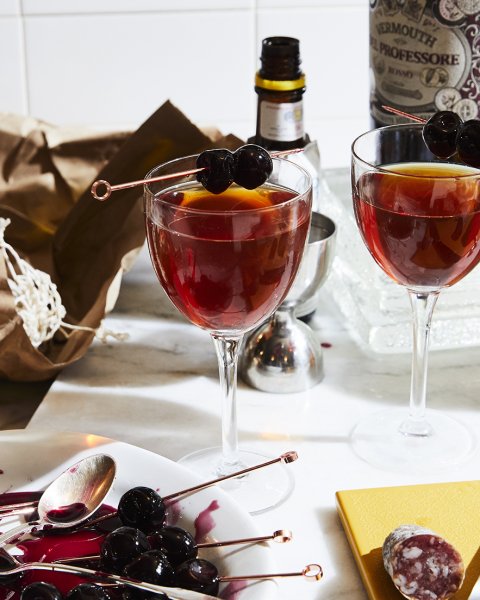 When you long for the bright lights of the big city to inspire you, the Rob Roy—similar to a Manhattan but made with scotch whiskey—is the next best thing. Invented in 1894 by a bartender at the Waldorf Astoria New York hotel, this classic cocktail combines scotch with sweet vermouth and a dash of bitters.
Recipe
Ingredients:
Scotch
Sweet vermouth
A dash of bitters
Maraschino cherry or a twist of lemon to garnish
Served either straight up or on the rocks in a cocktail glass.
2. Deep Cove Cocktail, Vancouver, Canada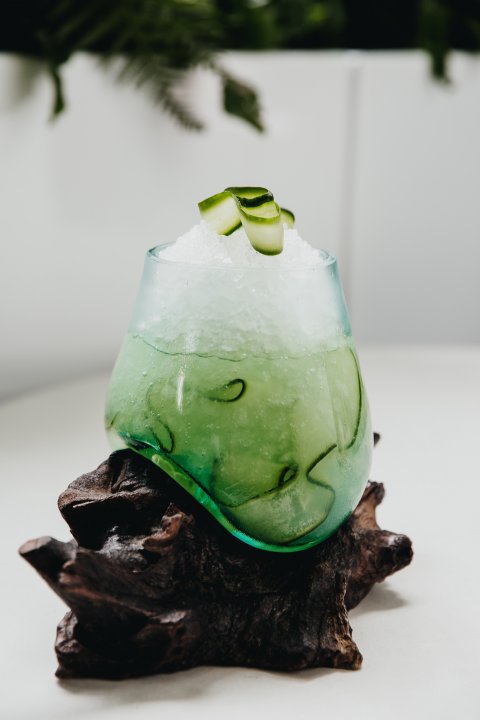 Dreaming of a dip in the sea? Or a taste of the ocean? In a nod to their city by the sea, Botanist, the chemistry-inspired cocktail bar, concocted this piece of art in a glass. The refreshing Deep Cove cocktail mixes Island Gin, sea buckthorn liqueur and blue algae syrup, and it's served on a piece of locally sourced driftwood. The cucumber garnish evokes kelp ribbons.
Recipe
Ingredients:
Island gin (which uses kelp as a botanical)
Sea buckthorn liqueur,
Blue algae syrup.
Lime juice and a touch of salt
Garnished with cucumber ribbons
3. Merriman's Mai Tai, Maui, Hawai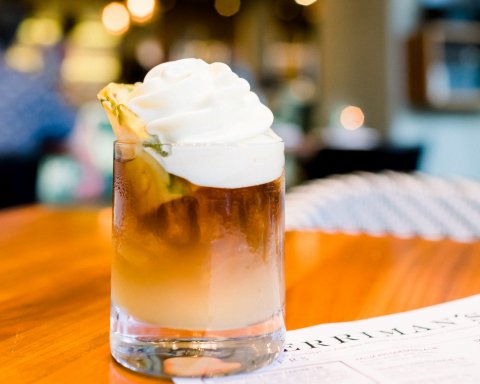 We all want to "get off this island," but you don't need a flight to be transported to Maui with this tiki twist. Pioneer of Hawaii regional cuisine, Merriman's take on this "Aloha in a glass" is made with local distillery Hawaii Sea Spirits' light and dark rums, macadamia nut orgeat syrup, orange curaçao and topped with honey-lilikoi foam which gives it a light touch of sweet and tart.
Recipe
Ingredients:
1 oz Kula Organic Silver Rum
1 oz Kula Dark Rum
.5 oz Macadamia Nut Orgeat
.5 oz Bols Orange Curacao
.75 oz Fresh Lime Juice
Honey Lilikoi Foam
Instructions:
Add lime, orgeat, Orange Curacao and Silver Rum to mixing glass with ice.  Shake and pour into highball.  Float Dark Rum. Top with Signature Foam
Then garnish with Honey Lilikoi Foam and a pineapple half-moon.
4. Aguacate, Mexico City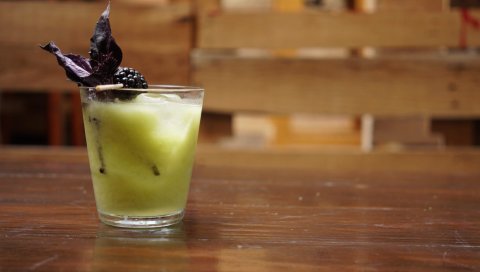 If you can't get to a mezcaleria in Mexico City you can still experiment with mezcal, tequila's smoky cousin at home. To drink the strong agave spirit properly, don't shoot it, smell it before you taste it and follow with a bite out of an orange sprinkled with worm salt. For those new to the smoky spirit, Mexico City bars such Traspatio smooth the bold bite with an Aguacate cocktail, made with avocado and topped it off with blackberry to sweeten it up.
Recipe
Ingredients:
1/4 Avocado
1oz of Licor 43
1oz of pineapple juice
1oz of Jarabe natural
15ml of lemon juice
2oz Mezcal Espadin Reposado
Blackberry and Basil to garnish
5. Neutral Ground Side, New Orleans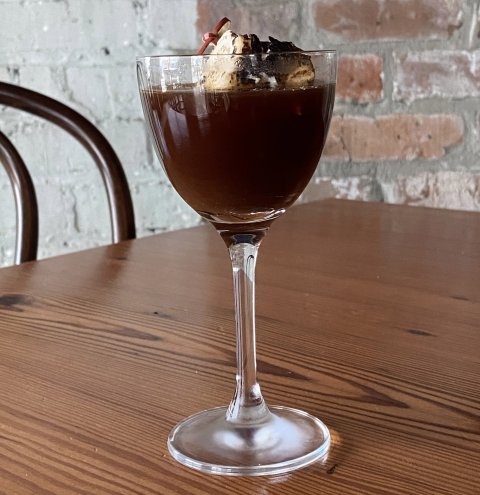 Neutral Ground is a term for a street median in New Orleans—it's also a local favorite cocktail. Compère Lapin in NOLA's Old No. 77 Hotel & Chandlery takes the history and culture of the city and gives it a touch of whimsy with this different "Side": a colorful mix of King Cake Cachaça, Hoodoo Chicory Liqueur, lemon juice and bitters, garnished with a toasted marshmallow.
Recipe
Ingredients:
1 3/4 oz. King Cake Cachaça*
1/2 oz. Hoodoo Chicory Liqueur
.13 oz. lemon juice
2 dashes El Guapo Tricentennial Bitters
*King Cake Cachaça Ingredients:
1 Lt. Mae de Ouro Cachaça
2 scraped vanilla beans
2 handfuls toasted pecans
2 handfuls golden raisins
4 while nutmeg ground
2 whole cinnamon sticks
Then Infuse for five days and strain with cheesecloth.
Instructions:
Stir over ice, strain into Nick & Nora Glass, and then garnish with toasted marshmallow.
6. Coco Tostado Mojito, San Juan, Puerto Rico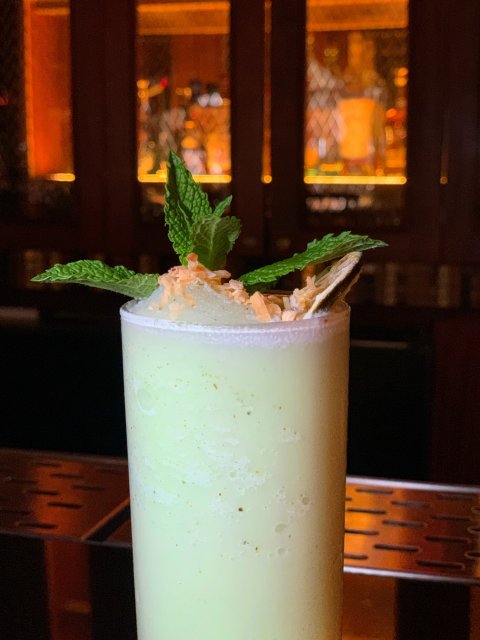 You've mastered the at-home piña coladas, and now are looking for a step up. Escape to Puerto Rico with the island's national spirit: rum. Try to replicate El San Juan Hotel's vacation in a glass: a Coco Tostado Mojito that mixes white rum, fresh mint leaves, lime juice, cane sugar syrup and toasted coconut.
Recipe
Ingredients:
8 fresh mint leaves or "yerba buena" plus more for garnish
2 ounces white local Puerto Rican rum
1 ounce fresh local lime juice
2–3 teaspoons local cane sugar simple sugar syrup
1 cup of ice
Toasted Coconut
Instructions:
Add ingredients except for ice in a blender. Puree until smooth. Add ice and puree until it reaches desired texture.
Garnish with toasted coconut and a slice of lime.
7. Sailor's Negroni, Milan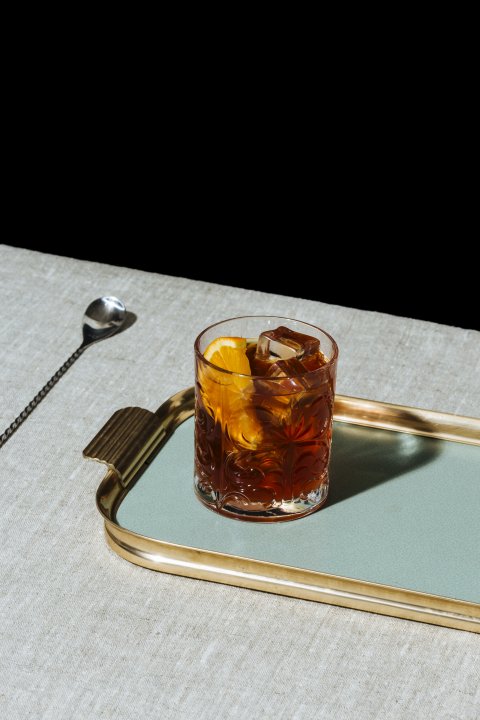 Bitter, boozy and bold, the Negroni—born in a bar over 100 years ago in Florence—is being riffed in bars the world over. A fun twist on the three-ingredient cocktail of gin, vermouth and Campari is this one by Flavio Angiolillo at MAG in Milan, which substitutes Sailor's Coffee Liqueur for gin and adds mezcal for an extra smoky jolt of energy.
Recipe
Ingredients:
30ml Campari
30ml Vermouth del Professore
10ml Old Sailor Coffee
10ml Mezcal Bruxo N. 1
8. Chacha Sour, Tbilisi, Georgia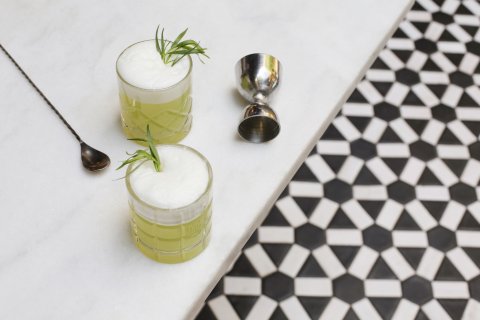 Chacha, Georgia's national liquor, is a strong spirit made from the grape residue from natural winemaking. Lolita bar in Tbilisi blends new and old worlds with their Chacha Sour, a combination of chacha, water, sugar, lemon and a few drops of egg white that smooths this bold, local liquor.
Recipe
Ingredients:
50ml Chacha
25ml Freshly Squeezed Lemon Juice
20ml Sugar Syrup (1:1)
1 egg white
Lemon zest to garnish
Instructions:
Combine all the ingredients in a shaker and dry shake it for 20 seconds to froth the egg.
Fill shaker with ice and give a vigorous shake until the shaker feels very cold.
Strain the mix into a chilled rocks glass filled with ice.
Garish with the spray of the lemon zest, give it a nice twist and drop it on the cocktail.
9. Gothic and Lolita, Tokyo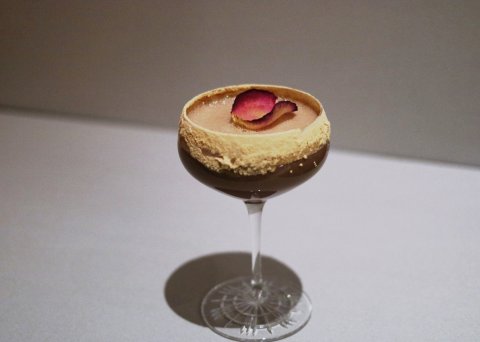 A playful nod to the trendy Harajuku neighborhood in Tokyo, TRUNK(HOTEL)'s locally inspired Gothic and Lolita mixes an unexpected pairing of lemongrass-infused gin and soymilk with chocolate and tops it off with a dusting of kinako soybean powder and edible dried roses. This grown-up chocolate milk is a play on the sweet and dark cosplay trends in one of the world's most famous fashion districts.
Recipe
Ingredients:
Chocolate soy milk
lemongrass-infused craft gin
a dusting of Kinako soybean powder
edible dried roses for garnish
Served straight up.