The coronavirus may have shuttered local swim clubs and public pools, but there are other options if you're looking for an escape off the beaten path and a cool dip before summer ends. From a figure-eight shaped pool accessible only after a strenuous hike in Australia, to a 90-foot-deep trench formed in the rock of lava fields in Samoa, here are some natural watering holes in all corners of the world to explore on your next adventure.
1. Devil's Den, Williston, Florida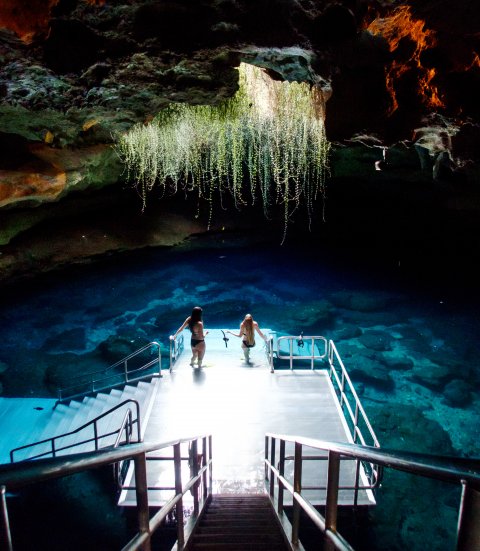 A comfortable 72 degrees year round, this natural spring offers visitors the chance to snorkel or scuba dive to explore a prehistoric cave from below the surface. Its name is derived from the steam seen rising from the opening of the toasty cave during the colder months.
2. The Grotto, Tobermory, Ontario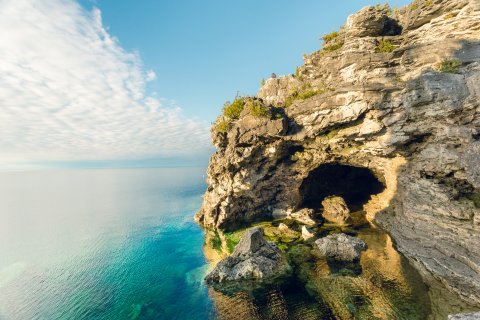 A great cooling-off spot for hikers, this touch of paradise in Bruce Peninsula National Park is known for being quite chilly. An underground tunnel enhances the bright blue color of the grotto's water.
3. Cenote Ik-Kil, Chichen Itza, Mexico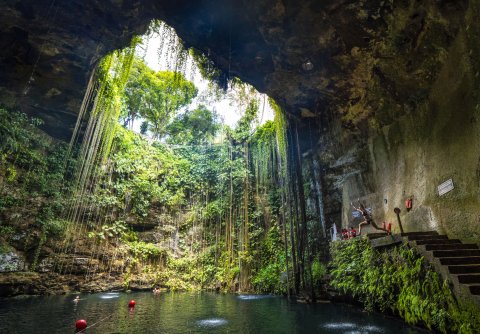 To experience the beauty of this cenote, or natural pit, you'll need to descend a staircase 85 feet. Unlike some of the more tucked-away watering holes around the world, this one requires a fee for admission, but the few dollars is well worth it to see this natural gem in person.
4. Giola Pool, Astris, Greece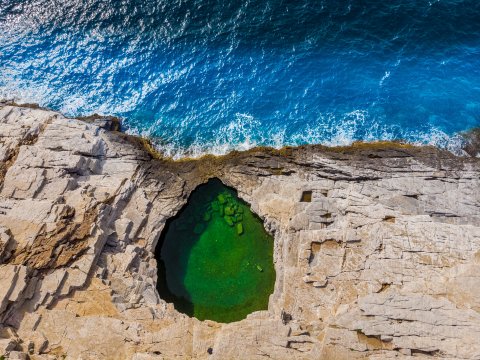 Greece is filled with gorgeous views of turquoise waters, but this natural sea lagoon is a unique sight. Carved into rocks and accessible from a dirt road marked by painted signs, you can have this water oasis all to yourself if you time it right.
5. Kuang Si Falls, Luang Prabang, Laos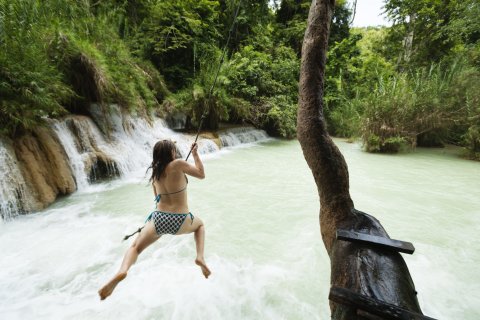 The beauty of this watering hole goes beyond just the limestone pool itself to the cascading waterfalls that lead into it. Surrounded by jungle, the tiered falls from various pools to swim in—though be alert, as some are considered sacred by locals and closed off to swimmers.
6. Figure Eight Pools, Sydney, Australia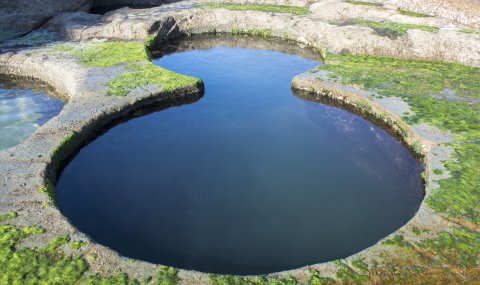 Accessing these pools along a rock shelf in Royal National Park is not for the faint of heart and requires a walk of over two hours down a steep path. But for those up for the challenge, it is a sight to see. Be sure to check the conditions prior to your visit as tides can make the pools dangerous to access and sometimes cover them completely.
7. To-Sua Ocean Trench, Apia, Samoa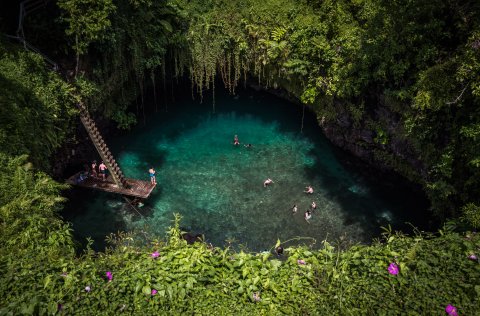 This salt water swimming hole created after thousands of years of erosion in lava fields may not be easy to access, but is surely worth the leap of faith, so to speak. The surrounding scenery is a lush green oasis, improved only by the trench's deep turquoise waters. For those not looking to take a dive off the edge into the 90-foot pool, a long, wood crafted ladder is available.
8. Bimmah Sinkhole, Muscat, Oman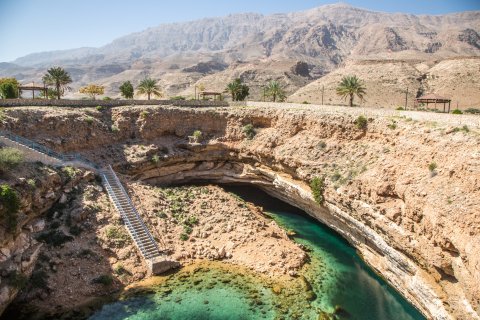 Though many say this spot is the product of a meteorite, actually a natural sinkhole created this beautiful swimming pool of salt and freshwater. Some adventure seekers do dive from the edge into the water below, but this isn't necessary due to the staircase that leads down into the pool.
9. Pamukkale, Denizli, Turkey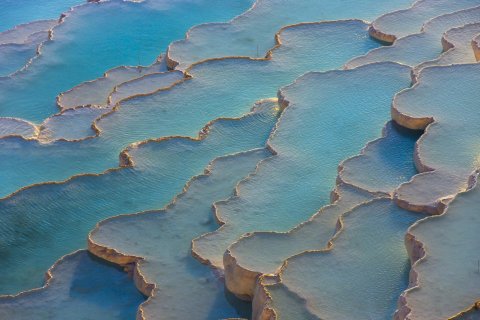 Rather than being a refreshing escape from the heat, these thermal pools offer visitors a chance to take a dip in the hot springs and experience the unique natural phenomenon. Pamukkale, which means "cotton castle" in Turkish, are made from water cascading down limestone shelves.