Eight out of 10 Americans have at least one big worry about their financial future due to the pandemic, according to a new nationally representative survey by Newsweek and LendingTree. Among their greatest fears: not being able to retire on time—if at all now; not being able to find or keep a job that pays well; and how long it will take them to dig out of the financial hole the pandemic and resulting economic downturn has put them in.
"For lots of us, the pain of uncertainty has become almost intolerable," says Plano, Texas financial planner Gretchen Behnke.
There is no denying that there is a lot to be stressed about these days when it comes to your finances—double-digit unemployment, dwindling federal aid, no comprehensive plan to contain the virus, just to name a few. But there are a few practical steps you can take now that will help you better weather the current financial storm and set you up for brighter days when they finally arrive.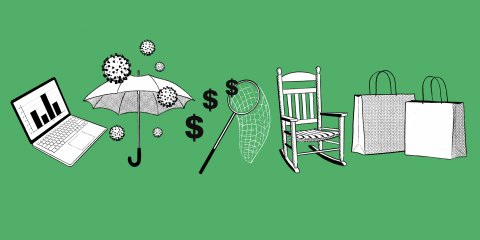 Prep a Plan B
Whether you've already been laid off or anticipate you could be soon, having a strategy for how you'll cover costs if you lose your job helps restore some semblance of control over an otherwise out-of-control situation.
Step one: Draw up a pandemic budget pared down to your essential monthly expenses, so you know the amount that's actually crucial to cover (apps like Mint or You Need a Budget can help). Next, see how much you'll get from your state's unemployment insurance program at Careeronestop.org (national average: $370 a week). Calculate how long your emergency savings will carry you and brainstorm freelance gigs that can help supplement those benefits.
Pay for essential expenses with your credit card if you must, but avoid cash advances, which carry rates averaging 24 percent, a full eights point higher than the average rates charged for ordinary purchases. "If your total debt doesn't exceed about a third of your gross income, or target income, if unemployed, you'll be okay," says Gaithersburg, Maryland, financial planner Matt Bacon.
Carry a strong umbrella
Americans have finally gotten religion about saving for a rainy day now that they're experiencing an actual downpour. Almost 40 percent of the Newsweek/LendingTree survey respondents have been saving more during the pandemic than they were previously—and nearly half expect to keep up that habit once the economy recovers.
Aim to set aside enough money to cover three to six months of your living expenses, which you should keep in an FDIC-insured bank account that you can easily tap without incurring fees. Since February, the Federal Reserve says there has been a 56 percent increase in the money kept in checking accounts, which suggests that people are stashing their cash there, but a high-yield savings account is a better option. Recent interest rates on high-yield accounts offered by PNC Bank, CitiBank and CIBC Bank, for example, were 0.9 percent or more compared with zero or close to it on ordinary checking accounts. It's not a lot more money, but every little bit counts.
Cast a wide net
Hiring isn't dead, people are getting new jobs every day, even in a pandemic, but the search process is a lot harder, says Lindsey Pollak, author of Recalculating: Navigate Your Career Through the Changing World of Work.
Your best strategy? First, tell everyone you know that you're looking. "Sometimes people are embarrassed about losing their job or possibly being laid off, but people want to help others during this pandemic," says Pollak.
Check out LinkedIn's constantly updating #HiringNow page and its Coronavirus Resource hub, which has special offers on courses and tips for beefing up your resume. Or, if you're a new grad, check out Handshake (joinhandshake.com). And customize your response when you follow up on any listing, tweaking your resume and cover letter to mirror the language the company uses and research the business so you can speak directly to how your skillset is a perfect fit.
Don't give up on retirement
The top long-term worry among survey respondents was not being able to retire on time—if at all. And it was true for the largest number of demographic groups, including men, Gen Xers, parents with children under age 18, people who've been laid off or furloughed and households earning $75,000 or more.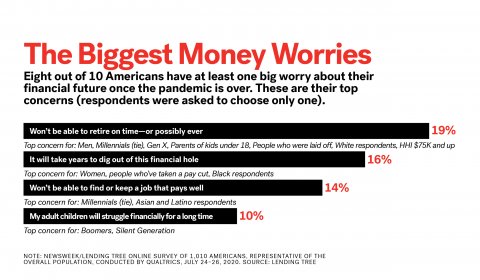 So try to keep one eye on that future prize, even as you focus on making it through the current financial chaos. If you're still working, max out contributions to your company retirement savings plan while you still have opportunity and access; the company match, typically 50 cents on the dollar up to six percent of your income, is free money to help power you to the goal. And most employers have maintained the policy during the pandemic: According to Fidelity Investments, only about 11 percent of companies suspended their 401(k) match during the second quarter of the year vs. about one-quarter who did so during the Great Recession.
Already got the ax? Avoid withdrawing money from your account to make ends meet, so the funds continue to grow tax-free; compound interest is like an application of Miracle-Gro on your savings. That said, if you've exhausted other options, Uncle Sam has made it a little easier to access these accounts. Under the CARES Act, you can take out up to $100,000 from IRAs, 401(k)s and similar plans without incurring a 10 percent early withdrawal penalty and split the income tax owed over three years.
Make room for joy in your budget
While resizing your spending to better meet your new income or savings goals may be necessary, it is also important to cut yourself a little slack include a few things that make you happy in your new pandemic budget. Rachel Schneider, co-author of The Financial Diaries: How American Families Cope in a World of Uncertainty, studied the money habits of 235 families over the course of a year. Her perhaps counterintuitive finding: Occasional splurges actually helped people stick to their otherwise tight budgets, much the same way allowing yourself a plate of pasta or dessert from time to time when you're trying to shed a few pounds can help you stick to a diet. You may need to downsize the splurge, but your spending on fun doesn't need to end entirely.
In fact, as a growing body of research on happiness shows, some of the things that make us feel the best cost very little, if anything—things like having memorable experiences with people you care about and volunteering, which has been positively correlated with greater life satisfaction and better mental health. These happen to be things that the Newsweek/LendingTree survey shows people believe they'll be doing more of as a result of the pandemic, even once the immediate crisis is over. Some 32 percent of respondents, for example, expected to be spending more time with friends and family going forward and 19 percent expressed greater care for their communities.
As silver linings go to this extraordinary crisis, those aren't too shabby.
Note: The Newsweek/LendingTree survey was an online survey of 1,010 Americans, representative of the overall population, conducted July 24–26, 2020 by Qualtrics.
Kerri Anne Renzulli is personal finance journalist based in London; she's written for Money, Financial Planning magazine and CNBC.