In an election season in which the progressive ideas of the Squad, Bernie Sanders and other like-minded Democrats are being hotly debated by both conservatives and liberals, Florida Democrat Donna Shalala is determined to carve out space just left of the center lane. The oldest woman ever elected as a freshman to the House of Representatives, Shalala, 79, is a self-described "pragmatic progressive," who likes to tout her ability to get along with all factions of her own party as well as her work with colleagues across the political aisle.
Her opponent, Republican Maria Elvira Salazar, is having none of it. In a series of tweets earlier this year, the popular Cuban-American broadcast journalist accused Shalala of not pushing back enough against her "bro" Bernie and "sisters" AOC and the Squad when they were "singing communism and socialism's praises." Salazar also said that Shalala has been "disturbingly silent" while "some members of her party peddle the same radical Socialist agenda that has ruined the countries from which many of us escaped."
Shalala is unfazed. Instead, she heads into her first re-election campaign with a surprising level of relish, gleefully focused on her mission to defeat Salazar, whom she beat by six points in 2018, by an even bigger margin this time. That win two years ago flipped Shalala's Miami-area district to Democratic control after being represented for nearly 30 years by Republican Ileana Ros-Lehtinen, who retired.
Despite her rookie status in Congress, Shalala is an experienced Washington hand, having served as secretary of Health and Human Services under President Bill Clinton. Among the other positions on her long resume: chancellor of the University of Wisconsin-Madison, president of the University of Miami and president of the Clinton Foundation.
Shalala talked to Newsweek about her House race, her storied career and a massive political blunder committed by President Donald Trump that she thinks made her path to a second term far smoother. The conversation has been edited for clarity and length.
How is it different to be an incumbent?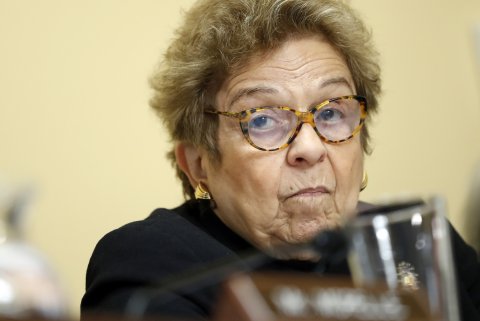 Florida Representative Donna Shalala
Photo by Andrew Harnik-Pool/Getty Images
Oh, it's so much easier! I don't have to run on my resume. I can run on what I've actually been able to do. Even though I'm not on the health committees, I've played a leadership role on all of the important health bills that have been moving through Congress. I've worked hard on things like childcare and higher education issues—particularly on taking on the private for-profit universities that are ripping off low-income people and veterans. My 2018 race was tough because I got chewed up first in the primary by the Bernie people. I'm past that now.
You won election in 2018 by campaigning to defend the Affordable Care Act from Republicans trying to kill it. How did you react when the Trump administration filed a brief in June pushing for the Supreme Court to invalidate the ACA?
It was an absolute gift! I have the largest enrollment in Obamacare of any congressional district in the country over 100,000 people. I don't know whether they're Republicans or Democrats, but I know that 100,000 people in my district do not want to lose their health insurance. And particularly now. It was the most idiotic thing to do! I was dumbstruck! In a good way!
What else are the big issues this time around?
It's mismanagement and mishandling of COVID-19 not only by the president but by our governor [Republican Ron DeSantis]. And it's still healthcare coverage, because what the virus has revealed is the big gap in who has access to affordable care. And, like last time, it's the governor's failure to extend Medicaid and our need to expand Obamacare to cover everybody that's left out.
You, an older white woman, entered Congress with a huge and historically diverse freshman class. What's that like?
I love it! As they describe me, I'm a freshman, but not a rookie. I get on with all the caucuses— with the No Labels, the Progressives, the Squad—and I'm in the New Democrat caucus, which puts me, I guess, in the center left. But I get along with everybody and they'll tell you, I get along with them.
It's amazing to think you're considered "center-left" because I remember in the 1990s when Rush Limbaugh had a parody song about what a crazy liberal you were to Eric Clapton's Layla.
He called me "the High Priestess of Political Correctness!" [Laughs] That all seems so quaint now.
What do you make of the rise of progressives like those in The Squad?
The Squad is an invention of the press. It doesn't mean anything on the floor of Congress. They don't, as a "squad," influence legislation. What they do is give the press a lot of stuff to write about. They're attractive, they're smart, they're articulate, but it's not like they're a power, like if they hold out the Speaker can't pass a bill.
Your opponent is trying to tie you to them. Is that frustrating?
Sometimes one of them has said something about Israel that gets me pissed off, but they do not, as a group, make my job more difficult. I have to answer questions about them all the time because people in my community consider at least a couple of them to be anti-Semitic, but in terms of legislation, the job that we have to do, it's not a problem.
What do people ask you about them?
Again, it's about Israel or about the impression that the Democratic Party has gone terribly left and we just had to explain to people that it hasn't. I mean, we nominated Joe Biden.
Many Democrats who flipped seats in 2018 have gone to pains to show their bipartisanship. Have you?
Yes. I have co-sponsored a series of bills with Republicans. I sponsored a bill with [Trump acolyte and Florida Rep.] Matt Gaetz, of all people, to legalize marijuana for the purposes of research, moving it from Schedule 1 to Schedule 3 for research purposes.
How will you attack your opponent, Maria Elvira Salazar, this time?
My opponent is a Trump supporter, so I can hit her on that. She also, unfortunately for her, once said, "Viva Trump!" so we'll use that against her. The presidential election will dominate the conversation, and she cannot run away from Trump this time. The question is, is she going to vote for him? And she will say yes, and she'll have to defend him, and I'll simply say what I've been able to do. And she'll have to say what she's been able to get done, which is nothing.
You really seem to enjoy the combat part of politics.
Oh, I love it! You know, I'm a political scientist. I love this interface between politics and policy. This is going to be fun!
Steve Friess is a Newsweek contributor based in Ann Arbor, Michigan. Follow him on Twitter at @SteveFriess.