Seated in the Oval Office on Tuesday, Israeli Prime Minister Benjamin Netanyahu displayed a token that President Donald Trump told him was "a key to our country and to our hearts." A year from now, could Netanyahu receive the most prestigious gift of all: a Nobel Peace Prize? Israel's longest-serving leader was in Washington D.C. to sign two historic agreements that, with the Trump administration's support, he has forged in the past weeks with the United Arab Emirates and Bahrain. By the time the Nobel Committee makes its choices next Fall, it's possible that Israel may have achieved a deal with Saudi Arabia as well.
The inconceivable may become the almost-inevitable. Such an achievement surely warrants the Prize—until you remember that Netanyahu is widely loathed, and in critics' eyes leads the controversial government of a country that remains a target of global opprobrium for colonialism, military occupation and alleged human-rights abuses. And that the agreements that Netanyahu has wrangled with Arab states of the Persian Gulf fail to resolve, or even address, the situation of Palestinians—a cause with passionate supporters in Europe, on U.S. college campuses and with many U.S. liberals.
What's a Nobel Committee to do?
Just last month, Netanyahu announced concurrently with fellow leaders a deal to normalize ties between Israel and the UAE, one of all but two Arab nations that have refused to recognize Israel since its 1948 establishment and its subsequent war with a coalition of Arab countries supportive of an overlapping Palestinian state. The second U.S.-brokered deal, with Bahrain, followed weeks later.
The back-to-back agreements signify Israel's first new ties to the region in a quarter-century. Bypassing the protests of Palestinians who have enjoyed Arab support—at least nominally—since the 1948 war, the prime minister known both affectionately and derisively as "Bibi" made clear during the signing ceremony that he was fashioning himself as a new kind of peacemaker.
"I have devoted my life to securing Israel's place among the nations," Netanyahu said at the podium, "to ensure the future of the one and only Jewish state."
He acknowledged that his pursuit of peace was built on military might. "I have worked to make Israel strong, very strong, for history has taught us that strength brings security, strength brings allies and ultimately—and this is something President Trump has said again and again—ultimately strength brings peace," the Israeli leader said.
Netanyahu's office declined Newsweek's request for comment and the Norwegian Nobel Institute did not respond.
Peace through strength may not seem a conventional motto for a Nobel Peace Prize candidate (although President Barack Obama discussed the necessity of war in his own Nobel acceptance speech). But it's indisputable that Netanyahu's successful overtures, along with promises of more agreements to come, have brought about a major recalibration of regional relations. A year from now, Netanyahu may have largely ended, or solved, the heretofore endless, insoluble problem of the Mideast.
The most startling aspect of the recent agreements is the extent to which they disregard the Palestinian demand for statehood, always assumed to be the inescapable first step in any negotiation. Those living in the fractured, partially-occupied territories that constitute the United Nations-recognized State of Palestine say they're more disenfranchised than ever. Today, Palestinians appear to lack leverage from even their traditional Arab allies as Israel offers less and less in terms of land and sovereignty to get them to a negotiating table. The plan that Trump and senior adviser Jared Kushner offered in January did not give Palestinians control of their borders or their security, the basics of statehood.
Palestinians immediately rejected that offer; they consider the UAE and Bahrain's pivot toward Israel a "betrayal of Jerusalem," the holy city at the core of the conflict. "It's delusional to believe that these concessions at the expense of the Palestinian people's rights will serve peace, security and stability in the region," Palestinian leadership said in a letter sent to Newsweek in reaction to the agreement signed by Israel and Bahrain.
Still, a chorus of voices has already erupted in favor of Netanyahu's securing next year's Nobel Peace Prize.
One Finnish lawmaker cast his nomination before the signing ceremony was even over. "President Trump, Prime Minister Netanyahu and King Al Khalifa deserve to be rewarded for their cooperation," Vilhelm Junnila, head of the Finnish parliament's finance committee, told Newsweek, "because the agreements signed on Tuesday reflect a most significant approach to peace in the region in over half a century. "This is a significant achievement and a heralding geopolitical shift in the Middle East," Junilla said.
But the prospect of Netanyahu securing the prize is controversial—even unacceptable—to many observers. He faces regular and recurring criticism by the U.N. and human rights groups due to policies of building settlements on occupied Palestinian territory and his vision of annexation, a plan cementing Israel's control over land recognized as Palestinian under international law.
Compounding these concerns are legal troubles at home, where he is set to face trial in May on charges of bribery and fraud.
Controversy is nothing new in the 119-year history of the Nobel Peace Prize. Its namesake, Swedish engineer Alfred Nobel, was bestowed the moniker "merchant of death" in his time for his invention of dynamite and other explosives. Even Adolf Hitler and Josef Stalin are among the many nominated for the award over the course of the past dozen decades. Secretary of State Henry Kissinger's 1973 win after years of overseeing a bloody war in Vietnam was considered so absurd that satirist-songwriter Tom Lehrer famously quipped that it was the day that "political satire became obsolete."
That same year, the last of the major Arab-Israeli wars was waged. The Middle East conflict would go on to take front and center at the Nobel Prize Committee on at least two occasions, in years that produced what, until weeks ago, were Israel's only two peace treaties with Arab countries.
Israeli Prime Minister Menachem Begin, co-founder of Netanyahu's Likud Party, became the first of his nation to win the Nobel Peace Prize in 1979 after reaching an agreement with Egypt's President Anwar Sadat. Begin's nomination was controversial due to his former ties to armed Zionist groups. Sadat's role in the peace process fueled his unpopularity, and he was assassinated two years later at a military parade in Cairo.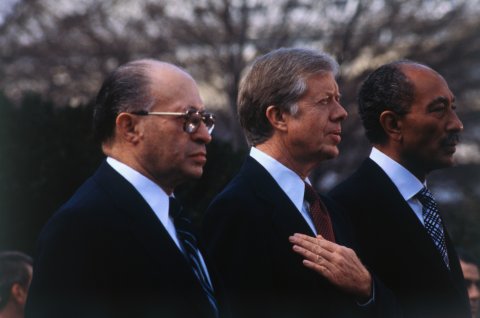 Israeli Prime Minister Yitzhak Rabin also paid with his life at the hands of his own people. He was slain in Tel Aviv a year after winning the 1994 Nobel Peace Prize for sitting with fellow Israeli leader Shimon Peres and Palestine Liberation Organization Chairman Yasser Arafat, another laureate with ties to armed factions in the Middle East, in discussions that coincided with Israel's peace treaty with Jordan.
Relations between Israel and the Sunni Muslim monarchies of the Arabian Peninsula have changed since then, quietly but significantly. The estranged factions have long conducted business under the table in telecommunications, medicine and even national security, especially as they faced a common foe in Iran.
With those relationships established, the UAE and Bahrain deals are not quite as extraordinary as they first appear. Princeton University's Daniel Kurtzer, who served as President Clinton's ambassador to Egypt and President George W. Bush's ambassador to Israel, doesn't rank Netanyahu's efforts with past diplomatic accomplishments. "While the normalization agreements are important, they do not rise to the level of 'peace treaties' between former adversaries," Kurtzer told Newsweek. "Neither the UAE nor Bahrain ever fought a war against Israel."
In his view, Netanyahu's accomplishment in diluting regional support for the Palestinian cause is incomplete without a deal involving the Palestinians themselves. "The absence of normalization previously was due to the Arab consensus in favor of supporting the Palestinians," he said. "Netanyahu deserves credit for navigating these relations out of the dark, where they existed for more than 25 years, but this does not rise to the level of deserving a Nobel Prize, which should be reserved for when an Israeli Prime Minister makes peace with the Palestinians."
Ronald Krebs, a professor at the University of Minnesota who has written on the politics of the Nobel Peace Prize, sees Netanyahu's accomplishments in a similar light. He said the leader's portfolio is "certainly significant, but it also pales in comparison" to the events of 1979 and 1994.
He did, however, see a potential path to the prize for Netanyahu should he strike a similar pact with Saudi Arabia, still a beacon of leadership across much of the Arab and Islamic world. The kingdom has so far remained coy as neighbors went public with their Israeli ties, but Israeli officials have grown confident in publicly calling on Saudi Arabia to heed their call. Bahrain's ruling royalty is closely linked to that of Saudi Arabia and its decision to open up to Israel is also widely seen as coming with the House of Saud's tacit approval.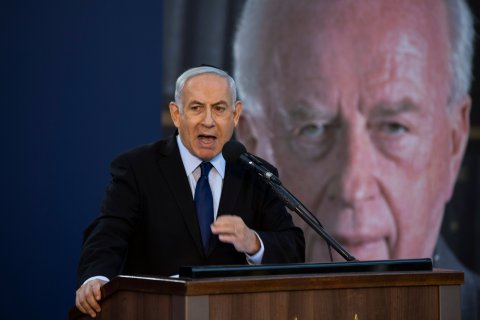 Like Kurtzer, Krebs said Netanyahu's failure to engage with Palestinians hindered the leader's chances at the award. "The Nobel Peace Prize committee often gives its awards more for aspiration than accomplishment," he says. "One might envision then it awarding this prize to Netanyahu to encourage the Saudis to come to the table, but the Peace Prize committee will never give the award to Netanyahu, whose promise of annexation of portions of the West Bank seems designed to exacerbate the Israeli-Palestinian conflict."
Moreover, Netanyahu's "little interest in pursuing peace with the Palestinians," Krebs said, "will weigh far more heavily on the Nobel Peace Prize committee than minor peace deals with Gulf emirates."
The University of Agder's Øyvind Tønnesson has experience with the Nobel Institute, having once worked as an adviser and editor for its Peace Prize section. He said individuals of all backgrounds should be eligible but ultimately felt Netanyahu's actions didn't fit the bill.
"In principle, then, I would not rule out either Netanyahu nor Trump as theoretically possible NPP candidates," Tønnesson told Newsweek. "My personal opinion, however, is that their policies and personal records stand, for the most part, in stark contrast to the main trajectories in international peace politics that the NPP has followed since 1901."
Other analysts disagree. "I don't think the Nobel peace prize should look at the internal troubles of Netanyahu," Cornerstone Global Associates founder Ghanem Nuseibeh told Newsweek. "Those are very separate issues and the prize is for creating peace, which he clearly has."
Prior to Junnila's nomination of Netanyahu, the Likud Party's youth wing appealed to Nobel laureate Robert Aumann of the Hebrew University of Jerusalem's Center for the Study of Rationality to back the Israeli leader. Aumann was eager to accept, but protocols state he could nominate candidates only in his own winning category of economic sciences.
He calls allegations against Netanyahu's domestic and international legal records "unfounded" and "irrelevant" in weighing the leader's claim to the Nobel Peace Prize.
Those involved on the Israeli side of negotiations also felt Netanyahu deserved the prize in spite of international and domestic scrutiny.
"No other Israeli Prime Minister since Itzhak Rabin or Menachem Begin had such an achievement," Dore Gold, who served as Israel's ambassador to the U.N. and advised Israeli leaders including Netanyahu throughout the 1990s before heading the Jerusalem Center for Public Affairs, told Newsweek. "He modified his annexation policies," Gold said of Netanyahu, "and so to condemn them seems out of place." As for legal issues, he said they "will be resolved by the Israeli Court System."
Palestinians, on the other hand, continue to feel sidelined by the agreements, which represent the most major departure yet from the 18-year Arab Peace Initiative pact to forego ties with Israel until it ends its occupation of Palestinian territories.
"Far from being a man of peace or even one who has a vision of peace, what Netanyahu has is a vision of impunity," Diana Buttu, a former Palestine Liberation Organization spokesperson who participated in negotiations with Israeli organizations, told Newsweek.
"The fact that these two Arab states are going along with it is far from being an indication of us moving along the path of peace, but rather creating a new order in which we see that war criminals are being rewarded and that war crimes are being rewarded," she said.
The counter argument to that is this: "The Peace Prize is for peace, not for being a nice guy," Aumann told Newsweek. "It's true that it was given to Mother Teresa and later to Obama, but neither one brought peace. Netanyahu brought peace, and is bringing more of the same."