The boredom and anxiety of this year wasn't what indie singer-songwriter Phoebe Bridgers had been expecting. Instead of touring and sharing stages with The National and The 1975, she's been home in Los Angeles. "I tried to make banana bread," she tells Newsweek "but it got moldy, literally one day later. So I did something wrong."
Still the folk-based Bridgers, 26, is having a banner year musically. Punisher, her second album, was released this past June to critical acclaim. It's the follow-up to her 2017 debut record Stranger in the Alps. In between those two albums, Bridgers also made records as a member of the supergroup boygenius (with Julien Baker and Lucy Dacus) and the duo Better Oblivion Community Center (with Bright Eyes' Conor Oberst). And capping off an amazing 2020 for her, Bridgers was recently nominated for four Grammy Awards, including Best New Artist, Best Alternative Music Album (Punisher), Best Rock Song ("Kyoto"), and Best Rock Performance ("Kyoto").
On November 20, Bridgers released a new EP Copycat Killer, which recasts four of the songs from Punisher with only strings and her vocals. Working with string arranger Rob Moose (whose credits include Taylor Swift, Bon Iver and Alabama Shakes among others), Bridgers re-recorded her songs in September for the EP, whose vinyl version is being made available exclusively through British record label and distributor Rough Trade.
"I had just made a couple of recordings with Rob," Bridgers recalls, "and he was on my mind because I just love the way that he re-imagines songs. I called him up and asked him to make arrangements of four songs, and he did it in a heartbeat." Moose's re-interpretations of the four tracks—"Kyoto," "Savior Complex," "Punisher" and "Chinese Satellite"—have a heightened dramatic and lush feeling compared with their originals on Punisher. "He makes me like my songs more," Bridgers says of Moose's treatments. "I wrote "Kyoto," for example, as a ballad initially. This version [of the song on Copycat Killer] kind of makes me second-guess every choice I've ever made. I thought, 'This is my favorite version.'"
After her experience on Copycat Killer, Bridgers says working with strings is something she wants to do again. "I would love to do this live whenever that's possible. I've never played with a string quartet or an orchestra."
The EP and Punisher both sound like natural progressions from her folky debut, 2017's Stranger in the Alps.
"I've gotten a hand in producing more," Bridgers says. "I didn't produce the first album at all. I thought when I made the first record that I was going to make folk music. And then the more up-tempo songs or the weirder sounds—that all took me by surprise. And with this record, I was really looking forward to that."
"The first record was songs from my whole life, and then this record is obviously songs written in the same three-year span, so definitely a lot of recurring themes." Inspiration, she says, comes mainly from her own life. "I think mostly about personal experiences...I'm very jealous of songwriters who can kind of write from an outside perspective."
The delicate and haunting title song from Punisher, for instance, was inspired by the late singer-songwriter Elliott Smith, one of Bridgers' musical influences alongside Jackson Browne, Joni Mitchell, Nina Simone and Tom Waits. Written from the perspective of a perhaps too-enthusiastic fan, it is almost a cautionary message of "don't meet your heroes." "He lived literally half a mile away from my apartment," she says of Smith. "When I first moved, I was on a walk and started to notice stuff that I had heard in his songs. I didn't know that when I moved, I was like, 'Oh my God, it's all right here.'"
The atmospheric ballad "Chinese Satellite" melds two unlikely subjects: jogging and aliens. "I was jogging around—that lasted two days," she explains. "And the alien thing: I've always been pretty jealous of my religious friends. I really would love to go to sleep at night and think that I was in the hands of something greater, but instead I feel alone in the world. I don't know why those two ideas connect—maybe [it's] trying to find meaning in something."
Punisher also helped Bridgers gain clout in the music business. She recently founded her own imprint Saddest Factory, in collaboration with the indie record company Dead Oceans, which had released her first two albums and her collaboration with Conor Oberst. Her new label will feature artists that she has signed, among them the indie act Claud, who Bridgers saw in Chicago last year.
"I was just kind of sick of drafting four-page emails for why the label should sign my friends. And I was like, 'Y'all just want to give me the power to sign people?' And they were surprisingly into that. It took forever to build, longer than anything I've ever worked on."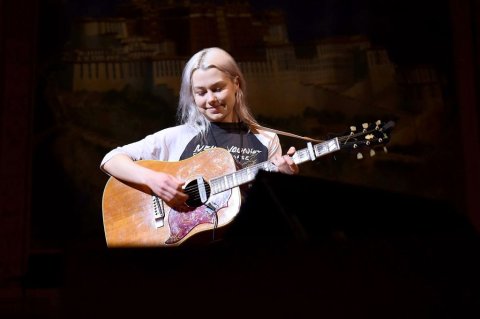 Another thing Bridgers has done lately was cover the Goo Goo Dolls' hit "Iris," a duet with acclaimed singer Maggie Rogers. During the presidential election, Bridgers tweeted that she would cover the song if Donald Trump lost. He did, and she kept her word, "As the brutal days of not knowing [who won] passed, it was like a momentary relief," Bridgers recalls. "And then I was like, 'Oh my God, now I have to actually do 'Iris.'" Bridgers posted the song for one day on Bandcamp, with the proceeds from sales going to the voting rights organization Fair Fight.
She says she is looking forward to getting back to touring when live music and the rest of the world get back to normal. Still, pandemic or no pandemic, she's been busy. (For this holiday season, she recently unveiled another cover, a rendition of Merle Haggard's "If We Make It Through December," with its proceeds going to the Downtown Women's Center). Bridgers has packed a lot of career into a three-year span.
"All of it is amazing," she says. "I think financial stability in art was the hardest part, and now it totally changed my life and changed what I got to do, which is very rare. Before the quarantine, I played Carnegie Hall [for a Tibet House benefit] with Patti Smith, Matt Berninger from The National, and Laurie Anderson. It was so cool, and that felt pretty good. Getting dressed up and playing Carnegie Hall was probably my favorite this year."
Further Listening
Stranger in the Alps
(2017, Dead Oceans)
A melancholic, mainly folk album, Stranger in the Alps, the Los Angeles-based singer's debut album, contains the arrestingly catchy "Motion Sickness." The record received superlative reviews. Bridgers said in a press statement at the time, "I wanted the album to completely represent who I am and these songs are representative of what I set out to do."
boygenius — boygenius (2018, Matador)
boygenius is an indie pop and folk lover's dream, a supergroup featuring Bridgers and equally acclaimed singer-songwriters Lucy Dacus and Julien Baker. On this six-song EP, the trio's voices and heart-wrenching songs blend beautifully together. On the prospect of a follow-up record, Bridgers said, "I think that the idea behind the band is that it has to be fun. And as soon as it feels like pressure, it gets less fun. We're friends first. If we get together and write a bunch of songs, I think we totally would [make a new record]."
Better Oblivion Community Center — Better Oblivion Community Center (2019, Dead Oceans)
The pairing of Bridgers and Bright Eyes' Conor Oberst as Better Oblivion Community Center made sense, since Oberst had previously appeared on Bridgers' first album for their beautiful duet "Would You Rather." One of the rootsy record's many highlights is the appealing rocker "Dylan Thomas," which features a guest appearance by Yeah Yeah Yeahs guitarist Nick Zinner.