It's always fun when visiting a new place to take a look at some of the sights that might not appear in the typical guidebook, and the same can be said for where to rest your head. Whether or not you're ready to embark on your next adventure yet, it never hurts to start planning. Consider adding some of these unusual lodging experiences to the itinerary when borders are open again and it's safe to travel. From a floating sauna hotel to one made from a converted airplane, here are some of the most unique places to spend a night around the world.
Dog Bark Park Inn, Cottonwood, Idaho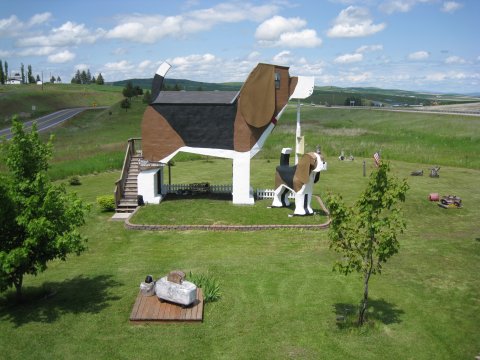 The United States is filled with quirky roadside attractions, but Dog Bark Inn might take the cake. Opened over two decades ago, a husband-and-wife duo runs this bed-and-breakfast built in the shape of a giant beagle. And of course, your own furry friend is welcome to accompany you.
Boeing 727 Fuselage Suite, Hotel Costa Verde, Quepos, Costa Rica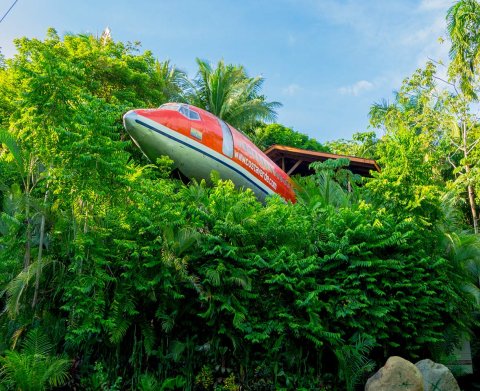 This coastal hotel nestled along the Costa Rican rainforest provides several unique accommodations from which to choose, the most unique being a completely refurbished Boeing airplane which can be rented in its entirety as a two-bedroom suite.
Hôtel de Glace, Quebec City, Canada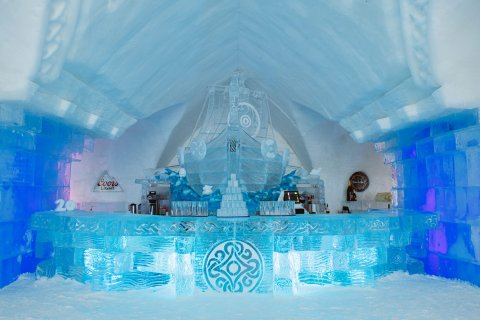 This hotel is truly made out of ice; it melts away annually and is recreated in a new theme. Each ice-sculpted room or suite is maintained at a "balmy" 27 degrees Fahrenheit. But fear not, each fairytale-like room is equipped with an arctic sleeping bag to help visitors stay toasty through the night.
The Yays Crane Apartment, Amsterdam, Netherlands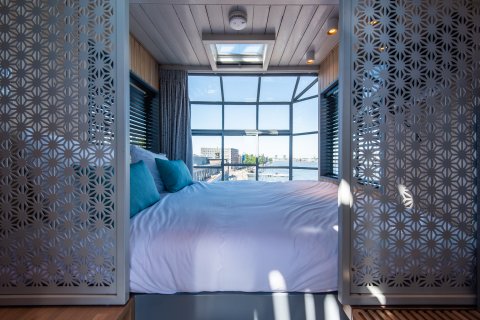 This crane on KNSM Island—formerly a working dock and now teeming with art galleries and industrial design shops—is part of Amsterdam history. The Figee Crane 2868, converted into a three-story boutique hotel, is a modern, spacious and natural-light filled place to spend a night overlooking the IJ River below.
BaseCamp Bonn, Bonn, Germany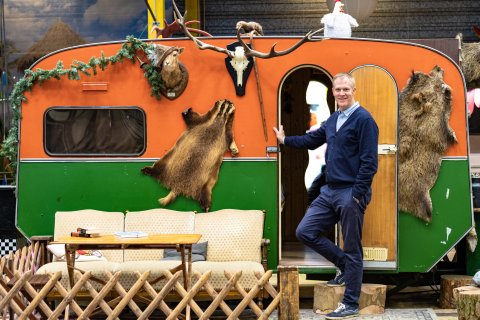 While youth hostels sometimes get a bad rap as a low-budget way to travel, this one might have you rethinking that four-star hotel. This perfectly Instagrammable collection of vintage caravans, sleeper trains, Airstreams and more is each decorated thematically—ranging from Drag to Space Shuttle to Hunter's Hut.
Arctic Bath, Harads, Sweden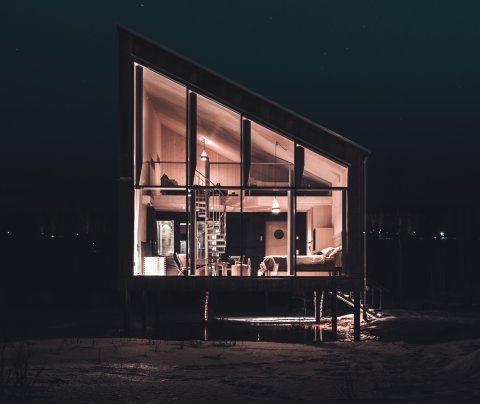 This floating sauna just south of the Arctic Circle melds completely into its frosty surroundings. During the summer months, the cabins float on the Lule River. When the river freezes over, they become stationary. In the middle of the main spa building—which looks like a pile of sticks—visitors enjoy a plunge pool.
The Windmill of Karamitsos, Trypiti, Greece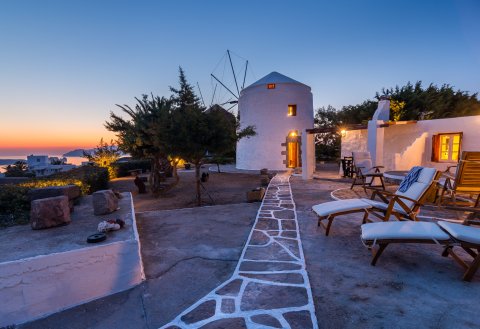 Greece is known for its stunning islands and crystal-clear turquoise water, but did you know you can stay in a windmill here? Shake up your trip by booking your very own windmill in the small town of Trypiti on the island of Milos. The private accommodations on three levels look out over a beautiful, isolated oasis.
Giraffe Manor, Nairobi, Kenya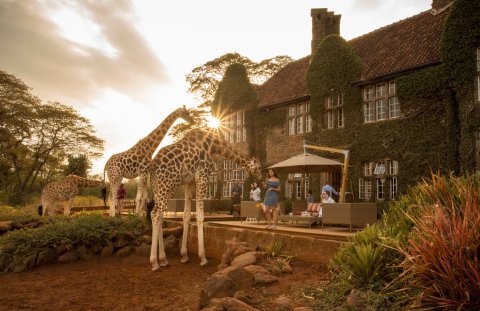 Just steps from some of the most sought-after landscapes to explore on safari in East Africa is this luxurious residence with an elegant 1930s facade. Upon your stay, you may even be visited by the herd of giraffes that live on the property and have been known to poke their heads into the windows morning and evening.
Wellington Zoo, Wellington, New Zealand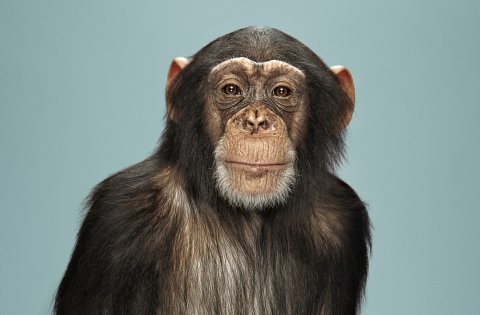 Enjoy an up-close-and-personal wildlife adventure, especially enjoyed by kids. Rent out the Wellington Zoo overnight for a group of up to 80 people. Explore the zoo after-hours and then unroll your sleeping bags to get some shut-eye overlooking Monkey Island or near other adorable critters.