2021 Heisman Trophy Race Has Whittled Down to These 4 Frontrunners
There are two weeks remaining in college football's regular season before a weekend of conference championship games. That means there are three weeks for Heisman Trophy candidates to make a statement to have their name called for one of the most-coveted individual awards in all of sports.
The last two winners of the trophy—LSU's Joe Burrow in 2019 and Alabama's DeVonta Smith in 2020—began pulling away from the pack at this point in their respective seasons.
This year, a group of four offensive players have slowly pulled away from the rest of the field.
Ohio State quarterback C.J. Stroud has taken over the lead with betting odds at +150, just ahead of Alabama quarterback Bryce Young at +200, according to the Fanduel.com sportsbook. Stroud was third in the betting odds heading into November behind Young and Ole Miss quarterback Matt Corral.
Stroud has led Ohio State to impressive victories the last two weeks, and he could potentially run away with the trophy if he shines the next three weeks against Michigan State, Michigan and a Big Ten title game. But he could have stiff competition in the process.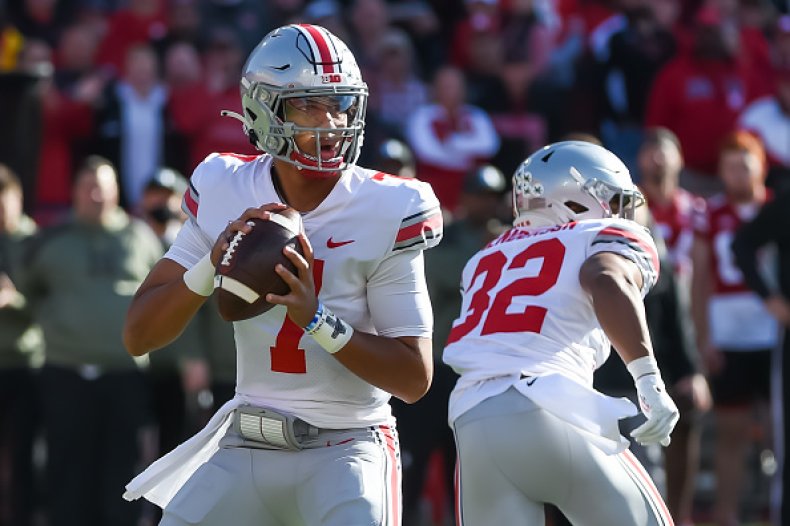 Similarly, Young has games against Arkansas and Auburn. Should the Tide roll to victories, then Young and Alabama would advance to the SEC championship, where Georgia awaits. The Bulldogs have the country's best defense, and a strong showing over them could persuade the nearly 1,000 Heisman Trophy voters.
Michigan State running back Kenneth Walker III is third in the Heisman odds at +450 and Corral is fourth at +700. The next closest behind them is Pittsburgh quarterback Kenny Pickett at +4000.
Here's how the odds work. If a bettor placed $100 on Stroud (+150), and Stroud won, the bettor would win $150 in addition to his $100 placed. A $100 bet on Pickett would garner $4,000 should the Panthers quarterback win.
Here are the top 13 players in the running for the Heisman Trophy (full list), according to FanDuel.com:
+150 — CJ Stroud, QB Ohio State
+200 — Bryce Young, QB, Alabama
+450 — Kenneth Walker III, RB, Michigan State
+750 — Matt Corral, QB, Ole Miss
+4000 — Kenny Pickett, QB Pittsburgh
+5000 — TreVeyon Henderson, RB, Ohio State
+8000 — Cameron Rising, QB, Utah
+10000 — Sincere McCormick, RB, UT-San Antonio
+10000 — Desmond Ridder, QB Cincinnati
+10000 — Brian Robinson Jr., RB, Alabama
+10000 — Will Anderson, LB, Alabama
+10000 — Sam Hartman, QB, Wake Forest
+10000 — Jordan Davis, DL, Georgia
Heisman voters get to choose their top three candidates (in order) for the most-coveted individual trophy in college football.
The Heisman Trophy is awarded annually to the most outstanding player in college football. Voting is comprised of 870 media members, 56 living Heisman winners and one vote from a collective fan vote.
Heisman Trophy finalists will be named on Dec. 6, and the ceremony will take place Saturday, Dec. 11 when the winner is announced.